Sophomores and juniors compete at Invitational Debate and Speech Tournament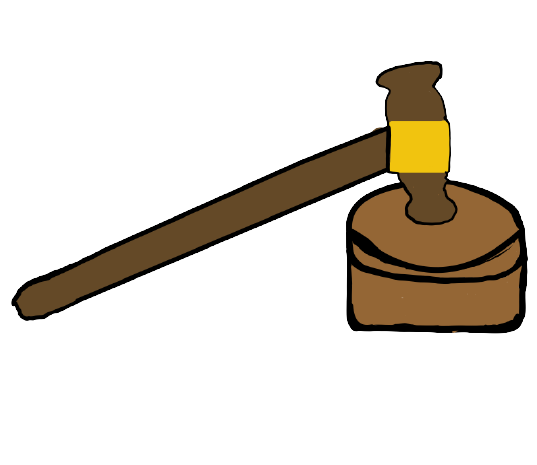 Junior Varsity (JV) and Varsity Public Forum debaters competed at the New York City Invitational Debate and Speech Tournament hosted by Bronx Science High School last Friday, Saturday, and Sunday. Sophomores and juniors debated at the tournament, Co-president Rohan Buluswar (12) said. 
The school's JV division, which is composed of sophomores, did very well, Buluswar said. For JV, each partnership debates six pre-elimination rounds, and those who do well move on to the elimination rounds. All four of the JV teams that competed made it to the elimination rounds, where they competed in the octofinals, Buluswar said. 
Naomi Yaegar (10) and Elise Kang (10) made it to the quarterfinals in the tournament. Yaeger noticed the pair's improvement this year, she said. At this tournament, Yaeger and Kang won against a team to whom they had lost at last year's Harvard tournament, she said. 
In Public Forum debate, participants debate the same topic for a certain period of time, Buluswar said. The resolution for September and October, which students debated at this tournament, was "The North Atlantic Treaty Organization (NATO) should substantially increase its defense commitments to the Baltic states."
Some students had already debated this topic at the Yale tournament a few weeks ago, Buluswar said. "Our preparedness for Bronx Science was much higher [than for Yale] and it's displayed in the results because we've had a chance to go over our research and improve on it since then," he said.
The students researched and debated the topic well, Buluswar said. "Everyone has come to a better understanding of the geopolitical factors influencing stability and policy in that area, especially because this topic is related to a topic we debated last year, so a lot of the students were familiar with the topic and took their understanding of the issue to a new level," he said.
JoJo Mignone (10), who debated the topic at Yale and UCLA over the summer, had a better understanding of both sides of the argument by the end of the tournament, she said. "In rounds, during cross or rebuttal, you will get arguments that you have not seen before from the other side, so if you are not very familiar with the topic, it is more difficult to come up with arguments," she said. 
The school's varsity division consisted of three teams of juniors and one team of sophomores. Debating in the varsity division is more difficult than in JV because the competition is more advanced, but two of the teams still had positive results, Buluswar said. JoJo Mignone (10) and Naomi Gelfer (10) as well as Celine Kiriscioglu (11) and Giselle Paulson (11) each won four rounds and lost three. "They were very close to making the elimination rounds, which is still a great job for the beginning of the year," he said. 
This tournament was Mignone and Gelfer's first time debating in the varsity division, Mignone said. "It was hard debating against people who were at a higher level than us, but we exceeded our expectations for ourselves, especially for the first time," she said. 
Another challenge for Mignone was keeping her morale up, she said. Because she and Gelfer had already lost three rounds, they could not make it to the elimination rounds. "We already knew we wouldn't break [make it to the elimination rounds], so it was difficult to know that we didn't have an end goal," she said.
Debating online has been challenging because it limits team bonding, Co-President Brett Karpf (12) said. "We've worked really hard to build a fun team atmosphere while still having an online Covid safe environment," he said. The team takes time to play games and destress together after hard rounds, Karpf said. 
In addition, coaches cannot spectate rounds because of the virtual system they use, so it is harder to give feedback to their teams, Buluswar said.  
Debating online also reduces the number of skills students can learn from debate, Mignone said. "The biggest thing that you get out of debate is public speaking skills, and one of the big parts of public speaking is being able to speak to an audience in person, which we just don't get over Zoom," she said.
Rizaa Fazal (10) and her partner Athena Rem (10) made the octofinals of the JV tournament and Fazal is excited for future competitions, she said. "There's always a lot everyone can improve on and that's the beauty of debate. You can always grow and get better at it."