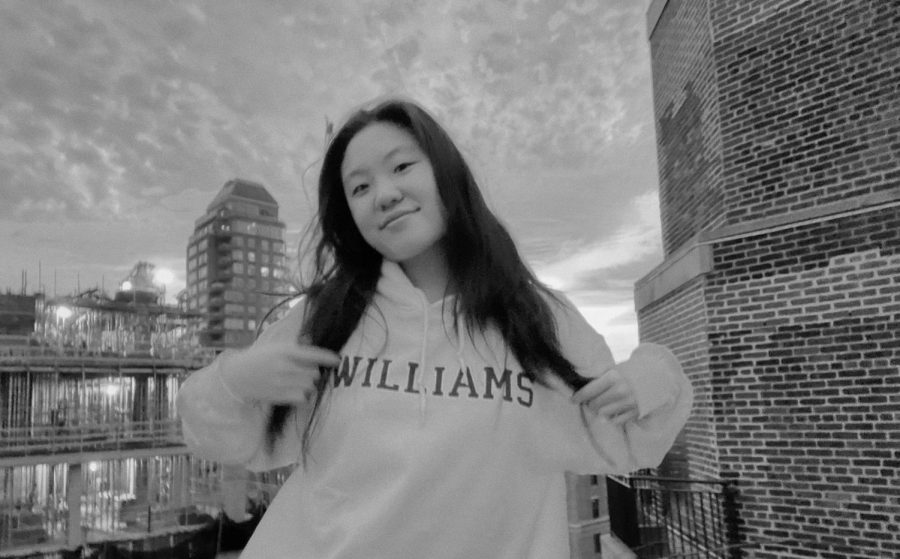 When Maddy Wu (12) was ten years old, she watched the NCAA swimming championships on TV with her parents and saw Simone Manuel break the American record. That summer, Wu met Manuel at a swimming camp at Stanford University. "That was the first time I realized that [swimming in college] was something I [wanted] to do in the future," Wu said. Now 17, Wu has officially committed to swimming at Williams College.
Wu has been swimming competitively since she was eight years old, both on the Asphalt Green Unified Aquatics (AGUA) team outside of school and on the school's swim team during her 9th and 12th grade seasons, she said. 
Wu learned about the swim program at Williams through Caroline Shannon, a former swim coach at the school, and current Girls Varsity Swim coach Thatcher Woodley, Wu said. "Coach Shannon suggested Williams and Amherst because their swim programs are very team-oriented, which is really important to me," she said. "The Williams team is similar to the HM team in that the team has a lot of fun while still being able to swim fast." Because of their swim team and academics, Wu finally landed on Williams, she said. 
At one of her AGUA meets, a parent on the team approached Wu's mother about the recruitment process. The parent said that ages thirteen to sixteen would be important if she wanted to swim in college because swimmers are able to swim faster and specialize at different events, Wu said. 
When she was thirteen, Wu qualified for her first national-level competition, but she was too young to compete based on her team's rules, she said. "At that moment, I realized that I could actually get recruited to swim somewhere that I want to go." Since then, Wu started working even harder to improve her times, she said.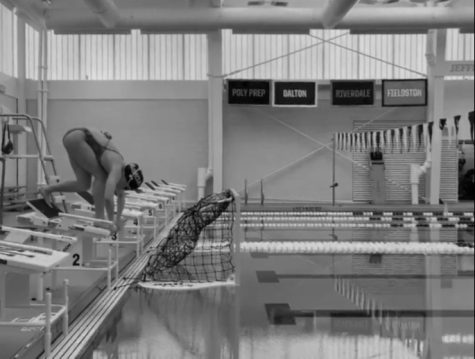 Wu practices 16 hours a week at AGUA, she said. Her training also includes attending training camps during school breaks and traveling for meets and competitions, Wu said. Because AGUA practices at an indoor facility, they are able to practice for the entire school year. 
Her years of hard work at practice and meets finally paid off when the recruitment process began, she said. The swim recruitment process is different from that of other sports because there are a large number of students looking to be recruited, Wu said. 
Because of the number of students, there is a strict timeline for recruitment. The official recruitment period — when students can talk with coaches and schools -— starts at the end of 10th grade. During 9th and 10th grade, Wu searched for schools with strong swimming programs that she thought would be a good fit academically and socially, she said. 
"I spent a lot of time on my computer looking at times I needed to hit for certain schools and divisions," Wu said. "I used those times as a goal for myself and worked closer to them as I got older. It took a lot of training and working to hit those goals."
After 10th grade, Wu was able to reach out to coaches and express her interest in their programs, she said. "I told coaches that I was interested and sent them my times and grades too."
Wu misses some practice for the school's team in order to make the AGUA practices and be a part of both teams. Therefore, Wu practices for an hour at school on Monday and Thursday, a half an hour on Tuesday and Wednesday, and the full two-and-a-half hours on Friday, she said. This schedule allows Wu to compete on both teams while maximizing her training, she said.
Girls Varsity Swim coach Thatcher Woodley, who has coached Wu for two years, sees Wu as an incredibly valuable member of the team, he said. "Maddy is incredibly passionate about swimming," he said. "She shares her excitement and enthusiasm for the sport with her team and it rubs off on people around her."
Wu's love of swimming is intensified in a team setting, Woodley said. "Being a part of a high school team for Maddy is a really valuable experience because it gives her an extra element of excitement being on a different team with different swimmers."
Throughout her time on the school's swim team, Woodley has watched Wu grow both mentally and physically as a swimmer, he said. "She always knew she could be a very good swimmer, but she has also excelled in other parts of her life."
When Wu was in ninth grade, Woodley knew that she could swim at the collegiate level if she chose to do so, he said. "In ninth grade, most swimmers will be in a place where you can project how they will grow as a swimmer in the future," he said. 
During Wu's recruitment process, Woodley helped her find the perfect college, he said. "I helped her work out her priorities between academics and swimming, while helping to match her level as a swimmer to a school where she could contribute to the team and excel," he said. 
Ella Shaham (10) enjoys swimming with Wu on the Girls Varsity Swim team, she said. "She is always smiling and has a good attitude no matter what," Shaham said. "She always makes sure everyone feels like they're a part of the team."
Wu is an amazing swimmer, Shaham said. "I remember watching her at meets as the bell rang for her final lap while most other swimmers still had a bunch of laps to go," she said. "And even when she finished, she always seemed like she could've kept going."