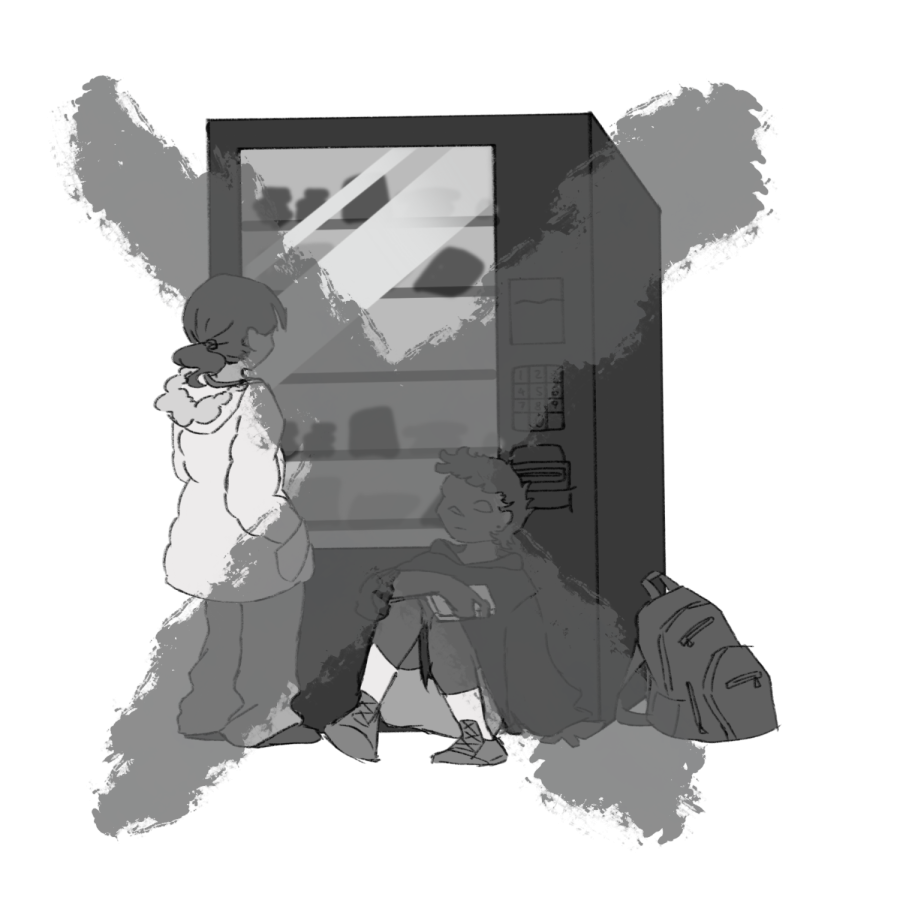 Middle Division (MD) students cannot go to the basement of Tillinghast Hall and the vending machines are off limits, Head of School Dr. Tom Kelly wrote in an email to students on December 17, 2021. The new restrictions have been deemed the safest decision amidst rising COVID cases and the Omicron variant, eighth grade Dean Carlos Aguilar said.
"If a Middle Division student needs to pass through the basement of Tillinghast to access a Technology classroom, the Technology Office, or the Department of Theater and Dance Studies, so be it," Kelly wrote in his email. "If we discover MD students congregating in the basement either through a walk through or on video, there will be a consequence."
Neel Pande (6) experienced these crowding issues in Tillinghast, he said. "There were a lot of eighth graders that piled in a hall," he said. "10 of them [would come] every day to eat."
Before break, Charlotte Wuebben (8) would go to Tillinghast during her lunch or free periods. She noticed the area was especially busy during D and E periods due to the mix of MD and UD students, she said. 
Even in the mornings, the space gets crowded, Ayana Gupta (7) said. "It got so crowded that there was almost nothing left in the vending machines."
One inconvenience lies with the lack of supervision in spaces such as Tillinghast, Aguilar said. "When we don't have as many adults as we wish there, we cannot make sure [MD students] are not on top of each other."
While MD students should have some freedom, they are not yet ready to navigate campus unsupervised as Upper Division students can, sixth grade Dean Michelle Amilicia said. Amilicia is confident that students know how to behave appropriately, but she is aware that it is difficult to adjust to new rules in the beginning, she said. 
While the MD likes to allow for kids to grow from mistakes, students who break the rules will experience consequences, Head of MD Javaid Khan said. 
If a student were to break the rules they would likely have a serious and restorative discussion, Aguilar said. However, he is certain that the students will make the right choices, he said. 
Amilicia wants students to appreciate the reasoning behind the rules, she said. "I don't want you to follow the rule just because I told you. 'I said so' is not good enough for me," Amilicia said. To ensure that students understand the rules, teachers and deans will address the MD's new COVID restrictions during advisory, Amilicia said. 
While Sarah Cohen (8) did not use the vending machines often, it was nice to know that she could get food if she chose to, she said. "Having vending machines and having a big open campus adds a certain level of independence," she said. However, the potential safety risks outweigh these benefits, Cohen said.
When the administration senses issues like the one in Tillinghast, they collectively discuss the best way to move forward and handle it, Khan said. "If students keep distance, keep their voices at a minimum when eating or congregating outside of a class, wear masks responsibly, clean up after themselves — we are not having this conversation." 
Now that the rules have been developed, it is important that they are enforced, Aguilar said. Students must encourage each other to follow the rules, and the faculty and staff in Lutnick and Tillinghast will help to enforce the protocols, he said.
Gabriela Faybishenko (8) understands all the protocols, but thinks they are too harsh, she said. "We should be allowed [to use the vending machines] but only during certain time periods," she said. The best times to do this would be during D or E period when most MD students have lunch, she said.
"I understand where Mr. Khan is coming from, since it got pretty busy, but the vending machine should not be taken away," Wuebben said. Instead, the school should find a way to manage the chaos through time slots or social distancing, she said.
Though the restrictions make Jameson Ibrahim (7) feel somewhat safer, they do not actually make much of an impact, she said. "Everybody is getting sick anyway at this point." 
Cohen, however, said the restrictions are important because of the rising cases, she said. "The more effective measures we take now, the faster our recovery will be towards our new normal," she said. 
Ayana Gupta (7) said that the new restrictions are fair, however she thinks there should be opportunities for MD students to get snacks in other ways, she said. Gupta no longer has anywhere to get food after school, she said.
In his email, Kelly suggested bringing new treats to the MD. "[The MD could] get a committee of students and teachers together to figure out how to occasionally make [access to sweet treats] possible within the Atrium," he wrote. 
Kelly's idea could become a reality, Amilicia said. Several groups in the MD such as HM Lead – an after school program in which MD students work to improve student life – could represent the MD. "If they really wanted to make something happen, they could survey their fellow classmates, they can talk during the meetings, they can figure out how we can make this happen," she said.
Sydney Kurtz (8) would appreciate a vending machine or snack bar in the MD, she said. 
Ibrahim would also enjoy having a vending machine for the MD, but does not know if it would work logistically, she said. "There's nowhere in the buildings that we are in like Pforzheimer and Rose where it would be a good place," she said.
Though Faybishenko would appreciate a vending machine, it would lead to crowding in the MD, she said. The only way to avoid this crowding would be through the use of multiple vending machines, she said. 
Overall, Amilicia hopes that MD students can learn a sense of responsibility by following the new restrictions and keep the community safe in the process, she said.
It is important that students realize these restrictions are for their own benefit and remember the primary goal is to keep students safe in school, Aguilar said. "We recognize the importance for teenagers to be present, and to be able to socialize, and if we put it at risk, then it's unfortunate because then we all get sent home," he said.