Indoor track in the running for NYSAIS Championships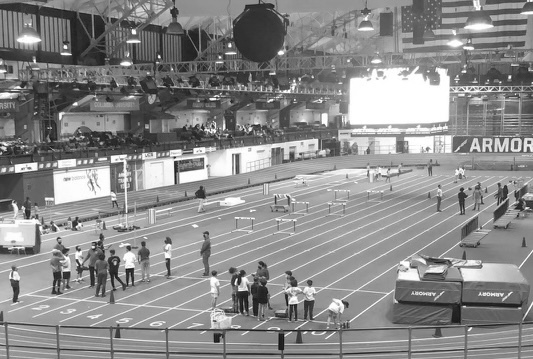 After winter break and many missed days of practice, several members of the Boys and Girls Indoor Track teams finished strong at the fourth Ivy Developmental Meet on Monday, Boys Indoor Track coach Jonathan Eshoo said. Boys Indoor Track team captain Logan Dracos (12) finished eighth out of 63 runners in the 300-meter dash, breaking his personal record, Dracos said. On the Girls Indoor Track team, Allyson Wright (11) ran a time of 8.3 seconds in the 55-meter dash, qualifying her to run in the New York State Association of Independent Schools (NYSAIS) Championships, Girls Indoor Track coach RJ Harmon said.
In developmental meets, the school invites and hosts all independent schools to compete in all events at the Armory, where schools can enter as many athletes as they want, Harmon said. These meets allow runners to gain experience competing against other schools in preparation for championships at the end of the season, he said. In more competitive meets such as the Ivy Preparatory League Championships, each school can only send their three best competitors to compete in each event, Harmon said.
During these developmental meets, competitors who meet qualification times will also move onto the NYSAIS Championships, which include all New York independent schools that have athletes with qualifying times, Harmon said.
The meet was a good opportunity for the team to bond, Girls Indoor Track member Kaitlyn Kuo (9) said. "A highlight of the meet was being able to develop relationships with my track teammates and competing against schools," she said. "Since it is such a big event you often see a lot of friends from other schools, which is also really nice."
Although the team only had three practices before Monday's meet, they prepared by conditioning and training at the Van Cortlandt Park track, focusing on various cardiovascular and strength exercises that would help them run longer distances, Eshoo said.
The team also ran on the indoor track, exercised in the fitness center, and ran warm-up laps together before they split into short-distance and long-distance workouts to focus on event-specific skills, Fazal said. "As a short-distance runner, we were instructed on improving our starting positions so we could have faster times," she said. 
On the other hand, long-distance runners focused on form and endurance, practicing breathing techniques and muscle relaxation to prepare for their event, Harmon said.
In general, the team focuses on self-improvement rather than competition or the scores of other schools, Harmon said. "We go out and compete, but our primary focus is running against our own time — we want to try and get our personal best each time," he said. "Every runner has a base standard, and we want to continually improve after every meet."
Before meets, team members have to choose the events they want to participate in, Butera said. "The day before each meet, we have a team meeting where Coach Eshoo makes sure he has everyone signed up for the correct events," he said. "Generally, people stick to their events, and we have designated short-distance runners and long-distance runners, along with throwers for the shot put."
However, before this meet, the team took the opportunity to help runners explore different events, Eshoo said. "The students generally are drawn to the distances they prefer, and we encourage them to try different events until they settle into what they enjoy and what best fits their skill set."
Runners often have an idea of what events they have a preference for, Dracos said. "Personally I prefer short distance, but different people are inclined to different events," he said. Short-distance events include the 55-meter and 300-meter dash, while longer distance races include the 600 meter, 1000 meter, 1500 meter, and 3200 meter runs, Butera said.
Most runners have a preference for the 300-meter race because it is a perfect balance between long-distance and sprinting, but many have shown newfound interest in throwing, Butera said. "JP Eliopoulos (12) is our veteran thrower and helps Coach Torres in teaching new throwers."
In light of the Omicron variant, new COVID protocols have made it difficult for runners, Butera said. "Everyone is required to wear masks at meets, which is especially difficult during high-intensity races," he said. Team members were also required to take a rapid test the day of the meet and spectators were not allowed at the track, Kuo said.
For Boys Indoor Track team member Andrew Ziman (9), the new protocols were hard to adapt to, he said. "It was tough to give 100% on the track while wearing a mask because it made it difficult to breathe."
However, the team has done the best they can to adhere to COVID protocols, Eshoo said. Despite stricter mask-wearing requirements, Girls Indoor Track team member Rizaa Fazal (10) has enjoyed going to meets with the team. "We are all cautious of getting COVID, but the team has come together and cheered each other on," she said. "All the players stood out and have improved a lot since the start of the season."
Regardless of COVID protocols, Ziman is excited to be back on the track. "Given the current COVID concerns, we were really happy to be able to compete," he said. Butera is happy with the performances of the team thus far.
The team is looking forward to training for the Ivy League Championship on February 17th, Dracos said. "We don't have a meet next week, so the whole team is looking to work hard in practice and get in really good shape for the next meet," he said. "We're hoping we can medal like we did two years ago."