Library Legends: Kazan, Duran, and Aponte
"Some of my favorite moments are when I work one-on-one with a student and I can see that light bulb go off when they understand either the most efficient way to search in our databases or when I teach something they haven't thought of," Library Technology Coordinator Melissa Kazan said. "Students are really grateful and thankful for my help, so that's really gratifying for me."
Before joining the school in 2013, Kazan worked as a library assistant at a public middle school in Westchester for eight years, she said. "In the course of that, I decided I wanted to become a librarian."
During those years, Kazan was exposed to the inner workings of the library, she said. "I think people have a misconception of what school librarians do and think it's all about books and recommending books and reading books," she said. "But there's really so much more to it, so it was an eye-opener for me to see the behind-the-scenes and all the different hats that librarians wear."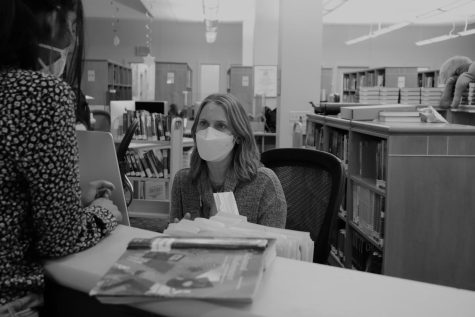 While working as a library assistant, Kazan earned her master's in Library and Information Science in 2012, she said. One year later, she joined the school's library staff. As Library Technology Coordinator, she manages administrative work and fixes issues with the school's databases, she said. "Out of our 50 database subscriptions, there's always one or two that are having problems, and my job is to determine if the problem is due to our end or the database's."
When the school's website was down last week, students did not have direct access to the databases through the library's website, Kazan said. As a temporary fix, Kazan emailed the student body a list of direct resource links that would allow them to access the school's databases, she said. 
Kazan tracks the usage numbers for each database, she said. "Every spring I look at how many times students are logging onto the databases, and I keep track of those numbers to see which databases require us renewing or which databases we need to cut loose," she said. "I can actually see what time students log in, which is kind of scary when I see usage at two in the morning on a Monday morning." 
Kazan oversaw a shift in the authenticating process for the database, streamlining the process to create better functionality, she said. "When users are at home, all of those unique IP addresses are funneled through one third party IP address, which is then authenticated by the databases," she said. "This has probably been the most useful for me, but it's not something that our users, which include students and faculty, would notice. It's something that we notice from behind the scenes."
Kazan also teaches research classes where she helps students learn to effectively use the databases when researching reference sources and primary sources, she said. In preparation for the classes, Kazan works with teachers, so she can cater her research lessons to their specific style, she said. "After I've spoken to the teacher to figure out what it is they want as the takeaway from my lesson, I then work to craft my own demonstration," she said. "Each teacher is different — some teachers want me to teach everything in one class while others want me to break the lessons apart into separate classes."
History Teacher Dr. Emily Straus often works with Kazan to plan lessons for her classes, Straus said. "She's amazing — she never gets territorial or anything," she said. "She's always open to trying something new."
"I love Ms. Kazan, she's absolutely the best," Sam Siegel (11) said. "If I have issues finding sources for history or I am questioning a source, I always go to her," he said. "She's really excellent with long-term research papers and getting the nitty-gritty sources."
Outside of school, Kazan wants to read more in her free time. "My problem is, unfortunately, I'm a slow reader, which is ironic for being a libraria
n," she said. "I also sometimes save my reading for right before I go to sleep, and that's about five pages before I'm out."
Kazan's favorite genre is historical fiction, she said. "It transports you to a different time and it's a really useful way to learn about a different time period or historical event," she said. "If I read a story that surrounds particular events, it sticks with me more than just reading straightforward text."
Another one of Kazan's hobbies is riding her Peloton, she said. Although Kazan used to go to exercise classes pre-pandemic, she now works out at home on her Peloton, she said. "It's been a game-changer," she said. "It's so much easier to work out whenever you want to." 
Kazan also loves to spend time with her children, who are 21 and 23, she said. "They were both in college at the beginning of the pandemic and their years got cut short, so they came home and we had a lot of great family time together — I guess it would be a silver lining of the pandemic."
_____________________________________________________________________________________________________________________________________________________
"Being a librarian pleases me because I can help teachers and students with resources, materials, or in the facilities," Library Assistant Sandra Duran said. "This [position] makes me feel connected to the community because that's what I'm here for — to help and fulfill the needs of the community."
Duran joined the school three years ago for her first experience as a librarian, she said. "I've always been interested in books and helping out students and teachers with any type of work," she said.
Duran works with Upper Division Library Department Chair Caroline Bartels on many school initiatives, such as the archive exhibitions. "[Students] have a place to go downstairs and see anything they might be interested in."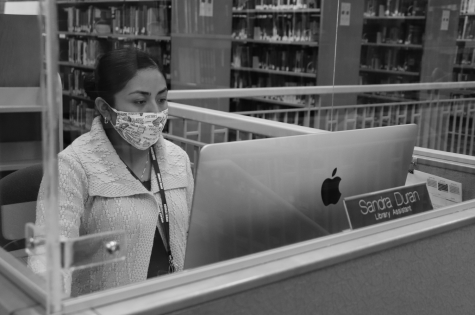 Every morning, Duran sets up the library. "I grab the newspaper of the day and any mail for our office," she said. "I come up and get our desktops up and running so that we can check out any materials that [students] need to start the day."
Right before break, Duran prepares the snack with Bartels, she said. "I also coordinate and plan with the Happiness Club any special snacks for the month."
Throughout the day, Duran works around the library at several stations, she said. "We are a busy place — we place constant book orders for students and faculty, so I receive all new book orders, I process and label them, and I also check in any supplies or materials that we use in the library." Other tasks that Duran does on a typical day includes distributing magazines and newspapers around the library, restocking snacks and hot chocolate, and shelving books, she said.
Additionally, Duran helps put together the bulletin boards on the second floor of Tillinghast that feature departments, clubs, and helpful student information, she said. "We've done boards on 'The Sixth Extinction,' which was the book for Book Day a few years back, and we had a board on Trump's impeachment along with Horace Mann Review and Horace Mann Record articles that talked about Nixon's impeachment," she said.
Currently, Duran is finishing her Accounting Degree at Southern New Hampshire University she said. Due to her heavy coursework, she spends much of her free time completing online classes and homework for her program, she said. She spends the rest of her time with her ten-year-old daughter, and they enjoy watching movies together.
_____________________________________________________________________________________________________________________________________________________
Head of Library Circulation Stiffany Aponte first worked in one of the research libraries of the New York Public Library in Manhattan as a high schooler, and it sparked her interest in being a librarian. But Aponte didn't realize she wanted to become a professional librarian until after finishing her Bachelor's degree in business administration with a focus on marketing from Berkeley College in December of 2006, she said. 
She then earned her masters from Queens College in Master of Library and Information Science in December of 2010. "I decided, since I've been working for more than ten years in the library system and I enjoy the type of work, being surrounded by books, and knowing where to find the information. And I also love to read, so it made perfect sense," she said.
Even though her passion was working as a librarian, Aponte's studies in marketing helped her improve her work as a children's librarian, she said. "I was able to use my marketing education to help me promote programs and resources that the library offered, which helped drive the public into the library," she said. Aponte used Microsoft publisher to create informational handouts that would be distributed throughout the library, and would advertise daily and monthly programs through the library's website.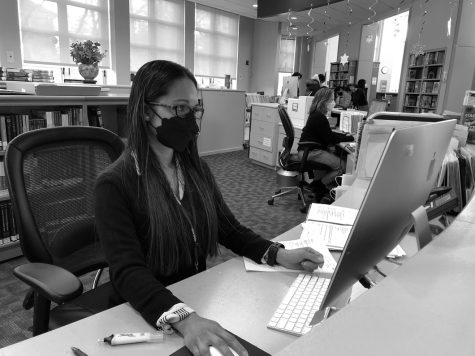 Even though she loved working at a public library, being in a school setting is better suited for her. She enjoys working at the school because it allows her to be available for her kids, she said. As a parent of two young children, having the availability to leave earlier in the day and having summers off was important to her, she said. "A public library doesn't have that flexibility. You have to be there at open and closing, which can go until 7 o'clock," she said.
Aponte has been at the school for seven years. Shortly after coming to the school, she realized how scattered the CDs and audiobooks were around the library, and created the media room. Aponte enjoys organizing and designing spaces, so this was the perfect project for her, she said. Before moving all the materials into the room she had to ensure that everything would fit, so Aponte had to go through all the audiobooks and weed out what should be kept. Then, the shelves had to be adjusted, new labels were printed for the shelves as well as the spines of the CDs so that they could be easily found. There are approximately 4,500 CDs, DVDs, and audiobooks in the media room today. "I looked around and saw where items would be placed. It would make sense that they would be all together," she said.
Aponte's favorite part about working at the school is interacting with students and doing what she can to make their lives easier — whether ordering books, helping a student find the right reference source, or simply checking in and asking how their weekend was, she said. "I really enjoy talking to the kids and then seeing them when they graduate and seeing where they're going to college," she said.
After breaking her laptop, Yasmeen Masoud (10) went to Aponte to ask if she could borrow one for a few weeks. "She gave me all the details of what I needed to do and explained how it works when you borrow a laptop. She was really helpful," Masoud (10) said. 
In the morning, one of the first things Aponte does is circulation, which involves checking in and out any library materials. She then orders any books that students or faculty may want, ensures that all the device chargers are accounted for, and emails any student whose chargers are overdue. She also shelves books, reserves study rooms for students, and makes sure students are properly wearing their masks.
Aponte's job varies throughout the school year. At the beginning of the year, she has to confirm the library has all the books that teachers require, and if a book is added to a class at the last minute, she has to ensure that it is in the library. Because the library now offers textbooks to students to take home for the year, Aponte also has to track down everyone who needs to return their books at the end of the school year. "I have to make sure that everyone returns [their books], look up everyone's names, and send kids emails asking them to return it," she said.
At the end of the year, in June, Aponte already orders books for the following year. "That's when I place all of my book orders, meaning that I go through each of the course lists that teachers want students to buy [for their class]," she said. Then, in August, when the librarians receive the rosters from the teachers, they have to order any new books that have been added at the last minute.
In addition to reading, Aponte loves completing crosswords puzzles, word searches, and other games. She especially likes crosswords because she does not need a continuous stretch of time to complete them; she can put it away to make dinner for her kids and pick it up later to finish, she said. Aponte is happy working at the school, and wants to focus on spending time with her children while they're young, she said.