Ambika Acharya '12 makes Forbes "30 under 30" list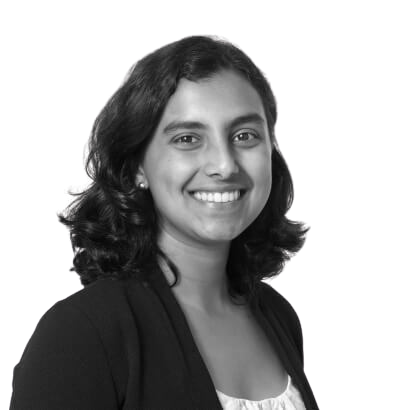 After selling her financial technology (fintech) infrastructure company, Weav, to Brex in August, Ambika Acharya '12 made the Forbes Magazine's 2022 "30 under 30" list for finance. 
Weav is a fintech infrastructure company that Acharya co-founded with Nadav Lidor and Avikam Agur in 2020, Acharya said. It is an Application Programming Interface (API), a software intermediary that allows two applicants to talk to each other. It is designed to allow small businesses to share their data with people who are giving them access to loans. For example, businesses can share their revenue data with their bank or lender to get access to better loan terms, Acharya said. The customers of the business are banks and small businesses. 
Created in 2010, the Forbes 30 under 30 is an annual set of lists of North America's most influential entrepreneurs, activists, scientists and entertainers under the age of 30. The American lists recognize 600 business and industry figures, with 30 selected in twenty different industries, according to Forbes Magazine. 
When Acharya found out that she was named to the list for finance, she was honored to be beside so many inspiring people, she said. Acharya's co-founders and investors nominated her, she said. Nominations to the list can be made by anyone, and then reporters, editors and expert judges select the final 30 listees in their assigned category. They consider a variety of factors, including funding, revenue, social impact, inventiveness, and potential, according to Forbes Magazine. 
Before co-founding Weav, Acharya attended Stanford University, where she earned her Bachelor's and Master's degree in computer science and conducted research in machine learning, computational biology, and computer vision, according to her LinkedIn profile. At Stanford, Acharya was involved with the Haas Center for Public Service and Girls Teaching Girls to Code. 
After graduating from Stanford, Acharya worked at Apple as a Machine Learning Engineer, building predictive and personalized features for iOS. During this time, Acharya experienced how collaborative the tech industry is, she said. On every project, she worked with people from a variety of disciplines, Acharya said. "Through my experience [at Apple] I learned about all the people it takes to ship a new software product to customers." She enjoyed working at Apple and gained valuable technical skills and mentors, she said. 
Acharya met Lidor in college and he introduced her to Agur later on. They were always excited about building something, so the three of them began brainstorming ideas together, Acharya said. Then, they applied for and were accepted to Y Combinator, a startup accelerator, where they started building the company. Y Combinator helped them settle on the idea of Weav after talking to many fintech companies who faced problems which could be solved with a product like Weav, Acharya said. 
In August of 2021, only a year and a half after she and her co-founders created Weav, they sold it to another fintech company, Brex. Brex offers business credit cards and cash management accounts to technology companies, according to TechCrunch. "It's hard to predict… and we timed the launch of our product well for the way the market was moving," Acharya said. Initially, Acharya and her team were not planning on selling their company so soon, but they were impressed by the Brex team and the impact Weav could have as part of the Brex ecosystem, she said. "We thought selling would be best for our team and for the future of the product."
Building Weav during COVID was challenging at times, Acharya said. "It was definitely a rollercoaster." It was also demotivating at times for her and her team, she said. Acharya and her co-founders had to push and motivate one another to keep striving towards their goal, she said. The work was all completed remotely as one co-founder was in Israel, one was in New York City, and Acharya was in San Francisco, she said.
Looking towards the future, Acharya hopes to see how data can make businesses more equitable, she said. Right now, business loans are disproportionately given to certain communities over others, and she hopes to combat this issue at Brex through using the infrastructure built at Weav, she said. 
Acharya's experience from leading clubs and teams at the school helped prepare her for the business world, Acharya said. Acharya was the co-founder and director of the school's annual Science and Technology Fair (SciTech), according to her LinkedIn.
She was also a features editor for The Record and started the Spectrum publication, the school's award-winning science magazine, and Science Olympiad, she said. "It was cool to get to see them rise from the ground up." 
In her senior year at the school, Acharya was voted First to Make a Million and Shiny Happy People amongst other superlatives in the Senior Poll. 
"In high school, Ambika was friends with everyone," Olivia El-Sadr Davis '12, one of her close friends from the school, said. Acharya was on various sports teams, in the school plays, volunteering, and always looking for new ways to engage with the school and community at large, El-Sadr Davis said. "I don't think there's a single person who interacted with Ambika who was not struck by her dedication to whatever she was doing, from basketball to computer science to the Record."
It was always clear to El-Sadr Davis that Acharya would be successful in whatever she put her mind to, she said. "Ambika is so kind, humble, and hardworking, no one deserves this recognition as much as she does," El-Sadr Davis said.  
One of Acharya's favorite classes was Math Seminar taught by UD Math teacher Charles Worrall, she said. "It was one of my favorite classes because it really challenged me and tested my skill set, and I looked up to Mr. Worrall."
Acharya was a naturally talented student, and had a remarkably high level of dedication, curiosity, and eagerness to go the extra mile to learn more and more, Worrall said. "She always had an extra amount of sincere curiosity about the math we learned beyond just thinking about what was on the next test."
In addition to Worrall, Acharya is grateful to English teacher Dr. Adam Casdin, who was her advisor. She talked to him when she first started the company to toss ideas around, she said.
Acharya was active, engaged and curious about anything she came across, Casdin said. "I loved when she would stop by to talk about her latest thinking." When Acharya was working for Apple, they had a series of discussions about the power of Artificial Intelligence and native language processing together, he said. These discussions led to several experiments in Casdin's classes, he said. One student created his own AI program to analyze and compare syntaxes in the work of various romantic poets, Casdin said. 
"I learned to recognize her enthusiasm and effort as something that was much more than just hard work. It was a deep interest in the world of ideas," Worrall said.