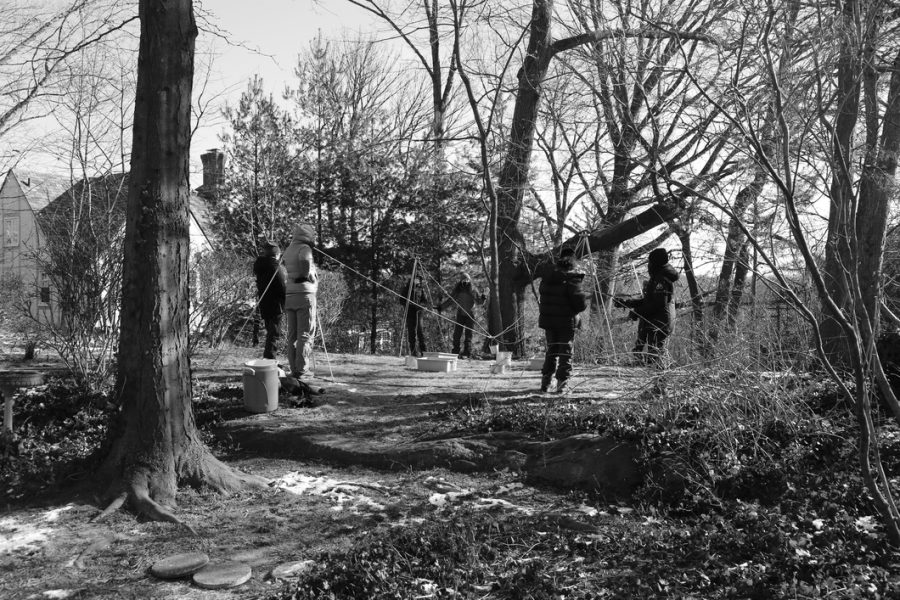 "We can't expect it to be a substitute for the best experience. We just have to make it the best it can be, and that's what Dorr is all about," Director of Dorr Nick DePreter said. Due to COVID restrictions, the eighth grade Dorr program has been moved to the Bronx campus for the month of January. 
Eighth grade Dorr is the only Dorr program in the Middle Division (MD) that was scheduled to take place during the winter months of the school year, in the midst of the spike in COVID cases at the school and in the community, Head of the MD Javaid Khan wrote.
Because of last year's COVID restrictions, the Dorr faculty had already planned options for an on-campus eighth grade Dorr experience, DePreter said. This newest version lasts three school days from A through H period, rather than the traditional eight days overnight, he said. 
Although students may be disappointed to miss the traditional eighth grade Dorr experience of climbing the Cooperative Adventure Tower (CAT), hiking, and spending time in the lodge, they will still get a meaningful, and most importantly, safe, experience on the Bronx campus until they can go back in the spring, DePreter said. 
While appreciative that she can still experience eighth grade Dorr in some form, Emily Park (8), who is scheduled to be on-campus for Dorr, feels that she will be missing out on the Dorr experience — such as climbing the CAT and staying overnight, she said. "I'm kind of sad that we're not able to go to the Dorr campus because I feel like going there would be more fun, memorable, and enjoyable for me."
Lily Sussman (8) is also disappointed about the shift, she said. "I am a little bummed about doing Dorr on campus because I was looking forward to getting to climbing, hiking, and being immersed in nature."
At Dorr, students are usually surrounded by people they may not be so close with, without their phones, for five days, DePreter said. "[Through the Dorr programs,] we can see ourselves in new ways, learn about ourselves and about each other in a totally alternative educational venue," he said. At Dorr, students learn that they're capable of activities they'd never tried before. When students return to campus, they have had new experiences and made new friends.
DePreter knows that even though they have to shorten the curriculum, they can still teach students the problem-solving skills, adaptability, and creativity they usually learn at the Dorr campus, he said. "It's a little compressed, but obviously if you take away the CAT and the day hike, you have three days," he said. "Without evening time in the cabin and campfire at night, of course, it's going to be a little bit different, but we're still accomplishing the goals that we need to." 
In the Bronx program, students still get the chance to do team-bonding activities, which include an adapted version of mini-golf,using a bucket suspended by ropes to move water, group problem solving, and hiking through Van Cortlandt Park, DePreter said.
Like the traditional Dorr program, DePreter hopes that students will be able to take the problem-solving skills they learned at Dorr into other parts of their life, he said. During problem-solving activities, students are forced to work together, bounce ideas off each other, and be vocal about their different views and concerns about an issue. 
Sussman said this experience will feel different than the one her friends who went to the Connecticut campus had. "Most of my friends [who went to the Connecticut campus] had very positive experiences, so I'm sad to miss out on that," she said. "Not only are we not doing the full time, but we are also not in the wilderness the whole time or sleeping outside. We are also limited to a few activities because they require the campus."
Although Malina Patel (8) would have preferred to go to the Dorr campus and get the full Dorr experience, she is glad not missing a full week of school due to the shortened program, she said. "I feel like I'm missing out on the true experience of Dorr because we won't be able to do activities like climbing the CAT or stay overnight in the cabins."
Anice Orvananos (8), who is participating in this week's on-campus Dorr group, appreciates the Dorr staff's effort to make this experience as meaningful as possible, while also recognizing that it is not the same as they were expecting, she said. "The group is making the most of it and hopefully sometime this year we can go to the Dorr campus in Connecticut to fulfill the experiences we cannot at the Horace Mann campus."
As soon as it is safe, the Dorr program will return to the Connecticut campus, Khan said. "Our incredible team at Dorr is ready to pivot at any point," he said. "If numbers say we are ready, we will return to Dorr; if they say the opposite, we will continue with a Bronx program."
While DePreter does think that the Bronx campus' version of 8th grade Dorr is still meaningful for the students, he knows that it isn't the same experience, he said.
Assuming that COVID restrictions ease up, DePreter is hopeful that the later groups will be able to travel to Dorr, he said. He hopes to bring all of the students in the eighth grade up to Dorr at some point in the school year, he said. "We're hoping to bring them up after spring break to at least do an overnight to get out on the trail and do some time on the CAT," he said. "Hopefully they'll get the full experience by the end."