Challenge political comfort and acknowledge the failures of Biden-Harris' first year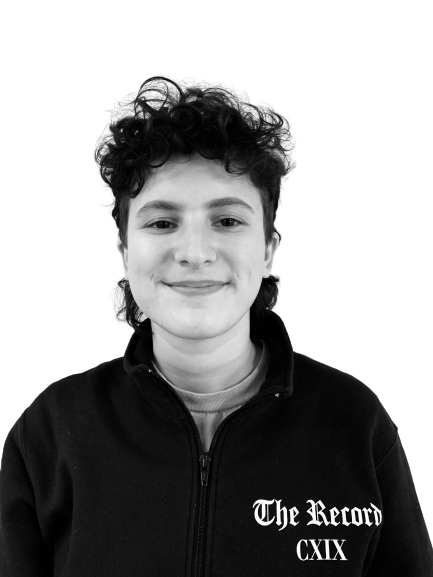 Exactly one year ago today, I wrote a Record op-ed about holding Joe Biden's administration accountable. He and Kamala Harris, who had only just been inaugurated, successfully ran on the promise that they would help fix the gaping holes in American infrastructure and social norms that Trump left behind. Biden's platform included police reform, voter protection, student debt relief, and safer COVID protocols. He (perhaps ironically) said he would "Build Back Better." This message was more of a delusion than a reassurance — a false promise of hope and stability that tends to come hand-in-hand with the push to elect a Democratic president blindly. 
Granted, Biden faces a split Senate that has been dismal at passing bipartisan, or even partisan, legislation. However, following the voting skirmish earlier last year to fill the two Georgia senator seats, voters surely expected to see a return on their commitment. Perhaps no one saw the resistance of Manchin and Sinema coming, but it is extremely telling for (and relatively in line with) the state of American politics that the Democratic party cannot unify. I find these fractures indicative of a failure of the message that we heard so often in the fall of 2020 and the beginning of 2021 — elect this president and these two senators, put your hope in the democratic process of our nation, and everything will turn out fine. Even as the Democrats had achieved their major election goals, we still find ourselves being told to head to the polls with force. Shouldn't we now start to question the validity of that earlier message and the viability of Democrats' election strategies? For me, these shortcomings have manifested themselves into a disillusionment with the American two party system. In a larger scope, however, I want to investigate the failures of Biden's presidency thus far in the hopes that this challenge will encourage political engagement within the school community.
Let's go back to this idea of pushing for the election of Democrats — especially Biden, who ran on the anti-Trump campaign. This type of sentiment is necessary, sure, but lackluster when those who endorse it fail to back up their claims. Take Biden's immigration policy (or lack thereof) as a prime example. Prior to his election, Biden shamed Trump's use of separation, detention, and raids as anti-immigration tactics. His campaign website claimed, "it's wrong, and it stops when Joe Biden is elected president." By these standards, I assume Biden would also oppose US border guards whipping Haitian immigrants near Del Rio, Texas, but that was a reality under his guidance this past September. In fact, the Biden administration has doubled down on Trump-era immigration policies. According to the title of an article published in The Texas Tribune in December of 2021, "the number of undocumented immigrants in detention centers has increased by more than 50% since Biden took office." Programs like Remain in Mexico require asylum seekers from specific countries to wait outside the US while their claims are processed. Biden has also kept Title 42, a so-called health measure that allows the government to deport immigrants without formal deportation orders, in place. I don't mention these facts to produce a "gotcha" moment in which I demonize Democrats in favor of some other political agenda. I merely wish to suggest that we, the US residents and voters at this school who so adamantly encouraged the election of Biden, should now reckon with the results of our actions. We were so overwhelmed by our anti-Trump hubbub that we overlooked two other necessities: electing a leader who could effectively fill the post-Trump void and holding said leader accountable. 
In terms of accountability, Biden has also neglected his role as the people's champion of criminal justice reform. His campaign website contains extensive writing on ending mass incarceration through the private prison system and diverting power away from police departments. In contrast to such pledges, the George Floyd Justice in Policing Act flopped in the Senate last year. Though outside Biden's jurisdiction, reform policies in major cities across the US have failed to gain traction. I'd argue this reflects a general unwillingness from Biden to follow up on his earlier messages. He has yet to eliminate the difference in federal sentencing for crack and cocaine, decriminalize the use of cannabis, eliminate cash bail, or offer a federal alternative to punitive drug "treatment."
This trend of Biden's overpromising extends over an abundance of topics. To name a few: voting rights legislation stumbled to a halt in the Senate this past week despite Biden making such protections a cornerstone of his administration; Biden refused to sign an executive order that would forgive $50,000 in student debt — instead he said he would forgive $10,000 in debt, though he has yet to fulfill this promise; and, of course, senators quashed the possibility for an unrevised Build Back Better Act that would have expanded the social safety net by funding programs involving Medicare expansion, universal pre-K, affordable housing, and child care.
All of this is to say that we as a politically engaged student body cannot remain complacent. Sure, there are a few Biden policies out there that might be satisfactory — the trillion dollar infrastructure bill could be a success, especially close to home in New York City where our transit system is in crisis. But hot button issues, like immigration, that were once a source of rage during the Trump administration now fail to provoke the same critical energy. This false sense of security comes from the notion that the election of Democrats will promptly ameliorate the condition of the US and American life. I urge members of the community to question the pillars of liberalism that tend to define our modes of thinking at school. We should look beyond the conventional options available to us in US politics as a means by which to actively engage in political conversation and challenge the leaders we have elected.