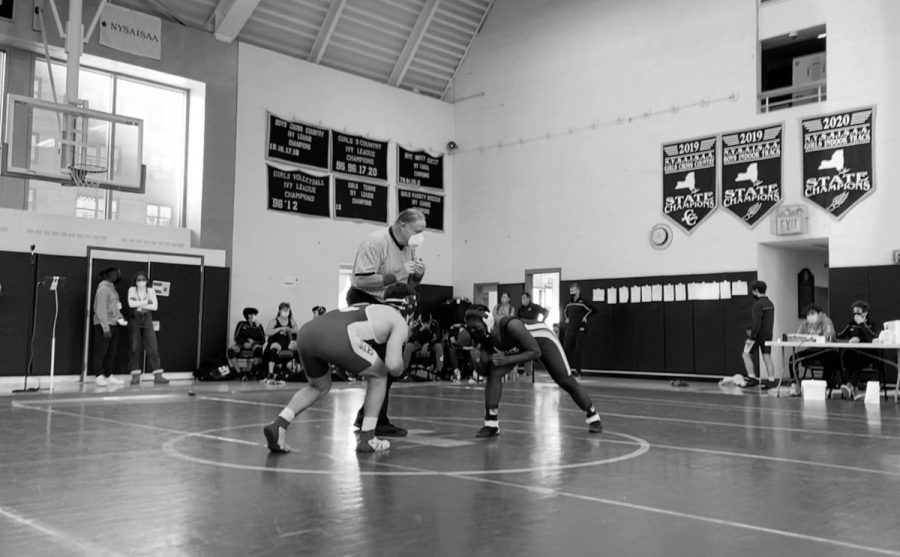 Jhanaè Ottey (12) became the first woman in the history of the Ivy Preparatory League to place in the wrestling finals after placing second in her weight class at the Ivy Invitational on February 5. "I used to complain all the time that as a girl, I should only wrestle other girls because every time I step onto a mat [against a boy], I'm bound to lose," Ottey said. "But I kept proving myself wrong this year, and I kept winning my matches."
Ottey finished with a season record of 15 wins and four losses, she said. Throughout her season, Ottey wrestled another woman only twice and won both times. Unfortunately, Ottey got a concussion in a match a few days after Ivies so she was unable to attend the New York State Association of Independent Schools (NYSAIS) tournament, she said.
The most memorable moment of the season was when Ottey won against a male wrestler in a higher weight class than her during a match against Trinity on January 26, she said. "He was a lot stronger than me, but his technique was off and I realized that," she said. "He was tossing me around for the first couple of minutes, but then all of a sudden, I did a move my coach never taught me." Ottey held the move and pinned her opponent, winning the match.
During that match, wrestling coach Gregg Quilty had pulled Ottey aside and asked if she was sure she wanted to wrestle against her opponent since her competitor did not know what he was doing and could injure her, Ottey said. She went through with the match because she did not want to let her friends and teachers down, she said.
Ottey's friends and field hockey coach Caroline Surhoff congratulated her after her win, Ottey said. "It was a day to prove to my community and my closest friends what I have been working for all of these years," she said. "I am very proud of myself."
The match reflected Ottey's resilience as a wrestler, which allowed her to surpass her expectations this season, she said. Once she learned not to doubt herself, she realized that she was not at her full potential. "Whatever I think I can do, I can do more than that," she said. This change in mindset and flexibility helped Ottey reach her goals.
Quilty also attributed Ottey's success to her mindset, he said. "The thing I am most impressed with her is her courage," he said. She never gave up, worked hard at practice every day, and wanted to be a part of the team regardless of whether she was winning or losing, he said.
Ottey showed her resilience again in the quarterfinals of the Ivies tournament, Quilty said. "[Ottey] was losing 0-5 and was taking a beating on the bottom," he said. She wore her opponent down and got on top until he could not keep up with her pace and eventually gave up, Quilty said.
Over her wrestling career at the school, Ottey faced many challenges, she said. "My peers had been wrestling since middle school while I started in ninth grade, so I just felt behind." Moreover, being a woman did not help her, she said.
Wrestling is dominated by men, so it can be unusual to see a girl wrestling, co-captain Elias Romero (12) said.
Now, Ottey strongly believes that she is at the same level physically on the mat with male wrestlers, she said. "Being a woman puts another layer of pride on top of it, that I am at the same level and I am a woman," she said. "I don't let my gender hold me back." As long as she stayed confident, her gender was not much of a hindrance, she said.
Another struggle for Ottey was the male competitors in her weight class that she went up against, Quilty said. Not only does Ottey wrestle against men most of the time, but she is also in a higher weight class, he said. Often, female wrestlers are in lower weight classes so there is not a large strength difference between them and male opponents. At the upper weight classes, women are at a bigger disadvantage strength-wise and are typically wrestling juniors and seniors with more experience, he said.
This disparity led to some challenges when Ottey was an underclassman because she won fewer matches, Quilty said. Ottey's record was 1-6 her freshman year, 3-4 sophomore year, and 14-5 this year, which is an incredible improvement, he said. "Her technique, her balance, her strength have all improved a lot each year."
Other seniors on the team watched Ottey progress since ninth grade and could see the hard work she put into the sport, Romero said. "It's great to see Jhanaè's accomplishments being recognized and coming to fruition."
Ottey's placement in the Ivies proves her growth, she said. "Being the first girl ever to place [in the] Ivies, I have just learned to be grateful for what I've gotten, how far I've gotten in my wrestling career, and to cheer my team and be happy for their successes, as well as mine."
Ottey's teammates are proud of her successes, Romero said. "Jhanaè has always been a great teammate and an awesome friend." Ottey always brought energy to the matches and stayed aggressive and competitive, he said. "She has contributed to making a great team dynamic."
Her support at matches was important to the team's success, Romero said. "Jhanaè is always one of the loudest ones on the bench when she's not wrestling, and we're the loudest ones on the bench for her."
Ottey helped the Lions win a lot of matches this season, Quilty said. "She never backs down. Once the whistle blows, she goes hard."