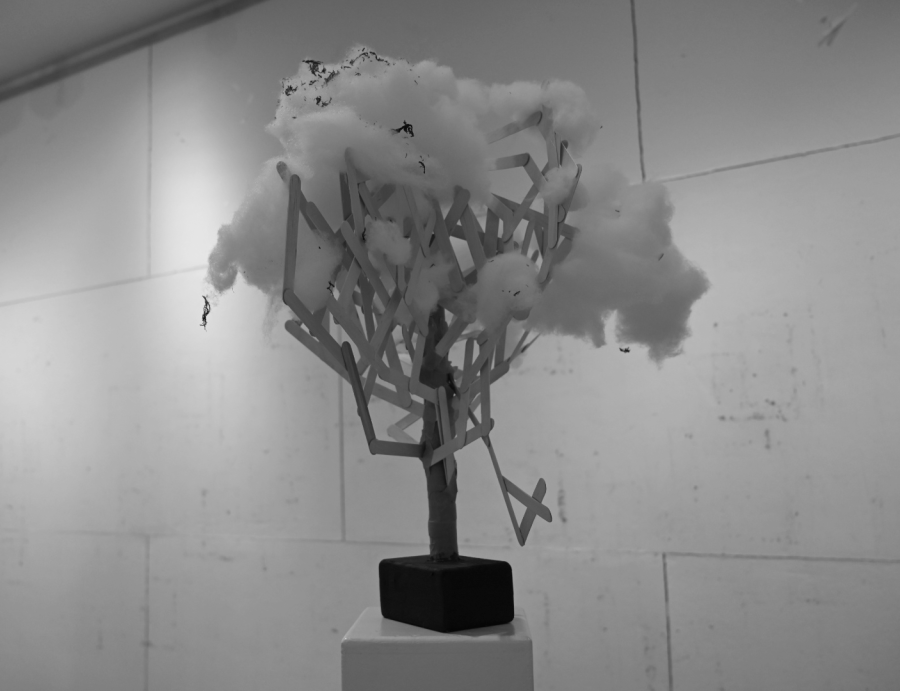 A vibrant selection of Middle Division (MD) artwork went on display this week in the Fisher Gallery. Visual Arts Studio Manager Emily Lombardo curated the show, which displayed various creative mediums, and worked to include a vibrant and thoughtful selection of art, they said.
Each year around the beginning of April, the gallery highlights all mediums of artwork from MD students, Lombardo said. "It's really jumping off of the projects the teachers assigned — we like to gather projects from every teacher and the art show forms itself based on that."
Lombardo usually breaks up Upper Division shows to highlight a specific medium of artwork, they said. "The thing that's really unique about the MD show is that you get everything. You get film, you get photography, you get sculpture, you get some printmaking, you get painting, you get drawing."
Due to the broad portfolio of work created by MD students, Lombardo spent time looking through the range of student artwork and finding connections between pieces. "I picked out the work that stood out the most to me," they said. "For each student I went in and sometimes I picked work that seemed to be a conversation with each other."
To avoid assigning extra work, art teachers use previously made work, Lombardo said. "I reach out to the teachers and tell them this is when we're going to be doing the show, so they set work aside for the show, work that stands out, and specific projects." Art teachers inform students that their work may be exhibited, but Lombardo and the teachers ultimately choose which pieces to exhibit.
After selecting the artwork, Lombardo's prioritizes organizing the display in order to provide an engaging experience for the viewer. To do this, they attempted to ensure that all of the artwork is able to tell the viewer a story showing what each art class is working on, they said.
While curating the show, Lombardo's was interested by scratchboard animals. These pieces, created by Visual Art Teacher Natasha Rubirosa's, allow the artist to scratch off black ink, to reveal a white layer. Although Lombardo received the pieces later in the curation process, they were impressed by the detail and texture expressed in the sketchings of the animals. 
One of Rubirosa's students, Kate Komaroff (8), created a defined and highly textured scratchboard piece of a tiger. Students were instructed to search for a detailed image of an animal online for inspiration, Komaroff said. "I came across this picture I found of a tiger that I thought would be really cool to recreate." 
To capture the most detail possible while creating their pieces, students sketched on pieces of paper and transferred the images onto carbon paper. Komaroff and her classmates focused on what parts of the image to fill in with white details and what parts to leave black and blend into the background, she said.
Komaroff's favorite part of the artistic process was using unique metal tools, usually used for sculpture, to texture the carbon paper. "I thought it was really cool and interesting to see how the different tools would create these different textures, because that was what this project was mostly all about," she said.
Before the show, Rubirosa told her class that some of the scratchboard pieces were going to be featured in the upcoming show, but Komaroff was unaware that her specific artwork was being featured until one of her classmates pointed out to her that it was on display, Komaroff said. 
Since this is her first year at the school and her art has never been showcased before, Komaroff was excited and gratified to hear that her piece had been selected to be displayed in the gallery for the school to see, she said.
Lombardo also noted Dolan Gay's (7) beautifully-colored frog as an impressive example of the artwork that MD students are capable of creating. Although this was not the first time that Gay's artwork was showcased in the gallery, Gay felt proud of the fact that her art teacher chose her piece to be displayed in the show. "It motivates me to keep going forward," she said.
Since she lives in the suburbs, Gay enjoys visiting a pond near her house where she can practice her drawing skills. On one of her visits to the pond, she saw a frog, sitting next to the pond, that she decided to take a picture of and sketch, she said.
When her teacher said the class would be creating watercolor paintings, Gay remembered the photo and decided to base her painting off of the picture, she said. She began by sketching the frog into her sketchbook and then transferring her sketch to watercolor paper. "My sketchbook is not really watercolor friendly, so then I penned it, I watercolored it, then I painted it over again and added more details onto that."
Although she enjoyed the whole process of painting the frog, Gay's favorite part of the process was the watercolor, she said. Since she doesn't work with the medium often, she is excited by the opportunity to work with it whenever she can. "It helps me go a little loose on artwork, so not to be too stiff and cautious of where I'm lining."