Faculty Families Find A Home Away From Home
Epsteins:
"I'll just be around campus minding my own business, and someone will come up to me and say that they know something personal about my life," science teacher George Epstein said. "I will sigh and say, 'I know where you heard that from.'"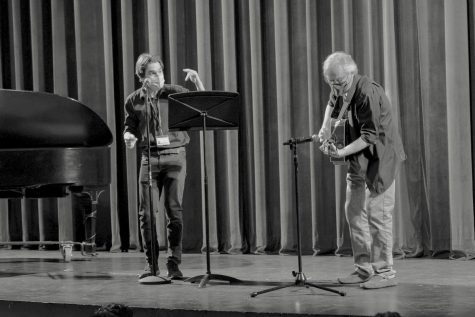 George and his father, music teacher Doug Epstein, both work at the school and share passions for science and music, Doug said. Doug first came to the school in 2000, where he worked as a consultant for the music department and built the recording studio, he said. Later, in 2012, Doug became a full time employee.
In the winter of 2014, Doug took his wife and George to a Christmas party at the school, where he first introduced George to the head of the school's science department, Steve Palfrey, Doug said.
At the time, George had just graduated from college and knew that he wanted a future in science education, he said. "After the party […] in the car [Doug] was saying, 'so I think that was just a job interview," he said. That summer, George served as a teaching assistant for a summer physics course at the school and later became a full-time staff member, he said.
Ever since George started working at the school, students have started to notice that the two are related, Doug said. "I think word has gotten out [that we are father and son]." Although many students know that George and Doug are related, some still accidentally email the wrong one, Doug said. The mishaps with emails are all in good fun and part of the ups and downs of working with his son, he said. "I get a little chuckle out of them."
To avoid confusion, George starts each school year by telling his students that there are two Epsteins, he said. But even with the warning, students will sometimes forget. "Occasionally, there are these revelations where someone comes up to me saying, 'I just talked to your dad, and I didn't realize it.'"
On one occasion three years ago, George ordered supplies from Amazon that accidentally went to his father, George said. "Next thing I know, [Doug is] sending out an email to the faculty asking who's stuff it was," he said. "I see the email and reply to everyone saying, 'well…it was bound to happen at some point. [The package is] mine.'"
While the two occasionally communicate by redirecting emails to the correct Epstein, they do not see one another too often at school, Doug said. "We see each other much more than [in years past] because we share a lunch period, but even so, I have to work through lunch a few times a week, and so does [George]," he said.
Part of the reason it is hard for them to interact at school is because of how far apart their classrooms are, Doug said. "[George] is in Lutnick and I'm in the classroom that's furthest away from everything else on campus [in Fisher]." However, sometimes, they spend time with each other on the commute to work; when the two can, they will bike to school together, Doug said.
George's favorite thing about working with his father is when they perform at Music Week together, he said. This is because music week allows George to pursue his love of making and performing music with his dad, he said.
Music has always been a part of both of their lives, Doug said. "George was listening to the Thomas the Tank Engine Theme song and Sharon, Lois, and Bram from the time he was a baby," he said. "They were simple guitar tunes, so I would play the songs, and we would sing them together."
Doug and George have performed together ever since George could sing, Doug said. When George was a Freshman in high school, the pastor at his church asked him and Doug to perform "Deportee" by Arlo Guthrie in support of immigration policy, he said. "I pulled it all together and wrote out a part for him, and he and I just nailed it," Doug said. "It was one of those 'one off' performances, and working it together made it so much better."
This year, the duo performed "Elements" by Tom Lehrer at the school's Music Week assembly. "George being a science teacher and me being a music teacher, you put science and music together and get the Periodic Table Song by Tom Lehrer —  that's the only answer," Doug said. He enjoyed performing the song since it gave him a chance to do a live show with his son, and it added a little bit of humor to the performance, he said.
While Doug spends most of his time around music, he especially likes making music with his son, he said. "There's something about DNA harmonies," he said." Making music with my family is a great thing, and to do it here with George, particularly at our place of work, is fabulous."
When they harmonize, George often sings the higher part, and Doug will sing the lower part, Doug said. "We bring each other songs we want to do, and then we will either teach it or work it out and just adapt to each other," he said. "There's no leader and follower dynamic, but rather just a collaborative effort."
George likes to watch Doug teach other kids and see the impact he has on them, he said. "I remember the first time that I came to visit [one of his classes] and how nice it was to see the person that I know as a father be a wise and fatherly figure for other people that aren't just his children."
Doug loves to share his passion for music with others, especially while working with George, he said. "It's a blast to look at this guy whose diapers I changed and actually treat him as a colleague and as a mature adult man."
Garrisons:
"I don't think either of us ever really expected to come back to Horace Mann," Registrar Chris Garrison '04 said. After spending 13 and nine years respectively as students at the school, both Chris and his sister, Middle Division (MD) History Department Chair Catherine Garrison '01, decided to return as staff members. They are following in the footsteps of their now retired mother and father — math teacher Susan Garrison and Head of the Tutoring Center Lionel Garrison.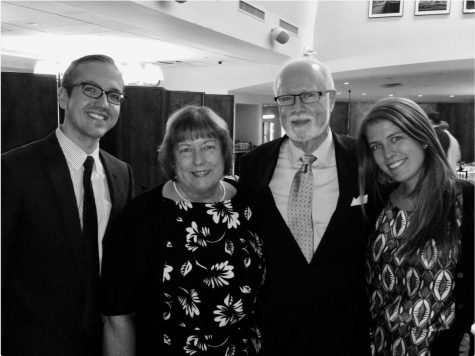 While Catherine never thought she would return to the school, she is happy she did, she said. She initially planned on pursuing a role in foreign relations and was not looking for a teaching job, she said. "My parents worked [at the school] at the time, so I was not pursuing [the school] because I thought it was nice to have my own independence and autonomy," she said.
The school has been a part of Chris' life for as long as he can remember, he said. "My father first came [to the school] in the 80s, and then I started in kindergarten the following year, my sister started in fourth grade about a year later, and then my mom started six years after," he said.
Catherine ultimately changed her mind and applied as an assistant teacher at the Lower Division (LD) in 2009, she said. "Dr. Kelly will often reference that for alumni who return, it's like coming back home," she said. "When you're thinking about being a teacher or working in education, you have really fond memories of Horace Mann, and it draws you back."
When Chris first came back to the school, he only intended to work on a short term software project in the nurse's office, he said. "I happened to graduate college just before the Great Recession in 2008 and just needed some temporary work," he said. While Chris did not expect it, the project took off and lasted a couple of years before he trans
itioned to working in the Admissions Office.
 Even though all four family members were working on the same campus, they did not see each other too frequently. "There was a long stretch of time where my father was mostly in high school, my mom was mostly in the Middle School, my sister was in the Lower Division, and I was in Spence Cottage," Chris said. "So we were really separated in a way that allowed us to do our own thing a little bit, but still allowed us to stay connected in a way that I think is harder for young people to do with their parents."
For Chris, the biggest perk of working at school with his sister is the time they get to spend together, he said. "Normally, I would maybe only see my sister on occasion or talk on the phone a little bit," he said. "It's really wonderful to be able to have real conversations with her and to just see her on campus." Chris feels lucky that he gets to be in close proximity to his sister and that he can spend time with her and see her so frequently, he said.
Chris especially enjoyed seeing Catherine online during remote school. "My sister was staying with my parents, and it was fun on Zoom meetings to see where she was [in their house]," he said.
Working together makes talking with Chris outside of work much easier, Catherine said. "It's really nice because we can have conversations outside of school and reference things that only each other understand," she said. Working together allows them to support each other well, especially when life gets busy and stressful, she said.
Since the two do not see each other too often at school, they use time outside of school to check in, Catherine said. "We often catch up when we drive to New Jersey to visit my parents," she said. During the car rides, the two of them chat about work and other things going on in their lives, she said.
Catherine also appreciates that Chris can be a familiar face for her students as they enter high school, she said. In the beginning of each year, Catherine often tells her students about her brother, so that they know that he works in the high school, she said. "We do a three-year rotation with advisories [in the MD] and the advisory group I've had since sixth grade just went to high school, and they were hoping they would have Mr. Garrison [as their advisor]," she said. "It provides a little bit of continuity."
Catherine hopes that her students get to know Chris as they enter high school, she said. "Some of them have felt comforted by the idea of knowing someone who is close to Ms. Garrison because it can be a big adjustment to go from eighth to ninth grade," she said. While she does not bring Chris in to meet her students, occasionally his role as Registrar will bring him to the MD and students will get to meet him, she said.
Chris always found it funny when he would meet students who happened to interact with each of his family members in all these different ways, he said. "When I was running the [student] ambassador program, there would be ambassadors who had both my sister and my mom as teachers and then also worked with my dad in the math tutoring center, which was a little insane," he said. 
Throughout their many years at the school, Catherine most valued having Chris for support when their parents were retiring in June of 2019, she said. "It was a pretty monumental experience for both of [my parents], and t
here were moments where I got sentimental or even excited for my parents, but it was nice to lean on [Chris] in those moments," she said.
Having a sibling connection is very powerful, Catherine said. She finds it even more powerful when they work together and live through the same experiences, she said. "There really is that connection there amongst siblings that most people just don't understand."
Reyna and Duran:
"I miss seeing her every day, I miss the interactions that we had face to face, I miss the little jokes, I miss everything about her being on campus," Mailroom and Delivery Services Coordinator Jefferson Reyna said of his partner, Library Assistant Sandra Duran. Duran has been on maternity leave after giving birth to their son Alexander one month ago.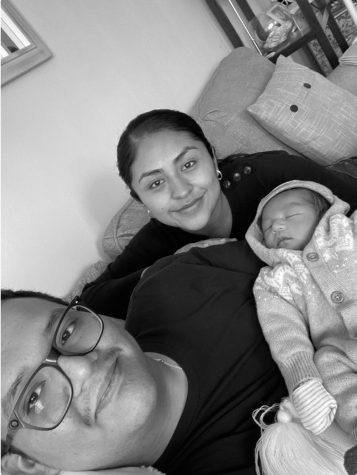 The two first met when they both worked for FLIK at the school. At the time, Reyna worked at the sandwich bar and Duran worked as a supervisor, Reyna said. "I fell in love with her as soon as I met her," he said. However, Duran was Reyna's superior at the time so she was nervous to be in arelationship with him, he said.
It took Duran a little while to see Reyna in a romantic way, she said. "At first, we didn't talk much, but then we became friends and it took a few years for me to see him as more than a friend," she said.
Due to strict employee guidelines, the two did not start dating until seven years after they met, Reyna said. "[Duran] felt pressure that we weren't allowed to date within the company, and also felt that it wasn't a good time for her to be in a relationship, since she was focused more on taking care of her daughter instead of dating," he said. "Once I left [FLIK], the rules were more lenient, and she felt more okay with us dating," he said.
As soon as Duran gave Reyna a chance, they instantly began dating, he said. "We didn't really need to go through the dating phase," he said. "We had already worked so much and so well together that we already knew all we needed to know about each other," he said.
Everyone that the pair knew through work was super supportive when they found out that they had started dating, Reyna said. "My FLIK coworkers were not surprised because it was obvious that I liked [Duran]," he said. "They always knew that we would maybe just get together."
Now that they are together, Duran looks forward to seeing Reyna around school, she said. "One of my favorite things is that through work we both get to know the same people and build long friendships, especially in this community that is very close."
Reyna often sees Duran during school since a part of his job is to deliver mail and packages to the library, where Duran works, he said. "I bring packages over to her all the time, and she's always contacting me with things to do in the library or other tasks she needs help with," he said. Interacting with Duran everyday is one of Reyna's favorite parts of his job at the school, he said. 
Reyna also likes when Duran stops by the Business Office to have lunch with him, he said. "She knows all my coworkers in the office so she would come over and talk with me and then [have] lunch with us, which was awesome."
Throughout their time at the school, the pair have made a lot of memories, Reyna said. He loved to work and attend events with Duran while they worked for FLIK. "My first [Homecoming] after we left FLIK and started working [at the school] was great because we brought [Duran's daughter], Jacqueline, and she had a great time," he said.
Reyna also enjoys seeing alumni whom he was close with at the schoolwide events, he said. "They got to see us together as well, which was very nice," he said.
One of Duran's favorite moments at the school was when the pair attended the Dorr Family Picnic two years ago, she said. "That day my daughter had so much fun and got to know many of the people we work for and played with my colleagues' children," she said. "Occasions like these are very nice to have because we can share with the people we work with as well as with their families and create beautiful friendships."
While Reyna loves all the memories he has made with Duran over the years, his favorite experience with her was the birth of their child, he said. Even though he misses Duran during the school day, now that she is on maternity leave he is happy that he got to spend some time with their child earlier and that Duran gets to stay with the baby now, he said.
Jensens: 
"We've been together [for] 40 plus years, and it's been nice to be near my best friend and partner," Nurse Nancy Jensen said. For the last two years, Nancy and her husband, Director of Facilities Management Gordon Jensen, have worked together at the school.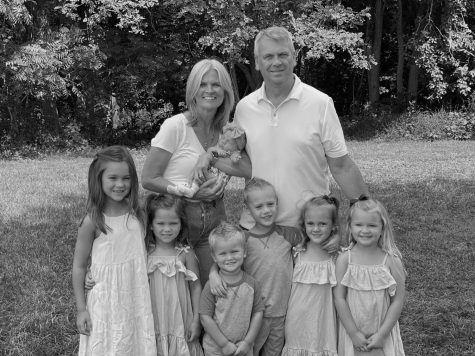 The two met in a church youth group in 1982 when they were teenagers, Nancy said. "For me, [the connection] was instant," she said. "I remember calling my friend and telling her that I really wanted to date that Jensen kid."
The two got married in August of 1986. "Our parents thought we were too young and not ready and that we should finish school," Nancy said. Ignoring their parents' advice, the two gathered up the money they had between them and eloped, she said. "We went away for a weekend, got married on a Friday, and we were back to work on Monday."
When they married, Nancy was working at a nursing home in Brooklyn, and Gordon was working for the National Maritime Union, she said. Soon after, Gordon started working as the Facilities Manager for the Spence School, where he stayed for 24 years before coming to the school in 2014.
Gordon came to the school because he was ready for a change, he said. The school was also getting ready to build Lutnick Hall and he had previous experience in construction, he said. 
At the time, Nancy was working as a nurse at the Morristown Medical Center where she had been for around 20 years, she said. During the pandemic, the school was looking for a second nurse, so Gordon pushed Nancy to apply and put her in contact with Head of School Dr. Tom Kelly, she said.
While Nancy was excited to work with Gordon, she was somewhat nervous to leave her old job that she knew so well, she said. "I knew [Gordon] would support me, but I had never worked as a school nurse before, and that was nerve-wracking." It was very helpful to have Gordon to lean on when she first started at the school, she said. "If I didn't know who to call about something being broken or if I didn't know who to contact for various issues, [Gordon] was always helpful."
Another added benefit of working together is the shorter commute, Gordon said. "Part of my job requires me to live on campus, so I live in one of the [houses] at the Lower School," he said. "Not having to drive either [Nancy] or myself for an hour to get here is nice because we get to spend more time together outside of school." 
Before Nancy came to the school, the two lived in a house in Sparta, New Jersey, 63 miles from school, Nancy said. "After a few years at the school, [Gordon] got on-campus housing, and we would split up our time between the two houses while spending weekdays [on campus] and weekends in Sparta," she said. At the time, Nancy would commute between the school's campus and her work in Morristown, New Jersey, she said. she appreciates living on campus and how close she now is to work, she said. "I can walk to work every day, and I almost even forgot how to drive."
Even though they work on the same campus, their schedules do not align with one another, so they do not see each other too often during the school day, Gordon said. When Nancy first started at the school, he made an effort to visit her throughout the day to see if she needed anything or to just say hi, he said. Now that she has settled into the school, they do not see each other as frequently, he said. "We are both busy people who have totally separate and different jobs."
Nancy appreciated Gordon checking up on her and all his support when she first started at the school, she said. She also appreciates the time, as infrequent as it may be, that she and Gordon spend together on campus, like eating the occasional lunch together in her office or co-organizing COVID-19 testing on Fridays, she said. 
Despite having the same last name, many students do not know that she and Gordon are married, Nancy said. "It's funny because sometimes the students will come in, they'll look at my picture, and then they'll be like 'wait,' and a couple of them will put two and two together," she said.
Gordon has also had funny experiences with people finding out they are married, he said. "I was dealing with an event, and some parent who was dealing with [Nancy] put two and two together," he said.
Being within walking distance of both her work and her husband has made Nancy love her experience at the school, she said. She looks forward to making more memories and using her connections with Gordon to her advantage, she said. "Occasionally, I'll stop by and go, 'how are you doing?' He'll be like, 'I'm good, how are you doing?' and I'll say, 'oh, while you're here can you fix this?''' she said. "It works. It just works."