Feature: Investigating the ethics of out-of-school college counseling
In the competitive environment of college admissions, students are going to do everything in their power to get an extra edge, Brent* (10), who chose to remain anonymous to keep his college counselor's information private, said. For him and other students, that means hiring a college counselor outside of school. While private counselors may or may not serve a significant advantage, their prevalence among students has generated a secretive culture, fueled by admissions anxiety and their steep financial costs.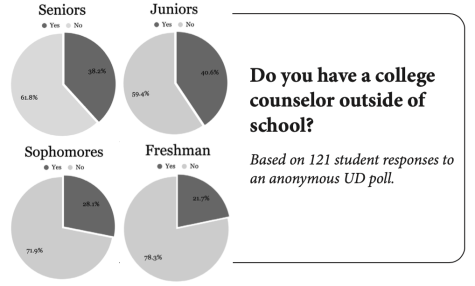 Private counselor services range from hourly consultations to comprehensive packages that begin as early as middle school. They provide long-term guidance on academic course selection, extracurriculars, standardized testing, summer programs, research, internships, and competitions, as well as short-term advice on admissions essays, recommendation letters, college lists, interviews, early decision applications, and actions after a deferral or waitlist.
33 percent of Upper Division (UD) students use a private college counselor, according to an anonymous Record poll with 121 responses. 38.2 percent of the 34 seniors who responded use them; 40.6 percent of the 32 juniors; 28.1 percent of the 32 sophomores; and 21.7 percent of the 23 freshmen.
The results are higher than the most recent nationwide study titled "High-Achieving Seniors and the College Decision," which was conducted in 2006 by Lipman Hearne, a marketing and communications firm, in partnership with the National Research Center for College and University Admissions. From a sampling of 1,264 students who scored in the 70th percentile or higher on the SAT/ACT, the study found that 26 percent hired a college counselor outside of their school. 
An anonymous survey that the College Counseling (CoCo) department has sent at the end of the admissions process for the past nine years found a lower number — 15 to 20 percent of senior students and parents reported hiring outside college counseling each year, Executive Director of CoCo Canh Oxelson said. "I'm going to guess it's closer to 50 percent," he said. "Even in an anonymous survey, I'm not sure people are being totally honest about it because they're so worried that we're going to find out."
The CoCo has no official policy on outside college counselors, Oxelson said. People are secretive about the topic because they worry that school counselors will not work as hard for students who have them — which is false — or because they might offend the CoCo — also false, he said. Some parents have even asked Oxelson if they need an outside counselor. "My response has always been, 'I do not believe that you need to do that, but if it will help you feel better about it, sure'" he said.
While Brent* is happy for as much assistance as possible, he does not think the counselor helps substantially, he said. "At the end of the day, [college admissions are] a highly merit-based system, so help can only get you so far."
Having a college counselor outside of school has helped Courtney* (9), who is anonymous because she feared how her parents and future teachers would react if they saw her speak openly about the topic, figure out what extracurriculars to pursue and what classes to take, she said. She hired a college counselor to help her apply to the UD, and she will keep working with the counselor through the college application process. "My parents didn't go to Horace Mann, so they didn't understand the admissions process and they wanted an expert's opinion." she said.
Since the end of freshman year, Ashton* (11), who is anonymous because his parents want him to be discreet about the subject, has had a private counselor. He would feel at a disadvantage without one because they helped him identify prestigious writing competitions, apply to summer programs, and write an email to get an internship for this coming summer, he said. "Because of that, I'm assuming that the results with the out-of-school counselor will be better."
Between September and January of senior year, Joaquin Ramirez Villareal's (12) private college counselor helped him build his school list and revise his application essays, he said. His brother used the same counselor when he applied to US colleges from England, so his parents asked if he wanted to do the same. He agreed because they helped make his brother's college process less stressful, he said.
As applicants increase and acceptance rates drop, private college counseling has grown into a two-billion-dollar industry, as reported by a 2019 New York Times article titled "Inside the Pricey, Totally Legal World of College Consultants." Prices depend on the type of service, the counselors' background, and the company's target clientele. According to the Independent Educational Consultants Association (IECA), a professional association that represents independent college counselors, the average hourly rate is $200, and comprehensive packages for two years of counseling cost between $4,000 and $6,000.
Hour-long consultations with NYC-based company Bespoke Education, founded by Tim Levin '89, start at $250 for and reach $400 for more experienced counselors, while a one-year package with over 30 hours of meeting time costs $9,000. Another NYC-based company, Prestige Education Consulting, charges $15,000 for their two-year "Premium Services" package.
Prices at prestigious companies run even higher — an hour-long consultation costs $1,750 at IvyCoach, according to the 2019 Stanford Daily article titled "Elite college counseling: A legal, prohibitively expensive pay-to-win game in admissions." IvyCoach's "Unlimited Package," an "exclusive college counseling concierge service" for students applying for up to 20 schools, comes with a $1.5 million check, according to the 2019 New York Times article.
While IvyCoach is an industry anomaly, five-digit price tags are not uncommon. A 90-minute consultation with IvyWise costs $1,350 and the median tuition for long-term counseling is $25,000, according to a spokesperson in the 2019 Vox article titled "The outrageously expensive world of college counseling services, explained." TopTier Admissions's four-day boot camp before senior fall costs $18,000, according to the article.
These lofty rates may contribute to why people do not talk about private counseling openly, Jiyon Chatterjee (11) said. He does not have one and only two of his peers have told him they do. "Everyone at HM is very cognizant of all the opportunities that being at HM affords us, so there's a sense that [having your own private counselor outside of school] is unnecessary or a luxury that may not be justified," he said. "I don't have any moral judgment on people who might use outside of school resources, I just don't see the need for it."
Taboo and secrecy is a large issue with private college counseling, Dan Frommer P'18, '21, '24 said. "As the college process is becoming harder, especially today versus 10 years ago, I would  think open communication with the college counseling group would lead to more productive discussions." None of Frommer's children used private college counselors because the school's college counselors were more than sufficient, he said. "They know our kids and they know HM, but most importantly they have been very accessible and available."
Last June, Asher Swersky (12) and his parents hired a private counselor because his previous CoCo counselor, Frank Cabrera, left the school at the end of his junior year, and Swersky did not get a new counselor until a few weeks before senior year started. Even though he has a justified reason for hiring outside help, it still feels embarrassing to talk about it because of how much it cost, he said. He declined to specify how much his family paid, but it was "a lot," he said. "I don't know if I want to be known as the kid who's spending all this money on something that school provides."
While some students tell Senior Associate Director of CoCo Kaitlin Howrigan they have an outside counselor, she often has to infer, she said. "They'll keep referring to a cousin or an uncle that I can tell is actually a private counselor." A handful of her students have been upfront about private counselors, but she cannot begin to guess how many actually have them.
While private college counselors seem like an unfair advantage to students who can afford them, they do not offer a strategic advantage because they have no more knowledge or information than school counselors, Oxelson said. "If [students and parents] are expecting that they're going to get better outcomes, that's debatable."
Some families seek out private counselors with a lower caseload so their students can get more attention, Oxelson said. The school has an average 22-to-one student-to-counselor ratio compared to NYC public schools' 400-to-one, but private counselors can have a smaller ratio of 10-to-one or less. Still, the CoCo has concerns about the quality of support that students get from unvetted external sources, Oxelson said. "We can't be sure if they're getting good advice."
Swerky's private counselor seemed competent because of her credentials, but she gave him consistently bad advice between junior spring and senior fall that hurt his application, Swersky said. He fired her and got a full refund after she advised him not to take Calculus senior year, switch to the ACT when he had practiced for the SAT, apply as a filmmaking major when he only had film writing credentials, and did not review his Early Decision application, he said. "My parents were freaking out because they're paying a lot of money, and we're getting screwed." She also edited one of his essays until it seemed like she wrote it for him, which crossed an ethical line for Swersky, and he chose not to submit it.
Families should steer clear of consulting companies that write essays for students or guarantee admission to certain schools, Dr. Kat Cohen P'25, founder of IvyWise, said. Their counselors adhere to the National Association of College Admissions Counseling's (NACAC) "Guide to Ethical Practice in College Admissions" and the IECA's "Principles of Good Practice," which states that "members shall not write application essays or any portion of an essay for students."
Membership in organizations like NACAC and IECA is not mandatory for independent college counselors, so unaffiliated practitioners are not bound to their guidelines. According to a 2018 survey by IECA, the 2,732 members affiliated with them and similar organizations only represent 20% of all independent consultant companies.
Private and school counselors both have advantages and disadvantages, Savannah* (10), who has a private counselor and is anonymous to avoid backlash from her parents, said. "Our school's college counselors are used to working with our school, our kids, […] and are more familiar with the Horace Mann system." A private counselor works with students from various schools and may have a better view of the college admissions process on a broad scale, she said.
Even if an outside counselor is well-informed, they can only advise students based on a common data set, public information on how many applications a school receives and who they accept, Oxelson said. School counselors make more accurate predictions using the school's internal admission statistics and advocate on behalf of specific students to college admissions officers in a way that private counselors cannot, Oxelson said.
The CoCo is also privy to information like teachers' recommendations, which allows them to direct how students present themselves through their essays in a cohesive manner that outside counselors cannot, Oxelson said. "All of the pieces of the application work together, almost like a puzzle and when you don't have particular pieces, you can't complete the puzzle."
Rather than facilitate the college process, private counselors might add to students' stress as they have double the meetings and work, which can lead to less communication with the CoCo and a disjointed counselor letter, Howrigan said. "I worry that the story that I'm telling [admissions officers] about the student doesn't jive with whatever they're doing with a private counselor." The more transparent students and families are with their school counselors, the better, she said. "We won't think you're a bad person because you're using an outside counselor."
Despite the high price, potential downsides, and no proven uptick in outcomes, outside counselors might benefit students and parents who feel extra anxious about the college process, Oxelson said. He has even recommended trusted counselors to families who might benefit from that additional reassurance. "If they just want to get through the process with more sanity, then I can understand that."
Talking to a counselor outside of school helped Villareal feel more secure, he said. He was not sure he wanted to go to college, partly because he was nervous about applications, so the counselor walked him through his choices. "The college tools that we have at school, like Kickstart, make you a lot less reassured of your choices because it's all doom and gloom on there," he said. (Kickstart is a program that uses students' GPA and standardized testing scores, alongside the most recent three years of the school's data, to sort colleges into unlikelies, reaches, targets, and likelies.) "Everyone was telling me that my prospects were low. She was just the only one who was like, 'apply to where you want, it's your four years, you shouldn't let other people decide for you,'" Villareal said.
Even though Ashton's private counselor highlighted parts of his application that were lacking, Ashton thinks he is in good hands because they are more upfront about what he must do to achieve his goals. He used to think his GPA was sufficient for the colleges he wanted to apply to, but his counselor told him to step it up because it was not high enough, which he does not think the CoCo would do. "[They] give kids the sense that everything will be fine, just do what you want, your grade is good enough for this college — when the truth is far from that."
Families often hire outside counselors because they think the CoCo might put the school's interests above individual students' interests, Courtney said. In particular, she worries that if too many students want to apply to a certain school, their counselor might discourage them so as to not hurt the school's acceptance rates, she said.
Some people measure success by counting Ivy matriculation, and people even compare matriculation lists of independent schools to determine who "did better," Senior Associate Director of College Counseling Chris Farmer said. He shuts out those concerns when he works with students and only wants them to apply to schools that are a good fit for them. "There is this feeling out there that we push [students] a certain way so that the outcome of the class could be good," he said. "That's not how it works." CoCo counselors do collaborate on all students' lists to assess whether a school should be categorized as an unlikely, reach, target, or likely, but the college list is ultimately the senior's. Their goal is to ensure that every list is balanced, not to sway students towards or away from certain schools, he said.
Private counselors' lack of institutional ties means they need to attract clients with high acceptance rates, so they tend to be more blunt and effective, Ashton said. He started UD as a STEM-orientated student; his counselor repositioned him to apply as a humanities student because the competition is less fierce than STEM. Using that strategy might give him a better chance, and the CoCo would not have been as direct, he said. "[They] take more of a passive stance on what the kid wants to do," he said. "They're not as frank as my out-of-school counselor."
By the time juniors get their counselor, most have already settled on their interests and have gotten involved in the activities they will list on their application resume, Farmer said. As such, the CoCo cannot plan students' paths like private counselors who have worked with them since freshman year, but they help connect students' school activities to potential majors and careers. "They're planning it on the front end, we're reflecting on what a student has done," he said.
Even for those who want help deciding what interests they should hone before senior fall, the CoCo would not be as heavy-handed as private counselors in recommending them to do an extracurricular so they look "more compelling" in admissions, Farmer said. "We don't want to push students to do something that's not organically happening."
In addition to more around-the-clock support, some students hire private counselors to start the application process earlier. According to the Record poll, out of the 40 students who have a private counselor, 2.5 percent hired them in seventh grade or earlier, 7.5 percent in eighth grade, 30 percent in ninth grade, 22.5 percent in 10th grade, 27.5 percent in 11th grade, and 10 percent in 12th grade.
College has always been something Savannah has had in the back of her mind, so she started working with a private college counselor at the start of 10th grade, she said. "Since college is a goal I've always been racing towards, starting with extra help a little earlier seemed like a better idea."
Schools look at transcripts and activities from all four years of the UD, so families might want to plan ahead to maximize their time, Cohen said. "It's never too early to start thinking about the process in terms of how you approach high school," she said. Students can identify their core interests and pursue them through academics and extracurriculars in school, independent projects outside of school, or summer programs.
The CoCo does not think students need to start thinking about college applications before they get counselors in junior year, Oxelson said. "I can understand some family saying, 'I want my child to meet with a college counselor in ninth grade because I want my child to be motivated to know what it's going to take to get into [a top college]." However, outside counselors are not the only way to get that information — the CoCo hosts grade-wide meetings for parents starting sophomore year and parents can meet with Oxelson individually, he said.
Since Oxelson does not have students on his caseload this year, he has more time to give parents advice and encouragement before their student begins counseling junior year, he said. "Parents of 10th graders have been encouraged to schedule meetings with me so that I can answer their questions and many, but not all, have taken advantage of that opportunity."
Although Courtney does not know how much a private counselor increases her chances to get into her desired schools, they give her peace of mind that she is taking steps in the right direction for her future, she said. "It makes you feel like you know what you're doing, a little bit."
Contrary to Courtney, Becca thinks it is unnecessary to have a private college counselor as a freshman and does not think many students in her grade have them. "I don't think [having a college counselor] makes that much of a difference," she said. "When you're testing, as long as you don't cheat or anything, it is just you and your grades." The most a private college counselor could help with are essays, and students do not need help writing college essays until junior year, Becca said.
Starting too soon raises the concern that college admissions take over and distract from the high school experience, Howrigan said. "A big part of being a successful applicant is just focusing on school, getting engaged in your activities, and building relationships with your classmates," she said. "Constantly looking over your shoulder and thinking about what the colleges want you to be doing rather than what you genuinely want to be doing, that just adds stress."
Another appeal of private counselors is that they can assist students when school counselors are not available, like when they are off work or over the summer. "I don't think anyone should feel like they need to spend additional money, but I realize I'm not available 24/7," Howrigan said. Though the CoCo offers an essay workshop after junior year and revises essays in the fall, rising seniors who write their Common App essay and supplements over the summer might want someone to help brainstorm and edit their work.
The CoCo's timeline worked well for Malaya Gaboury (12), so she did not need a private counselor, she said. She sketched out her Common App essay over the summer and did not begin her supplemental essays until September, so she worked on it with her counselor and revised it based on their feedback. "Between the college counselor and my family, I thought that was enough," she said.
An outside counselor might be helpful for people who know where they want to go, but Gaboury did not find it necessary because she was satisfied with the resources at school and open about her choices, she said. "Every time I saw my college counselor [in school], she would ask me 'what kind of school do you want to end up in?' I remember saying, 'honestly, I'll be happy anywhere.'"
For students with a difficult goal — like Ashton, who is aiming for a top 10 school —  the benefits of a private counselor outweigh the moral ambiguity, especially given how private counselors are only one of many economic inequities within college admissions, he said.
"The world isn't fair. If you hold yourself to such high, lofty ideals like equality, you'll just end up losing the competition."

– Ashton*(11)
The question of economic privilege in college admissions extends beyond counseling to everything that people do to enhance their academics and extracurriculars from elementary through high school, Cohen said. While some students use private consultants to boost their chances, it is comparable to how others pay for athletic coaches, music instructors, or other services, she said.
In response to the high economic barriers to college counseling, IvyWise offers IvyWise Scholars, a tutoring and college counseling program that takes applications from students with under $75,000 household income. At least one out of every 10 students from the high school Class of 2022 was pro bono, Cohen said. "It creates a nice balance, where paying students pay for those who can't afford to." The IvyWise website also provides a "KnowledgeBase" that includes their blog, podcast, and other resources. "Our biggest giveback is what we offer for free to everyone," Cohen said.
Even though private college counselors amount to paying someone for a better chance at admission to a college, it differs from other backdoor methods that blatantly rely on financial privilege, like donations, Swersky said.
Legacy and donations are more unfair than having a private college counselor, Savannah said. "All the money in the world will not make your kid a smart, hard working person, who deserves that spot." However, having some extra help along the way is not a bad thing, she said. "Your scores speak for themselves, your activities […] you did those things, even if you were pushed to do them by someone else, you still were able to do it," she said.
Despite how students still do the work with private counselors, it still feels disingenuous to use one's wealth for an advantage in the college process, Swersky said. "The majority of kids don't have outside help or if they do, it's not one that they're paying over $10,000 for." But it would be obnoxious of him to judge those who have counselors since he used one as well, even though it backfired, he said. "If you have the money and that is something very important to you, you might as well spend it for your college."
While it is indicative of economic privilege, the fact that some families can purchase additional counseling is just one facet of inequality present throughout the application process, Howrigan said. "In the admissions world, you're never going to square that circle in terms of fairness or disparity of opportunity."
The price of private counselors creates a disparity because it systematically disadvantages students who cannot pay for them, Villareal said. "Is it fair that people can't afford those services, and they're not being given the same opportunities as people who have them?"