Fall Sports Preview
Varsity Football
The school's Varsity Football team kicked off their preseason by training at a sleepaway camp in Connecticut from August 29 to September 1, Matthew Jacobson (12) said.
Around 30 students attended the camp on the first day of practice. On their first full day, the athletes settled into a regular schedule of meals and practices, Jacobson said. Players woke up at 6:20 a.m., met for about an hour and a half of conditioning, then ate breakfast together, he said.
The team then participated in a variety of practices. "Live" practices in the morning included tackling, hitting, and other aspects that would be present in a game, followed by a "relaxed" practice in the afternoon which focused on plays, Jacobson said. "It's a similar practice, but instead of going up in pads we just use our cleats and athletic gear."
After dinner, the team ended the day with a special teams practice, which works on plays such as kick-offs or punts, Jacobson said.
Varsity Football's main goal for preseason was to ensure that they will be prepared for any scenario that could arise in games, such as a unique play or an unexpected event, Jacobson said.
Staying at a camp together for four nights will help the team form a tight-knit community, Jacobson said. Whether pushing each other into the lake or sitting around the bonfire, members of the team bonded and will have a unique connection during the season, he said.
Boys Varsity Cross Country
Boys Varsity Cross Country began their preseason practices on Wednesday, August 24. The 13 new and returning runners were eager to bounce back from last season that was troubled by many team injuries, especially among seniors, Jake Ziman (12) said.
The team met every day at 9 a.m. and walked down to Van Cortlandt Park where they warmed up with a short jog and dynamic stretches.
The team followed a rotating schedule of two workouts. One workout consisted of a seven mile run on the "railroad track," an old freight line which was paved over and now leads outside of the park into Tibbetts Brook Park in Westchester.
On other days, the team crossed the Henry Hudson Parkway to the "back hills," a collection of trails in Van Cortlandt Park that come together to form a two mile loop, Ziman said.
After the workout, the team completed a cooldown jog, walked back to the school, and stretched in the fitness center. 
As a whole, the team not only looks for success in their meets, but also to be the best runners and versions of themselves possible, Ziman said. Outside of races, the team wants to improve their fitness and their camaraderie, he said.
Instead of focusing on distance or time, it is important to focus on becoming stronger so that he can run faster, Andrew Glover (11) said. Cross country is a rewarding sport, especially after a long and difficult run, he said.
Girls Varsity Cross Country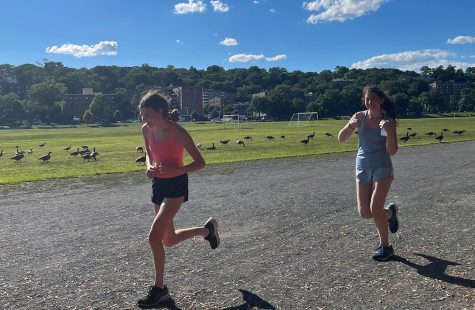 Girls Varsity Cross Country prepared for their season this fall with preseason practices that began on August 24. The focus of the practices was to improve the team members' skills rather than make cuts, as the team is a no-cut sport, Elena Zhu (10) said.
Practices began with 12 runners, but Zhu expects more players to join the team once other sports make cuts, she said.
The team arrived at the school at 9:00 a.m. each day and made their way down to Van Cortlandt Park. "Then, we normally did dynamic drills which are really important to do before you run because they loosen up your muscles," Story Sossen (10) said.
They then completed their main workout that coaches chose at the start of the practice, Zhu said. The workout varied from runs on rougher terrain, such as hills, to a long and straight path dubbed the "railroad track," which exits the park, Zhu said. 
When the two teams often run together or on similar routes; when they do, runners choose to either stay in groups within the girls team or to run with the boys. "I really like when we run with the boys team because it helps challenge me," Sossen said.
Once all team members finished the main workout, they regrouped and returned to the school, where they stretched and cooled down at the fitness center, then dismissed around 11:30 a.m. 
The community aspect of the team is key, Sossen said. Since everyone only competes against themselves, the team is much more supportive as a group than other teams, she said. "Everyone's trying to get their own personal best for themselves, and I think that's really helpful."
Girls Varsity Tennis

Between August 24 and September 1, Girls Varsity Tennis (GVT) held preseason tryouts and practices to assemble their team. 
With only four courts and 36 prospective players, GVT Coach Rawlins Troop found ways to give everyone a fair shot at tryouts, he said. Students played singles and doubles for the best out of five on three of the courts, and an ongoing game of Queen of the Court on the fourth one, Troop said.
A typical preseason day started with Troop telling the team their practice plan, Diya Chawla (10) said.
For warm ups, they ran three laps around all four of the tennis courts then moved onto matches, Audrey Moussazadeh (12) said. "Each person usually plays one match per day, and when you're not playing your match, you're playing Queen of the Court."
Aside from the matches, Troop focused on drills where students played closer to the net, an especially useful skill for doubles teams, he said. "Most of the drills that we do have to do with net play — that, to me, is the most important thing." Troop views himself as a very competitive person, and that competitive spirit is even stronger this year after he missed coaching GVT last season due to an injury, he said. 
In addition to winning games, Chawla looks forward to spending time with her teammates, she said. She grew closer to the upperclassmen last season and became friends with many of them; she hopes to continue those bonds this year, she said.
Playing on the tennis team was the highlight of Moussazadeh's junior year, she said. This season, she looks forward to spending more time with the friends she made last year and making new friends.
Moussazadeh is also excited to play with Coach Troop again – Troop's strict and competitive styling of coaching will help the team win more, she said. 
Troop also stresses the importance of doubles teams; over preseason, Moussazadeh improved on teamwork with her doubles partner, she said.
Chawla's goal for preseason was to improve her stamina and compete for the entirety of her matches, she said. This season, Chawla wants to win more games so the team can make it to the Mayor's Cup tournament for the first time since 2019, when they took the championship, she said. "If we put our minds to it, really work hard, and just take charge together, we can definitely go far."
Varsity Field Hockey

Varsity Field Hockey (VFH) honed their skills and developed their teamwork during preseason, Girls Varsity Head Coach Caroline Surhoff said.
The team started every practice with laps around the Four Acres field, dynamic warmups, and stretches. One major goal for VFH during preseason was to get in shape for the season and build on their fundamental skills, particularly stickwork, Ellie Romero (10) said. 
After warmups, the team completed footwork drills and agility work using ladders. In addition, they ran sprints and performed other kinds of conditioning. After several sets of conditioning exercises, the team moved onto skill-focused drills such as shooting or the "three man weave," where players wove like a braid from the center of the field to the goal, all while passing the ball, Dylan Leftt (10) said.
Another drill that the team frequently worked on was "five to goal"; an exercise where two players began at the 50-yard line and passed the ball back and forth while staying five yards apart, until one person shot the ball, Alessandra Agopian (10) said. "The goal of the drill is to simulate a regular game experience of how to score a goal."
The team's preseason goals were to learn each other's names, playing styles, and personalities, so they can work better as a cohesive group, Agopian said. They also had a team picnic to bond as a group outside of practice. At the picnic, the team made beaded bracelets, ate pizza, and swam together.
In practice, Sydney Kurtz (9) worked on stickwork and learned plays so that she would be ready for the season, she said. She is especially excited for the Homecoming game on October 8th, where the team will play Riverdale, she said.
Surhoff's goal for preseason was to develop players' individual capabilities, as well as to work on team play and strategy. She incorporated conditioning into both weeks' practices to make sure the team is in shape for games, she said.
This season, Romero is looking forward to the competitive and social aspects of being on a team, she said. "I really like giving my all after school and making the most out of practice because even though I am tired, I like being with the team." 
Surhoff is excited for a COVID-free year, she said. "I'm looking forward to a season, hopefully without disruption, and giving our seniors a really fun experience."
Boys Varsity Soccer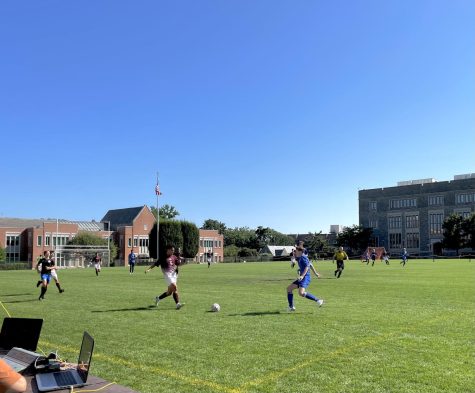 This preseason, more than 60 players tried out for Boys Junior Varsity (JV) and Varsity Soccer teams. Coach Gregg Quilty took around 20 players for Varsity, he said.
After players arrived on Alumni field at 7:45 a.m., they completed a group dynamic warm up then went into 9v9s, full field games, and shooting, attacking, or defending drills. When the teams finished practice for the day, they stretched and ran a cooldown. 
After practices with the official team began, they shifted to focused drills that targeted each player's position, Matthew Edelman (12) said. 
The most effective drill for the team was the UConn shooting drill because it improved players' power and accuracy when shooting, Dylan Greenberg (11) said. "It's really funny because it gets hectic fast and often results in bystanders getting hit by the balls that were shot."
The drill allows both offensive and defensive players to practice and see what they have to work on, and has a lot of variation which allows the team to simulate a real game, Larry Tao (12) said. 
The team's tight bonds will lead to their success in games, Greenberg said. "We often play pick up with random people [in Riverdale Park] and hang out a lot as a team." This season, he hopes to make it to the playoffs and even further, he said.
Edelman looks forward to getting closer with the team this season, especially the younger players, he said. "Being a team is very important — especially at a school known for its academic prestige, it helps us step away from that after school to all be together as a family."
Girls Varsity Soccer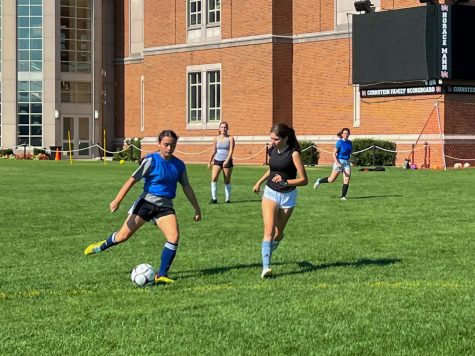 On August 22 this year, about 30 players tried out together for the Girls Varsity and Junior Varsity (JV) Soccer Team. "It's one big tryout," returning player Jane Offit (11) said. "There are not necessarily cuts — people who don't make Varsity usually just play Junior Varsity."
Varsity and JV teams split up into two groups for tryouts, led by Coach Taylor Quilty and Coach Timothy Sulivan, Offit said. "We often work on different drills with each coach," Offit said. Drills make up a big part of preseason, both in terms of time and importance, she said.
Preseason starts at 8 a.m. and ends at 11 a.m. "[The team] normally begins practice with conditioning then focuses on [their] individual skill improvement," Sullivan said. 
One of the main goals for this season is to become a great passing team, Sullivan said. "[The team] spends a great deal of time focusing on passing and ball control … when we are not working on possessing the ball, we enjoy practicing our shooting and finishing," he said. 
The team breaks up into two groups: one practicing possession drills and the other practicing shooting drills, returning outside back Hannah Bodner (10) said. Practices end with a scrimmage to stimulate how players would act during a game and help coaches evaluate each player in different positions, Mitchell said.
The teams practice a variety of different drills to improve their skills with the ball. "[The team] set cones about 10 yards apart and our coach would tell us what type of dribbling to do, such as rollovers, toe touches, or speed dribbling," she said.
The team always does some type of passing drill, such as one-touch, two-touch, and throw-ins to help work on controlling the ball, returning mid-field player Hannah Moss (12) said. They also practice possession drills, where players run around and pass without shooting the ball, Moss said. 
Throughout preseason, the team got physically fit, prepared for the season, and bonded as a team, Offit said. The girls all get along regardless of grade and act like a family towards each other. The team can strengthen their chemistry by helping players learn one another's names, strengths, and tendencies during the game so they can work together, Offit said. 
"Each player works towards becoming a better player for the overall team," Choi said. "Coach Sullivan has made it clear to everyone that we are trying to win the league this year, and that we have a good chance to. I think that each of the players know this now and are working towards this collective goal," she said. 
Girls Varsity Volleyball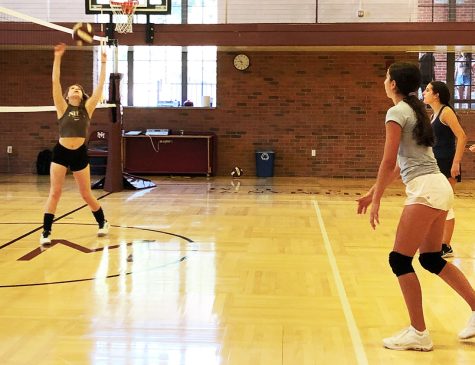 "It is tough to be successful in this sport if you don't have trust in your team, and I think preseason is a great way to build that trait," Girls Varsity Volleyball Captain Jaelah Taylor (12) said.
The team's preseason began on August 22, with 21 players trying out for the Varsity team, Coach Jason Torres said. Ultimately, 16 players made the cuts. 
Preseason is crucial to the team both socially and physically, Michelle Oroloff (11) said. "Especially for those who didn't practice much over the summer and throughout the [off-season], preseason is definitely beneficial to help players get back into playing."
The first three days of preseason were spent determining where players were at skillswise, Torres said. The rest of preseason focused on determining which specific positions each player will occupy throughout the season.
This season will be Taylor's fourth year on Varsity Volleyball; she has enjoyed being a part of the team's community, she said. "We blast music during practices, laugh all the time together, and will try to have one team bonding activity outside of school per season," she said. 
While Taylor is optimistic about the season ahead, it will come with challenges as many of the team's strongest players graduated, she said. "We are still trying to figure out how we will set up this year's new lineup, with people playing positions they haven't played before," she said.
Torres hopes that the team took advantage of their preseason time and bonded both on and off the court, he said. "You can win a lot of games if you can work well on the court together."
Varsity Water Polo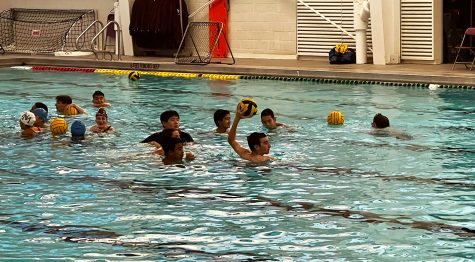 "I'm not really focused on winning every match, I am more focused on what positive impact I can have on this team that will outlive my time here," Varsity Water Polo player Jared Contant (12) said. 
Varsity Water Polo preseason began on August 23 with 30 players who tried out for the Varsity and Junior Varsity (JV) teams, Water Polo Coach Michael Duffy said. Duffy did not make cuts to the team. "The practices during preseason will be hard, and players will have to decide if the team is a good fit," he said.
Contant, who has been playing water polo since seventh grade, said preseason is a great opportunity to get to know everybody and catch up with teammates before school begins. "It is also a good chance to see where everyone is from an athletic standpoint, as we haven't seen each other swim in such a long time," he said. 
Team chemistry is the most important thing the players can gain from preseason, Noah Castillo (10) said. "There are lots of players both coming up from the Middle Division team and players who are new to Horace Mann, so preseason is a great way to get closer with those players before the real games begin."
Each practice begins with a warm up, followed by announcements from Duffy and laps, Steve Yang (12) said. "Then, most of the practice consists of throwing balls, practice shots, treading water practice, and setting up plays," he said. The players also practice treading water with a weight or jumping out of the water to throw the ball.
The team will compete in 15 games this season, Duffy said. His goal for the players is to work hard while having fun and bonding with their teammates. Duffy is optimistic that the team will have a successful season, he said.
"We are always in the top tier of NYSAIS," Contant said. "For the past couple of years we have won the NYSAIS championship, and I don't expect that to change this year," he said. 
Castillo is nervous about how the team will compensate for the loss of seven of their seniors from last season, he said. "Despite losing many of our most valuable players on the team, I am really looking forward to getting to know the new ninth graders who join us this season," he said.
As a three season athlete, Moreira said that water polo is her favorite because of the strong team dynamic. "I am most looking forward to the practices after school because the team always has so much fun together," she said. Water polo coaches put high pressure on the team, but as long as the athletes work together, Moreira is confident that they can have a successful season ahead, she said.