Actors explore humor and humanity in "The Good Doctor"
"The Good Doctor," the Horace Mann Theater Company's (HMTC) fall production, makes its debut this Thursday through Saturday in the Black Box. 
The play is broken up into vignettes — short stories, each with a different set of characters. Director Jonathan Nye chose the play because it has a different format than traditional plays and because it uses humor to expose humanity in ways that are relevant to a high school, he said.
"I really enjoy the vignette format of the play, not only because I am a big fan of Chekhov's work, who wrote the play, but also because I dabble in short stories myself," Loewy Miller (9), who plays the roles of "Narrator" and "Husband." said.
When Athena Spencer (12), who plays the role of "Woman," initially read the play, she did not know what to expect, but she grew fond of the dialogue. "I really like its sense of humor. It's very subtle, a bit dark but also very witty and has a lot of excellent specific moments of comedy that I love," they said. In one scene, a character drowns himself as a form of entertainment. "This scene is delivered in a very satirical way, which I absolutely love," she said. 
Bailey Hecht (12), who plays "Amy," also enjoys the light-hearted, humorous nature of the play. "The Good Doctor is written with an older humor in mind, but I think if you try and understand the language, then it's funny," they said. Having participated in every HMTC production since sixth grade, auditioning for "The Good Doctor" was a given for Hecht.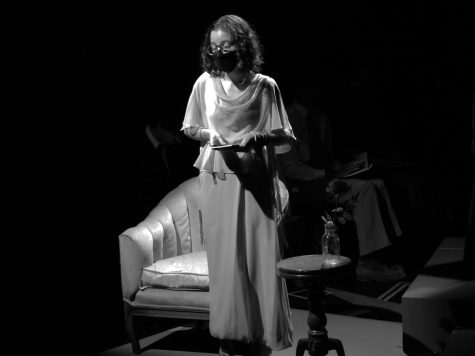 On the first day of school, the HMTC started signups for auditions. At auditions, Nye gave each student the same lines to read, he said. "Occasionally, I would bring two students back for a two-character 'chemistry read,'" he said. From there, he cast the play and decided on the roles. 
Although the play was originally written for five actors who play multiple roles, they adapted the play to ensure there were no cuts and all 21 actors could participate. Instead of assigning actors to one character, each actor plays multiple roles throughout the play.
Another unique feature of Nye's production is the staging: he decided to keep all cast members on stage for the entirety of the play, compared to how actors usually exit once their scene is over.
Spencer is excited to observe her peers' performances, which they usually don't get to do in other productions, they said. "We have the opportunity to watch the other actors perform, especially while on stage, which gives us a unique perspective."
The vignette format presents some challenges, Nye said. "Because each scene is short, it is hard to develop a character, which means that there is a lot of work that the actors have to do to get up to speed for that." 
"Although my character is multi-dimensional, he is one of the more cut-and-dry characters, making it much easier to show character development," Miller said about his "Husband" role.
Actors rehearsed every Monday, Wednesday, and Friday starting the second week of school. "Towards the beginning of the year, Mr. Nye would call in two to three vignettes per rehearsal day. As we got further into the process, he would call in the full cast to rehearse," Hecht said. 
Rehearsals ramp up the weeks before the show. "We have Saturday rehearsals, and then we have tech rehearsals and dress rehearsals," Raven Bai (11), who plays "Madam Cherdyakov," said. "It just gets busier as time goes on. It's a long commitment, but it's fun."
As the show prepared for its debut yesterday, HMTC members worked on final touches. "For the past two weeks, we have been adding lights, and costumes, finishing the sets, and finally being able to see the whole play come together," Bai said. 
Auditions, rehearsals, and shows build a close camaraderie among actors, Miller said. "HMTC is a really great and welcoming community at the school — even for new students like me, although most of the actors have been working together forever." 
HMTC is arguably one of the closest and best communities Spencer is part of at the school, they said. "As much as I love performing and acting, what has brought me back to the HMTC is the community we have made over the years. I'm friends with basically everyone in the shows, and I feel that we have developed a nice tight-knit group that I love to spend time with."