MD celebrates International Food Festival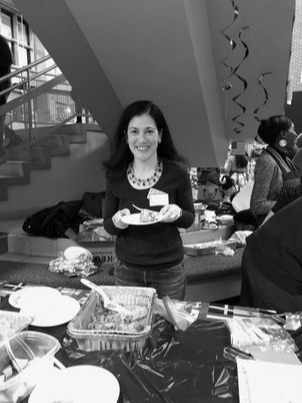 Nancy Korff: Noodle Kugel
Nancy Korff brought noodle kugel, an Eastern-European Jewish dish traditionally served when breaking fast. Korff decided to bring it for two reasons: it accommodates students with dietary restrictions and she has a personal connection to the dish. "The recipe is from my mom's cookbook, and it's just an easy vegetarian thing to make," Korff said. It consists of egg noodles baked in a sweet custard, so the dish has a texture similar to pudding. "I highly recommend it," Korff said. "It's easy to make and fantastic."
Daisy Lin and Jessie Fu: Taiwanese Pork Rolls and Dumplings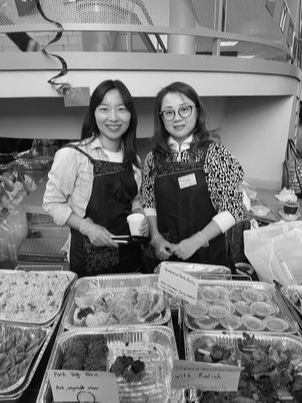 Daisy Lin and Jessie Fu brought a variety of Chinese-American dishes, including taiwanese pork rolls and dumplings. The rolls consist of pork, chicken tarot, and onions wrapped in a doughy bread. "It's a very homemade dish," Fu said. They brought various dishes because a prominent part of Chinese culture is sharing with the community, Fu said. "Chinese [cuisine] is very versatile and [includes] many different kinds of cooking styles, so all of these represent different paces of flavor." Lin said. "Chinese dishes have evolved over the years, so it is commonly seen in Chinese restaurants in America, but nevertheless they still represent Chinese culture well."
Jimmy Sung: Black Pearl Tea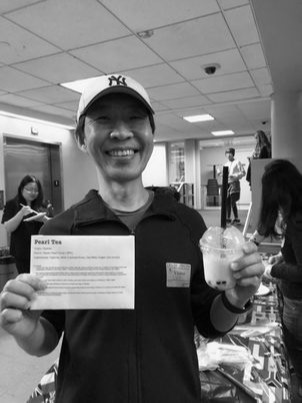 To represent his Taiwanese culture, Jimmy Su brought black pearl tea. The creamy milk tea with black tapioca pearls was invented in the 1990s in Taiwan, a culinary representation of the fusion of multiple cultures as a result of colonization. He is passionate about sharing the history of each of the drink's ingredients with students — the sugar that was traditionally used to sweeten the tea was brought to the island by Japanese immigrants from the Caribbean, he said. "You've got different spices from India, you've got milk from Europe, you've got sugar from South America, Latin America. You blend them all together, and that's bubble tea."
Shareen Dossani: Chotpoti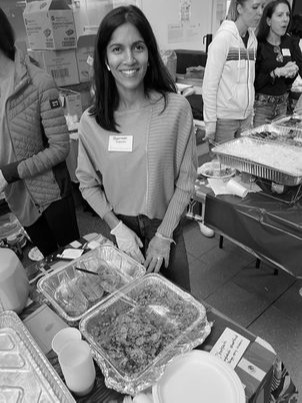 Shareen Dossani decided to share a traditional Bangladeshi street food known as chotpoti, which translates to "spicy." It is made with chickpeas mixed in sauce, seasoned with onions, herbs, potatoes, and spices and served with a crunchy topping. "It's a somewhat unique dish that not a lot of people know," Dossani said. "And it's one of my favorite Bangladeshi dishes." Chotpoti is often served during Eid al-Fitr, the last day of Ramadan celebrated by breaking the month-long fast with family and friends. Dossani also serves it to her children as an afternoon snack.
Jenny Santana: Mangú con Los Tres Golpes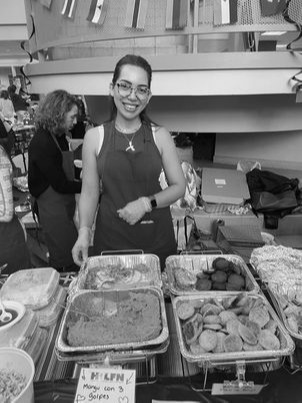 Jenny Santana brought a traditional Dominican breakfast known as mangú con los tres golpes, which directly translates to "mango with the three hits." The breakfast is a well-known Dominican dish consisting of mashed plantain with a side of fried salami, fried cheese, and eggs with pickled onion, Santana said. "It originated when Africans came to our island [Dominican Republic] as slaves. They brought the culture of the plantain, and then we adapted it and changed that up a little bit," Santana said. 
Mauvelette Burchell: Jamaican Saltfish Fritters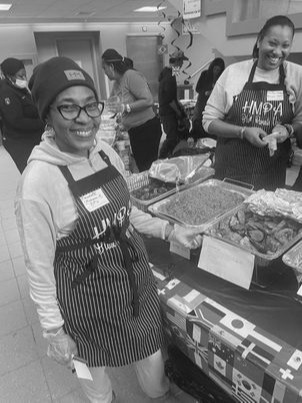 Mauvelette Burchell decided to bring Jamaican saltfish fritters because they're a staple of Jamaican-Caribbean cuisine, she said. The fritters are small patties of cod with scallions, potatoes, onions, and spices seasoned with curry, thyme and turmeric, battered and fried in a flour-based dumpling dough until the outside is crispy and the inside is chewy. They can be served as an appetizer or as a snack, she said. It's a tedious job frying the individual patties, but Burchell decided to bring this dish because they accommodate students with dietary restrictions, given that it is nut-free and dairy-free.