Life of the AI Mind: ChatGPT raises academic dishonesty concerns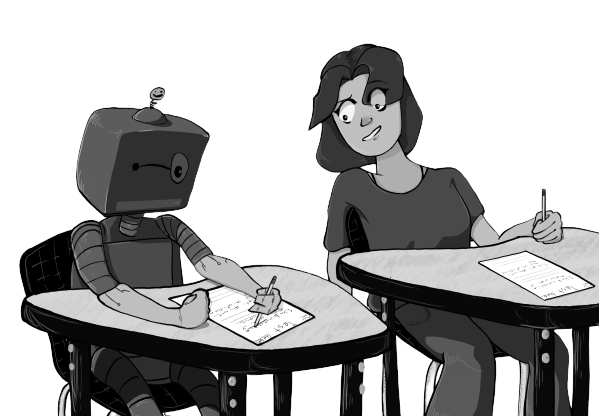 "English papers are dead." When Dean of Faculty Dr. Andrew Fippinger received this text alongside a link to the ChatGPT website from his cousin, he was intrigued. "I started typing in essay prompts, and I was simultaneously blown away by what it could do — but also relieved that it cannot do the key things that I am asking students to do," Fippinger said.
ChatGPT, an open-source artificial intelligence (AI) that generates answers to inputted prompts, was released on November 30, 2022. The program was created by Open AI, a company led by Sam Altman and funded by Microsoft, which has invested over $3 billion in the technology since 2019, according to The New York Times.
When ChatGPT receives questions, it analyzes the specific wording of the question to generate a response that mirrors common human writing styles, all in a matter of seconds. The platform pulls information from a variety of sources, including ones that publish unfiltered content like Reddit, Director of Technology Adam Kenner said. "It is essential to understand the likelihood of inaccurate or false content and the obvious consequences of dishonesty while appreciating that there is massive future potential for positive uses of AI platforms like Chat GPT."
Given its advanced capabilities, the site has raised concerns that students may use it to generate work and submit it as their own. Even though Chat GPT may not be considered traditional plagiarism, students who submit work written by the AI are still cheating, Dean of Students Michael Dalo said. "The work that students are turning in needs to be their original work," he said. "The chatbot throws a wrench in things because students could see it as a tool that could be used just like any other tool like a dictionary or a thesaurus."
According to a Record poll with 175 responses, 97% have not used ChatGPT to complete school assignments and 3% — 6 students — have. Of the 169 students who have not used ChatGPT yet, 14% said they might for future assignments.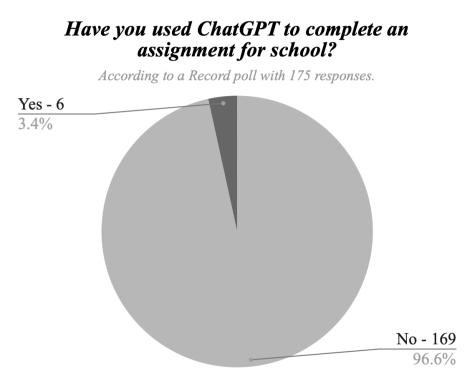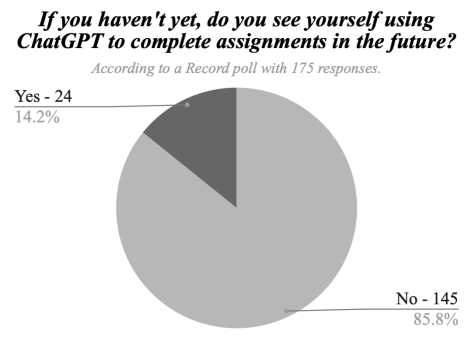 Patricia* used the platform for one of her English essays. "First, I put in the entire prompt, but I didn't get the answer that I wanted," she said. She edited her prompts to make them more specific, then pieced together the answers to build a cohesive essay. Even though she wants to make the most of her education, she will probably use the platform again due to its accessibility, she said. 
Malcolm Furman (12) briefly explored ChatGPT by asking it to answer random questions, but does not intend to utilize the platform in the future. "On a moral level, I think it is wrong, and cheating, to have this program do my work," Furman said. "On a personal level, I go to an institution like Horace Mann to receive a well-rounded liberal education, and relying on an AI platform to do my work prevents me from learning how to write, critically think, and foster the life of the mind."
"At HM, I think the number of students who use [Chat GPT] will definitely be lower than other schools, but I think people will still use it," Dasha Dolgonos (11) said. The combination of students feeling academically driven and being aware of the harsh consequences of cheating will drive many not to utilize the technology, she said.
While the school has yet to officially address the platform and its possible misuses, administrators and faculty members will meet soon to discuss implementing a clarifying statement about the usage of AI in the Honor Code, Head of School Dr. Tom Kelly wrote.
When ChatGPT was first released, Head of Upper Division (UD) Dr. Jessica Levenstein was taken aback by the technology's extensive capabilities, she said. At the same time, she does not think that the writing produced meets the school's expectations for students. For now, it seems as though the technology is more harmful to students than it is to teachers, she said. "If students submit something dishonestly and they get away with it, as far as I'm concerned, that's too bad for them," she said. "That means they are not learning how to write."
Each department is considering how Chat GPT might affect their subjects and how they will approach students who misuse the platform.
As responding to essay prompts, writing poems, and analyzing text play a prominent role in the English curriculum, the  department has much to consider as a result of ChatGPT. It can be misused as one of many tools to cheat on English assignments, English Department Chair Vernon Wilson said. "We have Cliff's Notes, Spark Notes, No Fear Shakespeare, and Grammarly, and all these things have existed for a long time, so they can be misused. This is just another step," he said. "I think it's a real acceleration."
Levenstein expects English teachers to revise their assignments to prevent AI usage, she said. "Tailoring your prompts to be highly specific and to require knowledge and information that's been imparted in the classroom, and not just in a text somewhere, will be something that certainly English and history teachers might choose to adopt."
The English department has looked into ChatGPT and its capabilities regarding English class assignments by inputting essay prompts and questions for journal entries and asking it to write creative pieces, Wilson said. "From what they have found so far, there is not much personality or depth to the responses generated by the bot, and they were very superficial." 
Fippinger also gave the bot a few essay prompts that he assigned students in the past, along with specific instructions such as integrating quotations and citing the page number. Although the essay responses formulated by the bot were both polished and organized, the essay lacked analysis. "In terms of English, for the moment, I'm personally not hugely worried because the things that I'm really looking for in an essay are things that it cannot yet do. I would've given this essay a C plus," he said. 
Similar to the English department, the history department also has to consider how their discipline will be affected by the technology, History Department Chair Dr. Daniel Link said. "I would be worried about an assessment that was really generalized, but we tend not to give those types of assessments," he said. It is still essential that history teachers continue to assess students' at-home writing compared to their in-class writing to establish whether the student is getting help from technology like ChatGPT, he said.
Since the world language department encountered issues with online translators during the pandemic, they already adapted to assigning different types of assessments, World Language Department Chair Maria del Pilar Valencia said. They changed the types of assessments they assigned to primarily in-class ones. Language teachers are also aware of their students' writing styles, so if one were to use outside technology, they would notice the difference, she said.
Even though ChatGPT can generate responses to basic scientific content, it cannot comprehend and complete difficult problems in problem sets for physics and higher-level science classes. Science teacher George Epstein sees students using ChatGPT to cheat on projects that require extensive research, he said. "Something that's long-formed, like essay writing, that requires pulling data from the internet and combining it into a coherent essay, is what ChatGPT does."
ChatGPT also struggles with complex math questions, so technology is not a large concern for the math department, math teacher Charles Worrall said. However, if the math department wants to execute a broader array of math assessments in the future, it may limit their options, he said.
"The most important thing teachers can do right now is to remind students of why we are at school and what we are doing at school," Link said. Students need to learn how to write for themselves to prepare them for college and their professional lives when they'll need to write effectively.
Teachers need to emphasize the value of the work students are doing, their education, and what they can gain from completing work on their own without the help of AI, Wilson said. "It is about talking with students very openly and honestly about what is the learning endeavor that we're engaged in as a class, teachers, and students together."
Although ChatGPT has negative implications, Fippinger sees a world where the platform is appropriately incorporated into the curriculum. "As we adapt to it, I don't think it'll just be a matter of figuring out how to write tests or essays that circumvent the AI," he said. "It'll also be a matter of figuring out if there are ways in certain disciplines that it might be incorporated usefully."
Instead of focusing solely on the negative implications of this new AI, the school should embrace the positives and supplement the bot's capabilities into teaching, Wilson said. For example, because the bot's responses are generally vague, asking students to enhance the bot's responses would be a great way to teach students how to strengthen their analytical writing skills.
ChatGPT has the potential to be an educational tool in the classroom if used properly, Kelly wrote. "We should run at the possibilities AI has to offer, not away from them. At a school like ours, I'm confident we'll work to balance the integrity issue with the seemingly infinite number of possibilities that technology offers for us to think about and make good use of.