Inside the costume shop, where every day is a dress rehearsal
A treasure trove of wigs, Fosse gloves, and jumpsuits, the costume shop in the basement of Tillinghast supplies the school's productions with seemingly endless clothes and props. From finding a sword for an English-class Shakespeare rendition or fitting countless students for a play, any student or teacher can use the shop's resources, theater teacher Haila VanHentenryck said. 
Open the double doors to room B06 and you'll be greeted by a large, antique chandelier that hangs from the ceiling, broken shoes and prop birds dangling from each branch. On the left side of the shop, racks of clothing line up next to and on top of each other, leaving just a few feet of room, if any, to navigate the aisles. The racks are labeled according to the type of clothing and by size, ranging from Victorian-era pants to wedding dresses.
On one of the large walls, shelves of plastic boxes stack on top of each other until they reach the ceiling. They are labeled with "religious specialties," "collars," "suspenders," "overalls," and more. There are also shelves of extra fabric and sewing tools that the costume designers use to alter existing costumes.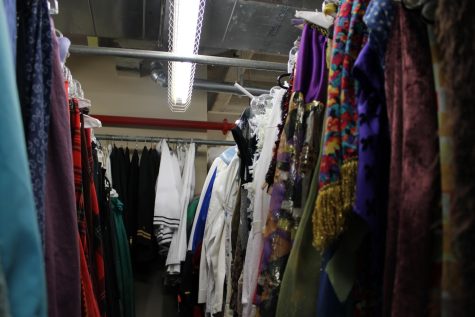 Walk to the other side of the shop and you'll find yourself face to face with mountains of props that have graced the stage for musicals, plays, and other projects. Crystal balls, stuffed animals, fake money — if you need it, chances are you can find it somewhere in the depths of these shelves, with the help of an alphabetical index that fills an entire binder.
The past permeates the costume shop's every nook and cranny. A lot of the costumes date back as far as the 1940s, and possibly even earlier, theater teacher Benjamin Posner said. "Sometimes, you'll put something on and see a receipt or candy wrapper from a long time ago, so it's like a little bit of a time capsule."
Wearing a gray 1960s inspired suit, Jah'si Eyre (11) played the role of an ancestor in "The Addams Family," last year's musical production. "It feels different," he said. "I normally don't wear clothes from that time obviously, so it's interesting to step into the fashion of that time period." That outfit was his favorite costume he's worn in a show so far, he said. "All the clothes are really comfortable – they don't feel like they could be from that long ago." 
The majority of clothing in the costume shop is acquired through donations; some were bought for specific shows and kept, VanHentenryck said. On rare occasions, the school will rent costumes from places like the Theatre Development Fund (TDF) Costume Collection, a non-profit organization that rents costumes to schools or other productions. "These pieces are for very specific needs — for example, in 'The Little Shop of Horrors,' there's a giant plant puppet that a lot of schools rent because it's very specific and is a lot of work to build." 
For the musical "Brigadoon!" the department rented costumes because it called for specific Scottish costumes that the shop did not have, Manager of the Department of Theatre and Dance Studies Jonathan Nye said. "We rent only when necessary," he said. For buying costumes, along with donations from the community, the shop gets some items from Materials for the Arts, a non-profit organization that the school is a member of, Nye said.
Periodically, the department audits the inventory and removes redundant or worn out pieces to make room for new ones, Posner said. "When we get rid of costumes, we try to donate them to places like Materials for the Arts because we know other schools are going to be going there and pulling pieces," he said. In fact, when Posner was a public school teacher, he used to go to that organization.
To manage inventory and design for shows, the school used to employ two costume designers from outside of school. One was an alumni parent who worked in the shop for several years, Nye said. "One would take the lead as the designer for one show and then they would switch off for the next show. But after COVID, we began to hire people to do specific shows."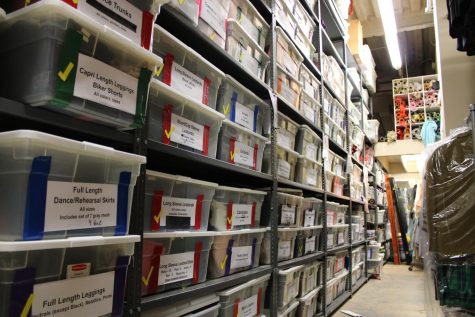 Most recently, Sophie Costanza '08 has stepped in to help with costuming for "James and the Giant Peach" and "The Good Doctor." Even though the school is now hiring on a show by show basis, all the designers have a relationship with the school, whether that means that they are an alum or a friend of a teacher, Posner said. 
The process of getting fitted for a show starts with the costume designers getting an actor's measurements — wingspan, inseam, height, the list goes on, Eyre said. "Once that's done, the designers will put up a moodboard for the character and ask if you have any feedback for the costume to further fit the character." Afterwards, they brainstorm multiple costumes to see which fits the best. "Sometimes it sucks because you really like a costume but it doesn't fit, so you have to try and find something else."
Along with the hired costume designers, occasionally interested students help pull items, make alterations, and organize the inventory, Nye said. That said, costuming is a more personal and sensitive job so the school relies more on the outside professional. "People feel a lot of different ways about the clothes they wear, their bodies, and their identity expression, so it's best if there is an adult professional who is responsible for making all of our actors feel comfortable," VanHentenryck said.
Devan Joseph (11) helped out with the costume design for "The Good Doctor." Joseph took both the Intro to Design and Technical Theatre class and the Applied Design and Technical Theatre class, where she learned about researching plots and rendering drawings for designs."
Picking out an outfit begins with considering the time period, color pallet, and personality of the character, Joseph said. "You need to consider what the audience will think." Joseph likes spending time in the shop because of the absurd amount of clothing and props, she said. "It's like thrifting — there's just something unexplainable about it because you get to see pieces of clothing from so many different eras."