Too much merch? School swag and where it originates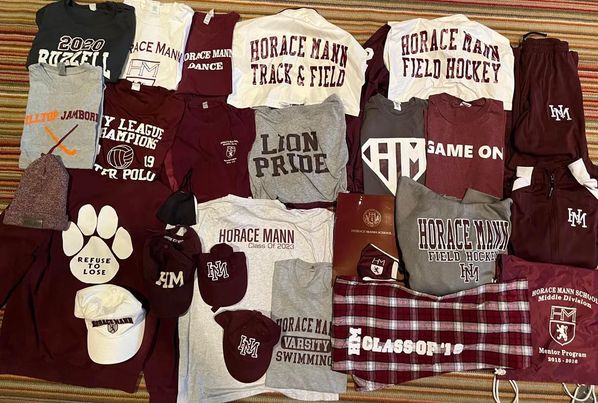 "All of the sudden, I saw hats popping out of the air next to the ice cream truck. And then, all the kids started fighting for the hats, but I won the fight and got myself a hat," Rizaa Fazal (11) said. "I feel complete, like I saved 20 dollars." Many students have accumulated a collection of school merchandise over their years at the school, whether given for free or purchased from the school store.
School store Associate Deborah Coleman, who started working at the school in 2008, is in charge of designing and ordering all merchandise and school supplies, apart from athletics clothing. In the school store, you can buy anything from a t-shirt to an umbrella to a water bottle, all emblazoned with the school's name and logo.
Coleman buys the merchandise from various vendors, such as Parkview Sports, ES Sports, and League, she said. Parkview Sports, a clothing vendor on Broadway, has a faster production time than the others, though other vendors provide higher quality items.
If Coleman needs an item quickly, she orders from Parkview. The school has been working with Parkview since before Coleman joined the school, she said. "We can call them two days before we need something for an event and they will have it ready for us."
The vendors send Coleman various layouts, she said. "Then, I pick what I think will look nice or the salesperson will recommend what they think works." The one guideline Coleman has is that she is not supposed to use the word "Lions" on merchandise because the term can only be used on athletics merchandise, she said.
The exception to this rule was the "Lions" sweatshirt that teachers received in September. Due to the sweatshirt's popularity, Head of School Dr. Tom Kelly requested for it to be sold at the school store.
Coleman sets the prices for the items in the school store, she said. "We don't mark the merchandise up by that much because you kids are already paying a lot of tuition, so we don't want to be price gouging," she said, "The League vendor tells me I'm undercharging you guys."
For example, Coleman buys each pair of pajama pants for $24 and sells them for $32, making a 25% profit. In comparison, most colleges who buy from the same manufacturer upcharge customers by 100% of what they bought the item for, Coleman said. At the store, sweatpants cost $35, sweatshirts cost $45 on average, and pajama pants cost $32.
Certain items fall into and out of trend, Coleman said. "I probably won't reorder [the quarter zips] because they're not as big a hit as they were several years ago," she said. Currently, the most popular item in the school store is the "Lions" sweatshirt, Coleman said. The pajama pants and other sweatshirts are also popular. 
To keep track of transactions, Coleman generates a monthly report that she then sends to the Business Office, she said. The report includes products sold, profits, and the amount individuals spent. Homecoming is the most active day of the school year — this year's sales were almost $10,000, and the total school store sales in October were $13,198. Compared to December, when school was in session for 12 days, they made $5,191.
Ava Westreich (11) owns four HM branded pieces of merchandise — sweatpants, a Middle Division graduation t-shirt, a Class of 2024 long-sleeve shirt, and a Homecoming t-shirt, she said. She purchased the sweatpants at the school store, but the rest were free, she said. "I don't really wear them that often because I prefer my other clothes." That said, Westreich would like more free merch because it increases school spirit, she said. 
Giving out free merch won't help with school spirit, Sophie Li (11) said. "The reason we don't have school spirit is because we are more academically focused. I don't think more merch will change this academic focus." Li has never bought merch, she said. "I am obviously proud to go here, but I do not need merch to validate that."
The school's excess merch can get wasteful. Saanvi Sherchan (11) noticed an unusual amount of leftover t-shirts after the Buzzell game last year, she said. "They were giving out shirts on campus, but there were so many extra that they took them to the actual game, but no one was taking them."
The school sells more merchandise than they need to, Maya Glickman (9) said. "Between homecoming, grade, and athletics, I have a lot of HM clothing."
The amount of merch the school buys can also have negative effects on the environment, Nia Huff (11) said. "Even though I do love all the merch I have, I do recognize how it harms our environment through mass production."
In contrast, Li does not see a huge issue with the school's merchandise, she said. "I don't think that a school ordering a couple sweatshirts is the tipping point of the problem of consumerism culture."