Winter Art Show allows student artists to shine
 Caroline Willer-Burchardi (11)
A cocked rifle protrudes from the corner of the page, almost angled from a first-person POV. From its muzzle, a vine heavy with flowers arcs down. This black and white drawing by Caroline Willer-Burchardi (11) features meticulous shading and deep contours, accentuating the muscles of the hands, the architecture of the gun, and the seven petals of each flower. The Colorado Springs shooting had just occurred, in which a gunman killed five people at an LGBTQ nightclub — each of the wilted flowers represents one of the victims. In deciding the drawing's composition, Willer-Burchardi wanted viewers to move their eyes in a bullet-like path as they scanned from left to right. Two of Lee's suggestions brought the piece off the page: a muscle twitch in the hands and a glint on the gun.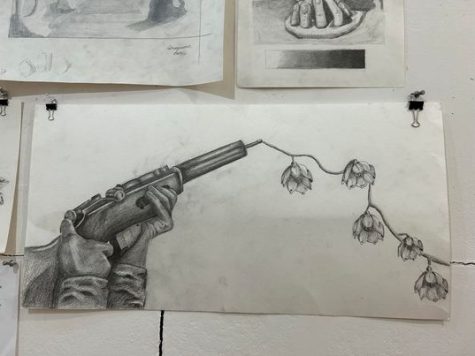 Olivia Coward (10)
A dark, ominous charcoal forest with mangled tree roots and decaying fruits spans the surface of this work, creating a haunting sense of death and mystery. As the viewer's eyes scan the piece from left to right, darkness recedes into a wash of gray. Olivia Coward (10), a student in Drawing and Painting 3, wanted to draw rotting fruit ever since her teacher introduced the idea of memento mori, artistic symbols of the inevitability of death. "I wanted to expand on that concept and reinvent it because a lot of people accept it without truly understanding what it means," she said. Look closer: while the decaying fruit itself signifies death, Coward also added the roots as active agents to drag the fruit into the earth. When she needed a fresh pair of eyes on the piece, peers and teachers weighed in and she returned to the drawing board with their opinions until the piece came to life — or, well, death.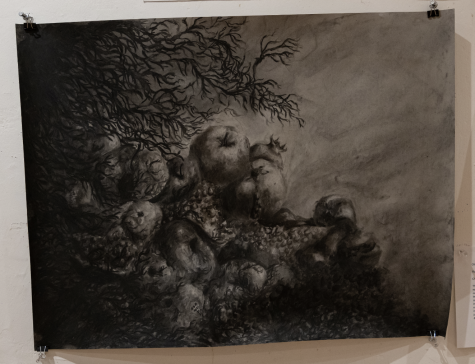 Amira Dossani (12)
Ana Aguilar's (12) black-and-white portrait features a striking pose and a bold red lip fit for a magazine cover. Amira Dossani (12) completed this piece in Photography 3 last year for her assignment on fashion photography. "I wanted to do a fashion shoot that displayed a strong, girl boss, woman," she said. To do this, Dossani dressed her model in bold and striking colors like black, white, and red. The raw shoot took her around an hour and a half total; editing and choosing which images to use took multiple class periods. "My favorite part of this specific piece is the model's body language — she looks like she doesn't have a care in the world and at the same time, like she rules the world," Dossani said. "She's confident in both herself and what she's wearing."
Saanvi Sherchan (11) 
A bright red shirt and strawberry stand out against the cheerful young boy, printed atop layered auras of azure, teal, mauve, and muted yellow. "Bhai at Isle d'Orleans" by Saanvi Sherchan (11) is a monotype print that pays homage to the artist's younger brother. A student in Printmaking I, Sherchan used a reference photo she took while strawberry picking with her brother last summer. "I was inspired by Impressionist artists like Monet who use a lot of short strokes and bright colors," she said. Unlike Monet's distinct dashes, the strokes in Sherchan's piece melted into each other to form animated gradients. Laying down ink was tricky — too thick and the printing press could squash the pigment out and ruin the linework. Sherchan tried to put the ink in thin layers, but the final feathered quality was still not as crisp as Sherchan wanted — something to improve on next time.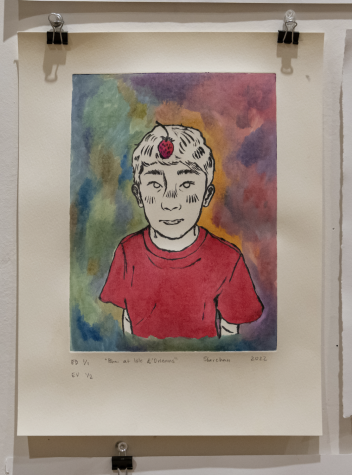 Christine Tao (11)
Patriotic red and blue color outline the smiling Queen Elizabeth in this print by Christine Tao (11). Around the time Tao was assigned the first project of making a print of a famous person in her Printmaking 1 class, the Queen passed away. Tao had also just completed a unit in her art history class on artistic depictions of the Queen, so she decided to make her own print of her. The Queen was easy to draw since she has a very recognizable face, so all viewers would instantly know it's her. Tao created an ombré of the colors of Great Britain's flag for the background to give the piece more dimension. At first, it was hard for Tao to master the ombré since the paint dried too quickly to blend. But after consulting her teacher for advice, she got the hang of the printing process.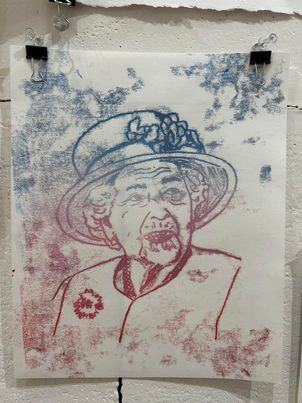 Gisella Fischberg (11)
Featuring a royal blue top, cartoon cat, and various brand slogans, this colossal milk carton turns heads in the Fisher gallery. The piece was hand sculpted and painted by Gisella Fischberg (11) for her Sculpture 1 assignment to create a large structure of anything. Fischberg settled on a milk carton because it has a specific shape that she could both recreate and riff on as she scaled it up. Her concept was inspired by old fashioned milk cartons that students would drink from at school in the 1950s. "I liked how those cartons had different designs based on the country or company they were from because I wanted to customize my own carton however I wanted," she said. The building and painting took two months to complete, one of Fischberg's longest projects. Building the structure was the easy part; painting was more fun for her, but it was difficult to create designs on such a large scale.