Seventh Unity Week sparks discussion, debate
30% of students didn't know what the word "privilege" meant in 2017 — according to a poll of 90 students conducted by the Community Council (CC) after the school's second Unity Week. The Record conducted the same poll during this year's Unity Week and found that number had dropped to 9%, based on 88 responses. However, only 37% of students from the 2017 CC poll felt vulnerable or uncomfortable when talking about a facet of their identity, while 63% of students feel that way today.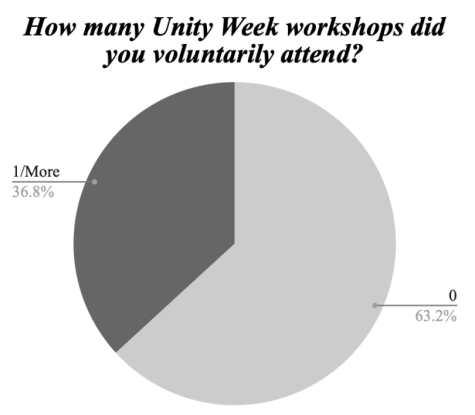 While the causes of those shifts are unclear, the political climate in and out of school has affected attitudes towards Unity Week. This year marks its seventh recurrence, nearly a decade after the event originated. What began in 2014 as a student-run day of diversity activities has evolved into a week of workshops organized by the Office for Identity, Culture, and Institutional Equity (ICIE), with help from administrators and students. While some students are excited to engage in the events, others think that the week feels forced and falls short of fostering productive conversations about identity.
According to an email sent by the ICIE to the Upper Division (UD) last week, Unity Week is a time for "conversations and sharing knowledge on identity, culture, equity, diversity, and belonging." The Record found that while 79% of 88 students who filled out the poll understand what that goal means, just 30% think Unity Week's current format, with optional workshops spaced over four days, realizes that goal — only 9% of students hosted and 36% attended one or more workshops voluntarily.
This year, the week kicked off with an assembly featuring poet Carlos Andrés Gómez, followed by 44 student and faculty-run workshops. 10 were run by members of ICIE, 7 were run by other faculty, and 6 by students independently. Others were part of a class: 18 were run by juniors as a requirement for Seminar on Identity, 2 were run by members of Chinese 5, and 1 by Seminar in Literary Studies.
"The benefit of running a program like Unity Week is that students and faculty get to present on something they are passionate or interested in, which is the type of energy that attracts participants," Associate Director of ICIE Natalie Sánchez wrote on behalf of the ICIE. To plan the week, ICIE invites the assembly speaker and schedules workshops with members of the UD, Sánchez said. "Everyone was encouraged to present a workshop to the community that felt meaningful to them in terms of identity and unity."
When Unity Week began as Unity Day in 2014, a committee of students spent "several years" planning the event after it was proposed by Arianna Fullard '14 and Donna Arreaga '14, according to former Director of Diversity Initiatives Patricia Zuroski in a Record article (Volume 112, Issue 8).
"Unity Day was so well received by most of the students and faculty members in the school that one of the only real criticisms made […] was that it was simply too short," Yeewen New '15, a student on the committee said. It opened the students to discuss possibly controversial issues relating to diversity and social equity.
Currently, students discuss current events and debate about controversies in almost every class, Emily Weidman (11) said. "When I attend workshops, I never feel like I am learning about a topic or discussing it as if it was taboo before," she said. "But, Unity Week allows those topics to be the sole focus of the class, which is something new and exciting." 
The week does not serve students in the same way it did when it began in 2014 because the topics discussed in Unity Week are now covered regularly in classes, Peter Yu (12) said. "In my [Seminar in Literary Studies] class, we just talked about gender fluidity and performance. So, I feel like as a school we are very politically inclined in that direction already," he said. For that reason, the week's purpose has lost significance in recent years.
The goal of Unity Week has stayed the same despite changes to its organization, ICIE wrote. "We are sure the content has adapted to the times over the years, but the purpose and structure of Unity Week has — and continues to — allow for and encourage this growth to happen," Sánchez said.
Given its popularity, Unity Day was extended to a full week in 2015. 20 students planned it for five months with help from the Office of Diversity, a precursor to the ICIE office, then led by Zuroski. Each day had a theme and students and faculty hosted workshops around it, numbering 120 in total.
Even though Unity Week lasts longer now, Liam Kisling (11) said it still does not give students enough time to explore all the concepts it has to offer. "It would be better if we spread it out throughout the year rather than just for one week and then dropping it and stop talking about it."
The second Unity Week began on January 10, 2017, 10 days before Donald Trump's presidential inauguration. Fervor over his election animated the week — the assembly featured a video of students discussing their feelings about the Trump administration, while members of the school protested his presidency in Washington D.C. and New York.
Unity Week continued with the assembly and workshop format over its next four iterations. The Office of Diversity changed its name to the ICIE, Co-Directed by Zuroski and John Gentile. Gentile remained in the department until the end of the 2019-20 school year, after which current director Christine Moloney took over. Other members of the ICIE are also new to the school in recent years, including Bri'ana Odom, Erikka Ramkishun, and Natalie Sánchez, who was previously part of the Center for Community Values and Action.
"While our 'newness' might impact the level of engagement in Unity Week, we work hard to become more integrated in the community each day," Sánchez said. The ICIE hopes that Unity Week convinces more students to come visit the ICIE, she said.
This year, as a part of his Chinese class, Nate Chiang (11) is hosting a workshop with Coco Trentalancia (12) on face culture in China. "Unity Week is important for the student body because it promotes diverse opinions and critical thinking here on campus," Chiang said. He enjoys hearing from different viewpoints throughout the school community and discussing those in the context of relevant issues to current society, he said.
Because the International Food Festival was held in the middle of Unity Week, Ariela Weber (11) had to decide between attending workshops or getting food in her free time. "I hosted a workshop during D period on Wednesday and because that is most people's lunch period, most of my friends wanted to get food instead or come late," she said. Weber said the school fell short during the planning of these events and hopes they do not overlap next year. 
In a new policy this year, all juniors in the SOI class had to host a Unity Week workshop. Kisling said forcing juniors to host a workshop is not the best use of SOI's time, he said. "Trying to get all those students to host one workshop is chaotic and nobody en1ds up actually focusing too much on it, there is no passion," he said. Instead, he said that the seminar class should focus on finding juniors who are eager to host workshops.
Similarly, although Daniel Pustilnik (11) understands that hosting a workshop allows students to take on different perspectives, forcing them to host can cause them to be less enthusiastic about their presentations, he said. "It does not make sense for 15 kids to settle on the same topic for their presentation because certain people might not be as passionate about that issue, so they won't put in as much effort," he said.
Louise Kim (12) said it is one's own loss if they are not interested in partaking in activities that other community members are leading, they said. In each workshop Kim has been to or led, she has always gained insight or learned something new about someone, she said. "The work the ICIE office is doing is extensive because there is a lot of behind-the-scenes work in scheduling the workshops and planning the week out," they said.
Sánchez hopes that students who participated in the week will think about approaching the ICIE office to brainstorm how to collaboratively follow up on interesting topics that were presented, she said. "The beauty of something like Unity Week is that it's designed to offer everyone an opportunity to participate, but we are always open to feedback about ways to improve," she said.
Anonymous Student Responses from Record Poll:
1: I feel as though "identity" is such a broad term it almost means nothing, which makes Unity Week's goal less clear. Most people stick to Unity Week workshops that they feel included in (for example, AAPI workshops might attract more AAPI members than not), which makes Unity Week less of a "shared space" across different people of different backgrounds, but a discussion in an affinity space.
2: Only a select group of students attend these workshops — those who are already pretty committed to understanding and decreasing inequity. Don't get me wrong. The opportunity to discuss these problems for those students is great, but it really doesn't help with any sort of wider problem. I didn't attend any for several reasons: none of my friends attended any, I've been swamped with work, and I'm unsure as to what the experience would actually be like. I'm transgender, though I don't like to talk about that publicly, and I feel that attending an LGBT+ workshop would be a bit… on the nose, and I'm not really comfortable with that. In terms of other identities, I don't feel well versed enough in the complexities of the issues. The community would be better served by more mandatory Unity Week activities, as well as more discussion of issues of diversity in our actual classes during Unity Week.
3: Each teacher should be required to bring at least two of their classes to a Unity Week workshop, regardless of if the course they teach is connected to the topics of the workshops. STEM classes especially do not dedicate time to bringing their students to these workshops. I would have attended a Unity Week workshop in my free time, but I have many assessments next week and I need time to study.