Cost of living "great and giving lives": Tuition rises to $61,900, lunch returns to debit card for 2023-24 school year
Academic tuition for every grade starting with the Threes Full-Day program is rising to $61,900 for the 2023-24 school year — a 3.5% increase from this year's $59,800, the lowest percent increase in over three decades. The figure was announced by Head of School Dr. Tom Kelly and the Chair of the Board of Trustees Laurence Grafstein in the enrollment letter sent to families last Friday.

New language in the 2023-24 contracts define "tuition" as academic tuition plus additional required fees, which will remain the same as this year: Parent Association Dues of $85, Activity Fee of $125, Facility Improvement fee of $1,150 for Middle and Upper Division; fees are waived for Financial Aid (FA) recipients. Including all fees, the tuition is $63,260.
Tuition does not include costs for transportation, lunch, books, and any out-of-school trips. Starting in the 2020-21 school year, families paid a flat fee for school lunches instead of purchasing individual items with their student ID debit card. Next year, lunch will return to the debit card system to accommodate students' varied dining choices. "Some students like to bring lunch from home, others choose to eat a light lunch, and still others prefer two to three entrees," the enrollment letter explained.
Every year, the  Board of Trustees' Finance Committee and the school's Chief Financial Officer (CFO) David Roberts recommend a tuition for the following academic cycle to the rest of the Board, who then discuss and approve the number, Kelly wrote.
Setting tuition is based on a comprehensive review of the school's budget and estimated operating cost. The budget covers a wide array of expenses: academic and co-curricular programs for the school's over 1,800 students from nursery through 12th grade; compensation and healthcare for over 270 faculty members; maintenance for three campuses in the Bronx, Manhattan, and Connecticut; market costs for utilities, food, contractual labor. "HM is more like a small college than it is an independent day or boarding school," Kelly wrote.
The school website's "Tuition FAQs" states that 85% of tuition pays for faculty salaries and benefits, while the remaining 15% pays for teaching materials, classroom equipment, class trips, financial aid, technology, maintenance, and other expenses. Tuition alone does not cover the cost of running the school; the difference is made up by contributions to the Annual Fund.
While most other private schools in New York City have not published their 2023-24 tuition, the school's 2022-23 tuition ranks in the middle of the eight Ivy Preparatory League members.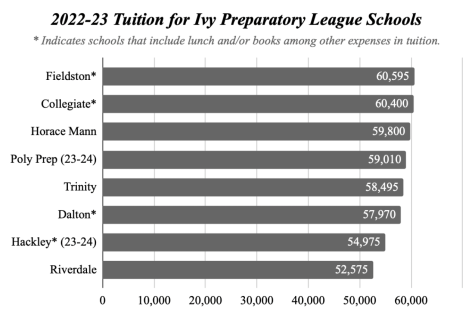 The enrollment letter stated that the 2023-24 academic year is "one of the lowest tuition increases since 1986." Tuition history dating back to the 1986-87 academic year provided by Kelly indicates the 3.5% increase is the lowest of the past 37 years, following a downward trend since the 1990s.
The 1986-87 tuition for grades seven through 12 was $7,560, a 7% increase from the previous year — lower than the 10% average increase across NYC private schools that year, as reported by the New York Times. Coming out of the 80s, the Board of Trustees invested more in personnel and facilities, which led to atypically high budget increases, Kelly wrote.
In recent years, tuition increases ranged from 4% to 6%, according to the "Tuition FAQs." "While there is always a desire to constrain tuition and charge only what we need to be successful, this year and last year there was the added burden of inflation and a possible recession," Kelly wrote.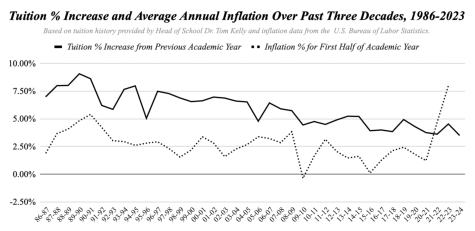 To keep the tuition raise at a minimum this year, the administration implemented a tighter budgeting process after the 2022-23 school year, Kelly wrote. That included an in-depth review of expenditures and all positions N-12 to identify cost savings, no increase in employee health insurance prices, no new positions for a year, and more intense scrutiny on replacing retirees.
To contextualize this number: according to the school's "Employment" webpage, annual salary for teachers in the MD and UD ranges between $68,000 and $123,000 depending on experience and education. A person living off of that salary would be unable to send their child to the school without significant FA.
Given the high cost of attendance, the school practices a need-blind policy in the admissions process, meaning it does not consider students' need for FA when deciding admission. According to its website, the school gave $12 million in total FA to 15% of students in the 2022-23 academic year. It also offers other forms of monetary support like the Student Assistance Fund, which covers school-related expenses for any students who apply, whether or not they receive FA.