Calc and Comedy: Math teacher Aaron Thompson performs in stand-up festival
"My comedy comes from whatever bizarre thing pops into my head. From sharks to cooking, if I think I can get a laugh out of it, I'll call it a bit," Upper Division math teacher Aaron Thompson said. Last weekend, Thompson put on his stand-up comedian hat at the New York Queer Comedy Festival, the largest annual queer comedy event in the world with over 200 contestants last year.
The festival has several stages, including preliminary rounds, a semifinal round, and a final round, Thompson said. While he will not know if he progressed to the semifinals for a few months, he believes that he performed well, he said. 
For this specific show, the crowd at the Broadway Comedy Club was packed, he said. Everyone was very responsive to jokes and full of laughs. Thompson even got some audience engagement when he asked people to call out their favorite football teams during a bit about Alabama football. 
The joke that received the most laughs was about Thompson's recent "health scare," he said. "I visited a new doctor, she opened my chart and immediately said, 'Nurse, we need to run lots of tests.' I panicked. 'What do I have?' She said, 'excellent insurance.'" While audiences originally gasped, after hearing the joke everyone was laughing, Thompson said.
Thompson has been passionate about comedy and performance for a long time. He started to dabble in high school while MCing for school talent shows and making announcements over the school intercom. "I would often take advantage of those opportunities and slide in little jokes," he said.
His passion for comedy took off in college when he started his own comedy troupe called The Laughingstock, he said. "We would do Saturday Night Live-like sketch comedy shows, where we would find a place and do comedy for an hour."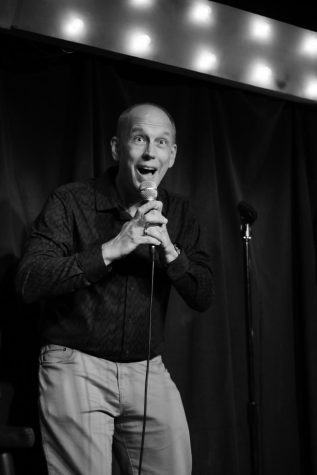 While Thompson often experimented with other performing arts such as theater, his true passion has always been comedy, he said. There is something far more unique to it, he said. "Anyone can get a laugh from Neil Simon, but it's special when it's something you wrote."
Some of Thompson's bits come to him on the spot, others he circles back to frequently. "I have one joke about my husband, who always tells me that I treat him like a student," he said. "I have to correct him and tell him that, if I treated him like a student, he would've learned by now."
Most of Thompson's bits are "silly," he said. "I make jokes about whatever pops into my mind and rarely anything pointed or political." He hopes that this tactic will help him stand out amongst the competition from this weekend's tournament, he said. "I was the odd person out in that I didn't have a lot of jokes about being homosexual, which everyone else was talking about since it was the theme of the competition."
Unlike some comedians, Thompson does not really have a distinct joke-writing process, he said. "Sometimes I will sit down and write 20 really bad jokes." The hope is that every so often, he will come across one good joke, he said. "If out of every 20 you get one that you can turn into something, that's a pretty good batting average."
Thompson is inspired by everyday things he finds interesting or funny, as well as other comedians like Emo Phillips and George Carlin. "It's really hard to pick favorites because everyone's got a little something that I appreciate."
Standing up on a stage and performing is cathartic for Thompson, he said. "I have an itch for performing and making jokes. Standup is a great way to satisfy that."
There is immense power in comedy, Thompson said. "It holds up a mirror so that we can laugh at ourselves and the situations we are in," he said. Comedy can push boundaries, change perspectives, or simply lighten up the mood. "I don't feel that comedy has to have a deeper meaning and that every comedian who gets on stage has to have a deeper point." In the end, all Thompson wants is to make people smile through comedy.