Class of 2023 recruited Lions leave The Den
Aden Soroca
Aden Soroca (12) was recruited to Hamilton College for baseball. Soroca has been playing baseball for almost as long as he can remember, he said. He was given his first glove at around one or two years old, and started playing t-ball when he was three or four, he said.
One of Soroca's favorite things about baseball is the culture, he said. "It's such a universal language for everyone who plays it." As a pitcher, Soroca enjoys the pressure of being on the mound by himself and just focusing on the task at hand. "I live for the big moment. It's always exciting to do something great for my team."
Freshman year, Soroca made it his goal to play college baseball and never looked back, approaching schools at the end of sophomore year, he said. "The recruitment process is really complicated and difficult. It requires patience and grit and determination," he said. Soroca was in contact with Hamilton for a while, and it finally came into fruition last August.
"I decided on Hamilton because I thought that it was the best fit for me academically and socially," Soroca said. "On top of that, they have been really successful on the field and are building a really exciting program for baseball."
Ariana Borut
Recruited to sail at Yale University, Ariana Borut (12) has been sailing since she was ten years old. "When I was younger, I just loved being out on the water and the community of friends I built through sailing. As I started to compete in regattas as I got older, I really liked the competitive aspect of it."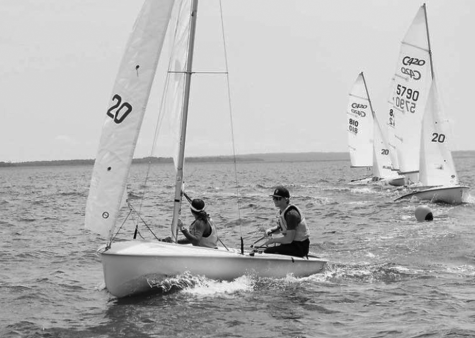 Borut entered the recruitment process not with the goal of being recruited, but simply to learn more about college sailing programs, she said. Even if she wasn't recruited, she planned to join a team regardless. "By reaching out to coaches and visiting sailing practices, I was able
to understand what the team environment is like and what it is like to be a student-athlete at a specific school."
She contacted coaches in fall of junior year, visited sailing practices during junior spring, and heard from Yale early in the summer. "I was really drawn to Yale's emphasis on community and how highly academics are valued alongside athletics," Borut said. There, she looks forward to learning from the coaches and other sailors who come from different sailing backgrounds.
Nate Wildman
Nate Wildman (12) is set to play football at Hamilton College this fall. Wildman was a member of the school's Varsity Football team throughout his time in the Upper Division and has been playing the sport since fourth grade, he said.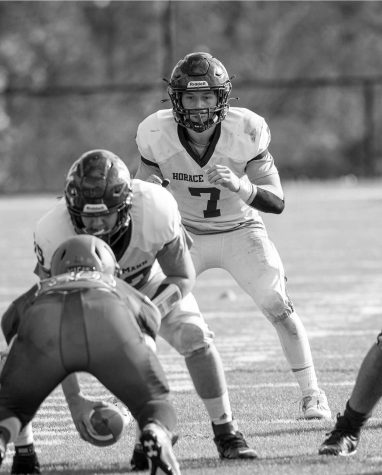 Wildman decided to undergo the recruiting process because he loves football and wanted to continue playing it in college, he said. "I love the physicality that's required to excel and the team aspect of the sport." He began reaching out to different schools during junior year and got responses a couple months later, he said. "I sent my film to coaches and if they liked it, they would invite me to their campus and potentially give me an offer." 
He decided to commit to Hamilton College and is excited to be a part of their football team, he said. "I'm looking forward to playing my sport at a higher level and hope to excel in the New England Small College Athletic Conference."