Boys Varsity Basketball look to even score with Falcons at Buzzell
After losing to Riverdale 65-59 earlier this season, Boys Varsity Basketball (BVB) is looking to secure a win tonight against the Falcons at the 71st Annual Buzzell Game.
To prepare for Buzzell, the team watched films and devised a strategy, Boys Varsity Basketball Head Coach Tony Wright said. They only had one dedicated practice to prepare for Buzzell since they also played Regis and Collegiate this week, losing 51-47 and winning 55-53.
Against Regis, the team started off strong and gained a 12-2 lead in the first quarter, but struggled to maintain it. The win against Collegiate will give the team momentum for Buzzell, Daniel Cornstein (11) said. "It was really fun to get a win and it gave us momentum going into Friday night." 
The defeat by Riverdale was a very close game that was not decided up until the very end, Sasha Mermelstein (10) said. The Lions scored well, but struggled with late-game turnovers.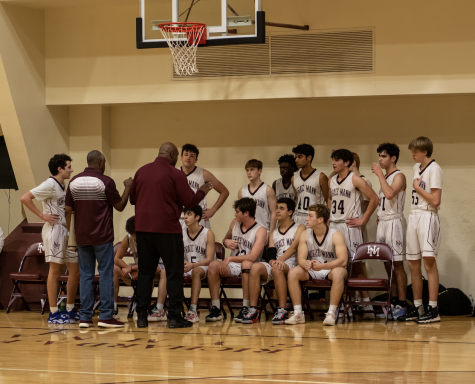 This time around, the team will focus on their defense with a full-court press to try and prevent a late-game comeback from Riverdale, Aden Soroca (12) said. "There's only so much you can implement at this point in the season, so we want to make sure we are sharp."
The plan is to dominate the paint on the offensive and stop Riverdales' shooters on the defensive, Wright said. Last time they played Riverdale, someone came off the bench and scored six three-pointers, which the team did not expect, he said. "For Friday, we need to guard everyone — we won't be surprised by any of the guys coming off the bench."
The team will also stop Riverdale's primary ball handlers, Mermelstein said. "I want to play some tough full-court defense on their guards." 
In practice, they focused on defensive drills and perfecting their plays, Ryan Lutnick (11) said. "We've implemented new plays and strategies for Buzzell so that we can hopefully exploit their defense."
Lutnick expects the game to be very competitive, but the Lions are prepared. The team has been working toward this final game and have really come together as a unit, he said.
Since this is Mermelstein's first Buzzell, he's extra excited to play in front of a big crowd, he said. It can be nerve-racking to play in front of so many people but it can also encourage the team. "I like the big crowd, I like when everyone's screaming, it's fun and energizing."
The night before the game, the team always has a team dinner and tries to stay sharp mentally, Mermelstein said. Then, in the hours before the game, they will go through their regular warm-up, stretch, run lay-up lines, and prepare to dominate the opposition.
SENIORS SHOUTOUT
This season, Soroca has noticed a change in his role on the team as a senior, he said. "Last year you felt like you had those older kids there for you. Now we have to be those older guys to support everyone — it's a weird feeling."
The five seniors on the team — Soroca, Nate Wildman, Max Chasin, Eshan Mehere, and Matthew Jacobson — have been playing basketball together for a long time and have been together at school even longer, Soroca said. By now, they have a lot of chemistry while playing and Soroca is happy to share the court with them.
Wildman is excited to close out his basketball career at the school with them, he said. For the past four years, basketball has been a pleasant distraction from day-to-day stress at HM, Wildman said.
One of Soroca's favorite moments on the team is when they beat Fannie Lou Hamer High school this year, he said. "We went into that game and just played with no fear."
Wright is proud of how the seniors have developed not just as players, but as people, he said. "They are all really good kids and hard workers. It's been a pleasure coaching all five of those guys."