Girls Varsity Basketball look to continue Buzzell winning streak
Tonight, Girls Varsity Basketball (GVB) takes on the Riverdale Falcons at Buzzell at Manhattan College.
Although the team lost to Riverdale 40-22 on January 20, Blackman is optimistic about the game and confident that the team can take home a win, Alexa Blackman (9) said.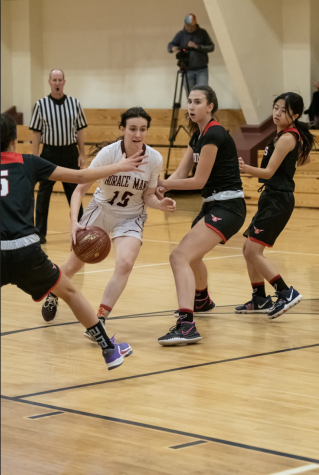 In preparation for the showdown, GVB Head Coach Ray Barile watched films of the Riverdale team on Hudl, Blackman said. "Barile decided what the team was going to play on offense, defense, and press breaks — so that's what we've been practicing."
The team's loss against Riverdale wasn't caused by a difference in skill sets between the two teams, Alara Yilmaz (11) said. "Skill-wise, our team and Riverdale's team are very similar. But Riverdale may have more mature and experienced players, as our team only has two players who were previously on Varsity."
One of Riverdale's strengths was that two players marked co-captain Ceci Coughlin (12). "They are not a super skillful team, but they did have some lucky shots," Coughlin said. The game was not one of Coughlin's best games — she only scored 12 points, her season low.
Both team captains, Audrey Goldberg (11) and Coughlin, are encouraging leaders, Anoushka Parakh (9) said. "If you make a mistake, they are always there to lift us up," Parakh said. Additionally, one weakness that the team can improve on is to stop relying solely on Coughlin to take home the victory.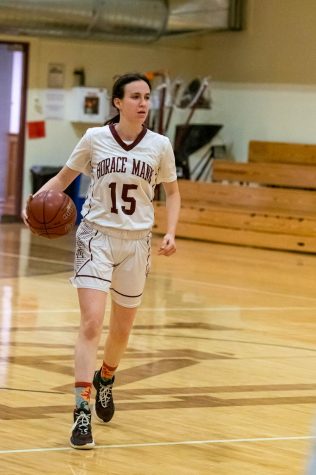 On Friday, the team will dress up in extravagant costumes for team spirit based on their grade, followed by a final practice to eat snacks and watch film of Riverdale playing other teams before the game starts, Blackman said. The team also plans to eat dinner together after the game to celebrate the end of the season.
"Whether we win or lose that night, I've enjoyed coaching this group of girls tremendously," Barile said.
SENIOR SPOTLIGHT
As the only senior on the team and one of two players who were on Varsity last year, Coughlin is especially invested in tonight's game.
Being the only senior did not feel like a major adjustment, Coughlin said. Throughout her past four seasons on the team, she has always been the only one in her grade on the team. "This is a good learning experience for me on how to be a leader because I don't think I've really been put in a kind of position like this before," she said.
Barile has seen great improvement in Coughlin's skills through his time coaching her, he said. "Ceci is the best player on the team, but she also has great respect for all the girls," he said. "She is just a great person."
"Coughlin is a team leader and is definitely the best on the team," Blackman said. "You can always rely on her to help the team decide on plays and lead us to victory."
Her growth as a basketball player in the past four years has shocked her, Coughlin said. She learned tremendously from Coach Barile, and her physical abilities grew, she said. "My mental mindset was so poor my freshman year, and I think my basketball IQ has grown a lot."
Because Buzzell will be Coughlin's last game unless the team makes the quarter-finals for the state championships, winning is very important to her.