Musicians in our midst: Isa Melián (11), opera singer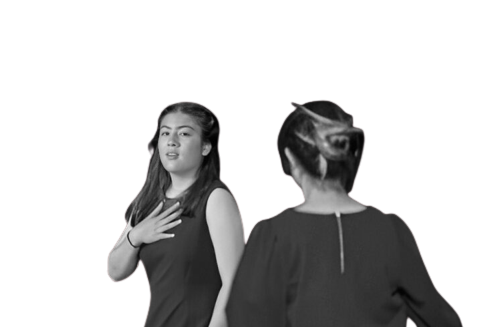 When Isa Melián (11) performed her soulful rendition of "Ma rendi pur contento" at the Music Week assembly, the audience would never have thought she struggles with conveying the piece's meaning. The story, about a prince putting his lover's happiness over his own, was clear as her voice carried throughout Alfred P. Gross Theater.
Growing up, her father told stories about her grandmother's career as an opera singer and music teacher. Her dad's opera-filled upbringing transferred into her own. "We always listened to the opera 'La bohème' over and over again — I always only watched two-thirds of the opera because it would always be my bedtime before we finished it."
Melián started singing in fifth grade after her sister's teacher gave her a trial lesson on Broadway and classical music. After the successful lesson, she performed in a choir of her teacher's hand-picked students. She continued to study music with Upper Division music teacher Carmen Keels after moving the school in eighth grade and applied to the Manhattan School of Music's (MSM) pre-college program for classes on choir, voice, music theory, and ear training. 
A turning point in her musical development came at Boston University Tanglewood Institute (BUTI), a six-week music summer program. "It was one of the best choirs I've ever been in. They offered instruction, opera scenes, coaching, lessons, and the ability to see the Boston Symphony Orchestra every night."
The training she received at BUTI gave Melián the confidence to enter competitions. "I decided to apply for some random virtual competition last minute and spontaneously submitted a video," she said. "I got third place, so I thought 'maybe I'll start doing more.'" Last fall, Melián applied to Schmidt Vocal Arts, a contest of 25 participants. She didn't win, but she got feedback from conservatory professors who taught her about diction and being purposeful with her gestures.
Melián enjoys learning how to produce the same sounds she watched singers make on her television as a toddler. "Vibrato happens when your vocal folds are totally relaxed. It's actually a natural state, but we sing with a lot of tension in our voices," she said. "I like to think of [the sound] projecting out and going forward. I put it in the back of my throat, which means my tongue actually tenses up and curls back," she said. 
"What's weird about singing is it actually sounds different to me than it does to an audience member. So I have to remember that even if it doesn't sound good to me, it sounds good to the audience."
While Melián is unsure whether she will pursue opera as a career, Melián knows she wants to pursue it throughout college. "I have a lot of friends who are like, 'I know I'm going to be an opera star,' but the thing is for me, I might double major, I might minor. I honestly don't know."