Varsity Squash makes a 'racket' at Philadelphia Nationals
Girls and Boys Varsity Squash teams finished their season at the Philadelphia U.S. High School Squash Nationals last weekend. The Girls team placed first in their division; the Boys team placed 10th.
The Girl's tournament was structured into six divisions. The girls played in the sixth division based on their season results, where they competed in a round-robin tournament against St. Luke's, Briarcliff, and Raderon. They won four matches, coming out on top of their bracket. Some of the matches' scores were close — they won 6-1 in their first match and 4-3 in their final two matches, Girls Varsity Squash Head Coach Olufemi Salako said.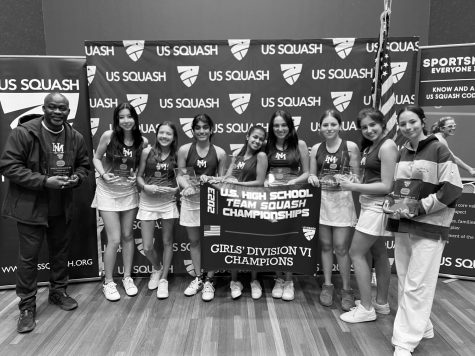 Salako's tournament highlight was when the Girl's team was tied in the final match, he said. "It came down to anybody's game and we wanted to win so badly. Eventually, our number seven player [Lily Sussman (9)] came on and crushed it and gave us the title."
Despite the pressure, Sussman managed to maintain composure while playing and won, she said. "I was definitely nervous, but because of my teammates and coach cheering me on, I was able to focus and win." 
The Boys' tournament had seven divisions; the team was in the third division with 16 other teams and competed against Germantown Friends, St. Lukes, Whitman, and St. Christopher's. They suffered a tough loss in their first match, and Marcus Lee (12) was the only player to win a game. "Marcus Lee was exceptional the whole year," Boys Varsity Squash Head Coach Ron Beller said. "He had the best overall record and was able to compete against some really good competition in the number one spot." The team lost their final match against St. Christophers 3-4. 
Mental strength was a crucial aspect of the teams' preparation, Beller said. "We had to get ready to be competitive and grind each match because we're no longer going against teams that are lesser than us, we are playing against the best in the country."
A memorable moment for William Bramwell (12) was finishing one of his matches with a deep gash near his eye after his opponent accidentally smacked him in the face with a squash racquet, he said. "I had to take a 10-minute timeout but when I came back, I won the match — then I went to the ER to get stitches."
Bramwell felt sentimental at the tournament, knowing these would be his final matches on the school's squash team after four years, he said. "As I was walking off the court bleeding, I was thinking, 'is this really the final thing I'm going to do as a squash player at Horace Mann?' Thankfully, I came back and won."
Both Salako and Beller admired the camaraderie throughout the tournament and the winter season. "You must be there to encourage your team members — that's all it takes," Salako said.