Puzzle craze sweeps through the school community
"We all get distracted by different things," World Languages Department Chair María del Pilar Valencia said. "A fly, a friend, a funny moment, a memory, a text message, can break our attention for a bit," To some students, games serve as a distraction during class time, prompting teachers to enforce restrictions on technology.
"Brain games" of all sorts, have taken over the campus, Aydan Ergin (10) said. Students can be found discussing Wordle strategy in Olshan Lobby or huddled around the puzzle table in Katz Library playing "brain games," he said.
Students enjoy both long and short-form games, Ergin said. In addition to more time-consuming video games such as Fortnite, Ergin likes playing puzzle games such as 2048 in his free time. Ergin particularly enjoys games that allow him to work with his friends such as crosswords, he said.
There are many different "brain games" that are popular right now, Max Feng (11) said. "I like playing Wordle, the NYT Mini, Contexto, and Rankdle usually at school or at home whenever I have free time," he said.
This year, though not quite as popular as last year, Wordle remains a favorite pastime among students at the school, Ergin said.
Games have become so popular on campus that there is now a dedicated game table in the Katz Library which allows students with free time to play games, Upper Division (UD) Library Department Chair Melissa Kazan said. The game table, which started out with just a jigsaw puzzle, now also features crafts, coloring books, and posters, she said. The extra-large coloring posters are particularly popular among students in between classes, she said. "Working on a puzzle or a coloring activity is a terrific way for students to decompress, either by themselves or with friends."
Ergin likes to play games to fill short periods of time, he said. "If I'm just sitting down and I want to pass a couple seconds, I'll fill it with some sort of shorter game… maybe 2048 or Wordle."
Students often play games before class, English teacher Dr. Andrew Fippinger said. "If I see them doing a crossword, playing Wordle, or something like that before class begins, I'm all for it, as I love a good word game myself."
However, Middle Division (MD) science teacher Beth Ann Marian-Johnson sometimes notices students playing games during class time, she said. "Sometimes students will try and say that they're doing it as part of an assignment they have," she said. One of the games she has noticed students playing most is chess, she said. Another game is Little Alchemy, in which players strategically combine resources to form new items, she said. Marian gives students one warning to get back on task before she takes their device away, she said. "Nine times out of ten, they go back to [their work]."
Accordingly, some teachers have imposed restrictions on technology use during class time. "All that [my students] have out on the desk is the book we're reading and a notebook," Fippinger said. "Cellphones and computers are in their bags."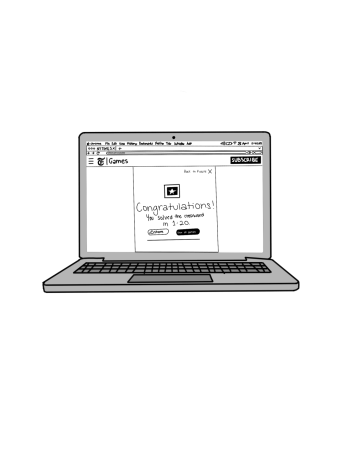 History teacher Dr. Ellen Bales has also imposed restrictions on technology in order to prevent game-playing during class. Bales prohibits the use of computers, and she encourages her students to work on paper, she said. While Bales does occasionally notice students drawing in class, she believes that for some students, unlike games, doodling can be a useful method for increasing concentration, she said. "It's challenging to stay focused all day in school, especially when you are sitting so much of the day."
Valencia does not appreciate when students play games during class, she said. "Games in the classroom are a deliberate act, a choice of getting distracted," she said. "That is not in the spirit of what we do here at school, nor in the spirit of how we should behave with people around us."
Marian is more sympathetic to students playing educational games than those playing non-educational games. "If I see someone playing chess, I'm kind of like, 'oh, that's a great game to be playing, but now is not the time,'" she said. "If [the game] has a bit of an educational focus, I probably am a little more lenient." But regardless of the games students are playing, Marian reminds them to go back to their work, she said.
Games provide both mental stimulation and a break from stressful classwork, Feng said. "I play games to destress and to get my mind off of work," he said. "For Valorant [(a first-person shooter game)] in particular, I enjoy seeing myself progress in skill level and 'climb the ranks' but it's also an outlet for me to socialize with people, including friends at school, because we're usually on a call on Discord."
Games can serve as either a distraction or as entertainment, depending on the time, Feng said. "Games can be distracting when I'm getting work done," he said. "But I personally find them to be better alternatives to YouTube or TikTok because I tend to play 'daily' games where there's a puzzle and they're one and done when I've completed it."
Games can also be a much-needed break from social media, Victoria Sassower (11) said. "Games are different from social media because you aren't looking at what others are doing and posting—-you are just interacting against a computer or phone or sometimes friends."