Q&A with Valedictorian Henry Levinson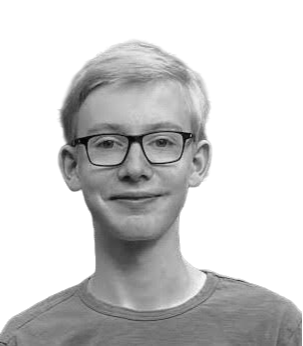 Q: In what grade did you join HM?
A: "7th."
Q: What is your favorite memory from HM?
A: "Doing math problem sets with my friends during free periods or discussing something [that] we learned in history class with one of my classmates outside of class."
Q: Who in the community are you grateful for?
A: "I'm grateful for all my teachers… [and] all of my classmates and friends."
Q: How have your teachers supported you on your path to becoming valedictorian?
A: "Academically, my teachers are largely responsible for sparking my love of a lot of the subjects I am interested in. I was so blown away by [the faculty support] when I first came to HM [and] how concerned teachers are with their students not just academically, but also as people."
Q: What do you hope to see change in the future of HM?
A: "There's a fixation with grades and on college for high school[ers at the school].. That's one of the things I'd like to see change, especially because I think it dampens the intellectual spirit that I really love at HM." 
Q: Do you have any advice for the future generations of HM seniors?
A: "Do the things you enjoy intrinsically … Do activities that you are passionate about because you enjoy them, rather than things that you think will add to your resume."
Q: Do you think your role and the responsibility of being valedictorian will stay with you in the future?
A:  "I am incredibly honored to have been chosen as a representative of my class and I think that will lead me into thinking about some of the qualities that made me a popular candidate and about the ways I can enhance those qualities in the future. This means I am essentially a leader of my grade so I think that will compel me to look for more opportunities to be a representative or a leader wherever I go in life."
Henry's Hot Takes
Q: What do you think is the most underrated class at HM?
A: "CPR (saving a life may come in handy one day."
Q: What is your favorite core value?
A: "Life of the mind."
Q: Maroon or white?
A: "Maroon."
Q: Homecoming or Buzzell Games?
A: "Whichever we win at."
Q: What is the best lunch period?
A: "Whenever middle schoolers aren't in the cafeteria."
Q: What is your go-to sandwich order? 
A: "Turkey, swiss, lettuce, tomato, and honey mustard."
Q: What is your favorite spot to be during frees?
A: "First floor of the library."
Q: What is the best studying spot on campus?
A: "Probably not the first floor of the library."
Q: Are chicken nuggets a sandwich? [see page 5]
A: "Certainly not."
Q: What is the best club on campus?
A: "The Record, for allowing my questionable takes to get published — or does that make it the worst club?"