SLS unpacks collective guilt with Bernhard Schlink
English teacher Dr. Deborah Kassel's Seminar in Literary Studies (SLS): Man's Search for Meaning through Literature and Film class hosted German lawyer, academic, and novelist Bernhard Schlink for a presentation on the legacy of World War II last Monday. 
"As a federal judge and novelist in post WWII Germany, Schlink writes about a variety of subjects, including the concept of collective guilt and responsibility of those who are alive today to work towards a moral future," Kassel said. During his presentation, Schlink discussed the idea of second-generation guilt, a cultural phenomenon describing the remorse that the descendants of Nazis feel for their ancestor's role in the Holocaust, she said.
The concept of collective guilt describes how a community may feel guilty for atrocities committed by their community, a student of the class Braden Queen (12) said. "There are also those who are complicit, or indirectly involved," he said. These people also bear responsibility, Queen said.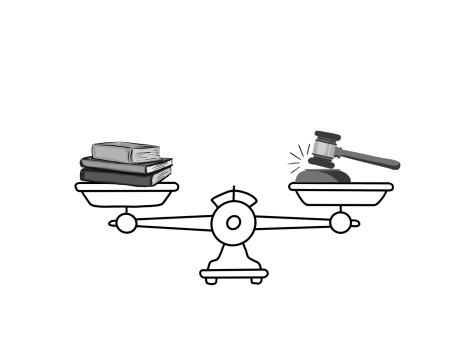 Schlink allowed the students to discuss and unpack difficult topics, Queen said. "When we discussed the idea of generational burden, we asked questions such as 'Should people today feel guilty for their ancestors' sins?'" he said. "How should you atone for the sins of your father or is there a moral obligation to atone for the sins of your ancestors?"
Suzette Sheft (11) attended the presentation to get a glimpse into Kassel's SLS class, which she is interested in taking, and to gather insight for her year-long research paper, she said. "I'm writing my history paper on the reconciliation after the Rwandan genocide, and I thought that the ideas of collective guilt would relate to my paper," Sheft said.
In preparation for the presentation, students in the SLS class read two excerpts from "The Reader," a novel by Schlink about 15-year-old Michael Berg and his lover, Hanna Schmitz, a woman twice his age. "I enjoyed this question and answer session," SLS student Jack Bleichmar (12) said. "I'd say it was my highlight of this class."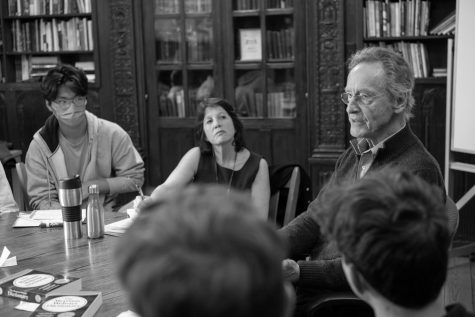 Queen enjoyed how student-driven the presentation was and how Schlink was open to having a discussion rather than lecturing, he said. "I was very impressed how it was purely guided by class discussion," he said. "It was a pure Q&A, and we could really progress and have great discussions about a wide variety of topics related to collective guilt, genocide, and human nature.
With the exception of the COVID-19 pandemic, Schlink has been a regular guest of Kassel's class, Kassel said. "It is a great honor and privilege that Professor Schlink, a writer and intellectual of admirable stature, has accepted our invitation to speak with my class and the HM community for four years," Kassel said.