A kaleidoscope of culture: School celebrates Holi and Eid
"Our mission for the festival was to promote South Asian and Islamic culture and diversity in a fun and interactive way," Divya Ponda (12) said. Last Friday, the school hosted an event to celebrate the Hindu and Muslim holidays of Holi and Eid al-Fitr. Organized by Ponda, Horace Mann South Asian Families (HMSAF), and the Office of Identity, Culture, and Institutional Equity (ICIE), the event took place on Head of School Dr. Tom Kelly's patio. 
The festival featured a variety of traditions such as throwing Holi powder, drawing henna designs, and listening to Hindi music. "My daughters had their henna tattoos on, and they were showing everyone over the weekend," Dean of the Class of 2026 Dr. Shalini Sudarsanan said.
Holi, a Hindu festival celebrated in South Asia, celebrates the triumph of good over evil at the start of spring. The event also celebrated Eid al-Fitr, an Islamic holiday that marks the end of Ramadan, a holy month of fasting, prayer, and community. "It was heartwarming to see everyone come together at school to embrace South Asian and Muslim culture," Ahana Gadiyaram (9) said. "I felt very connected to everybody else, and I thought the environment was really positive."
Celebrating Holi and Eid at school is crucial to provide South Asian and Muslim students with an opportunity to appreciate their culture, as well as to share and exchange their traditions with their peers, Sudarsanan said. "We all tend to know about mainstream holidays that are celebrated in the U.S., but these holidays that are important to us are really important for other people to know about as well," she said. "I did not grow up having events that were a part of my culture at my school, so I feel like we're lucky to have that and I want to be a part of celebrating it here."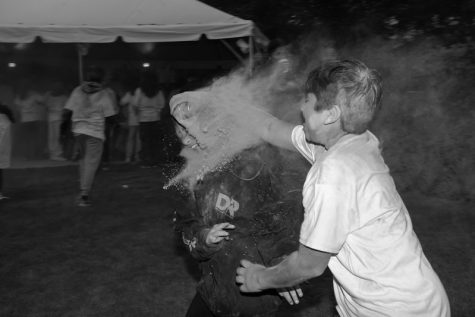 Student volunteer Jared Contant (12) enjoyed playing Holi and participating in the festival with the community, he said. "Everyone was having a great time, whether it was talking under the tent, throwing Holi powder at each other outside, or eating together — it was a joyous occasion all around," Contant said.
The festival's success was dependent on the parent volunteers who supplied food from an outside vendor and facilitated the activities, HMSAF Co-Chair Sarika Singh P '34 said. "We have a tremendous community of parents who love to volunteer, and really make these events memorable," she said. "Our job as co-chairs is to help bring these ideas to life with the help of the school for parents and students who want to participate."
The other HMSAF Co-Chair, Anuja Dangayach P '30, is grateful to the school for hosting the event, she said. "The happiest moment was when Dr. Kelly came — it was amazing,"  she said. Dangayach was excited to see Kelly participating in the Holi and Eid celebration, and felt lucky that he welcomed the event at his home, she said. 
Ponda spearheaded the Upper Division student body's participation in the event, collaborating with HMSAF to plan the festival. "When I was in 8th grade, I saw a Holi celebration on Alumni field and I wanted to bring that celebration to the Upper Division this year," Ponda said. "I spoke to Ms. Sanchez in ICIE and found out that HMSAF wanted to throw a Holi festival as well," she said. Ponda contacted HMSAF to begin planning the festival in November.
After not being able to gather for three years due to COVID, Singh and Dangayach are grateful they were able to host an event where people of all cultures could come together to celebrate inclusively, Singh said. "Horace Mann is a community that comes together in an A+ way to realize anyone's vision, and bring the most potential out of any gathering."