Same rigor, more credit: Bring back APlease
Out of the 20,469 high schools in the United States, 18,012 incorporate nightmares into their curricula with the nickname "a pain" – better known as Advanced Placement (AP) courses. These unfortunate 18,012 highschools have just begun their AP testing this week, where students spend at least two to three hours each day on extensive tests. 
AP classes are notorious for their challenging curriculum designed to mirror a semester collegiate course in their respective subjects. Many Horace Mann students have never had to utter the acronym AP, but its prominent name has instead been replaced by a 3 digit number — "400." While official APs have been eliminated from the school's curriculum, the differentiation of courses based on rigor and content is still a large part of the HM educational experience. We believe that even without the AP title, the courses that HM offers are essentially APs in disguise. So, why can't we have the opportunity to gain national credit for completing work of this high caliber? 
While it is true that the opportunity for teachers to develop more diverse courses is paramount to the trailblazing education the school provides, we know that some students would prefer to join the 1.24 million American students who engross themselves in AP classes every year. We agree that distinctive curricula allow the core value "Life of the Mind" to flourish; however, there is no reason why APs cannot coexist with courses unique to the school. Newly developed classes such as LGBTQ+ History and Chemistry, Consumerism, and Citizenship should certainly retain their place in HM's Program of Studies. For courses that have direct parallels to current AP offerings, such as Studies in Psychology (which is similar to AP Psychology) and Calculus with Theory (which is similar to AP Calculus AB), we believe the rigor of students' curricula should be recognized through the College Board's nationally reputed scale. Many students, including ourselves, would be happy to take these courses for our academic enrichment, the same reason we currently take 400-level courses. 
There are several benefits that come from taking an AP class in school, rather than on top of one's already intense list of courses. We stand with all the students who dreamt of applying to Oxford University that then had their dreams crushed when they realized Oxford requires that all applicants submit three or four AP exam scores of a five. This application requirement makes it quite difficult for bright HM students to apply to Oxford, forcing those same students to go through the headache of self-studying AP exams outside of school. Oxford is not alone in its decision to require APs, as other international schools require APs in consideration of admission.
We understand the reluctance behind bringing APs back to the school. Standardized tests like the SAT or ACT are often only spoken about in stressful contexts, and we know that offering APs could add to this stress. However, as Horace Mann students who are already enrolled in equally rigorous courses, we believe that students will succeed in their AP classes.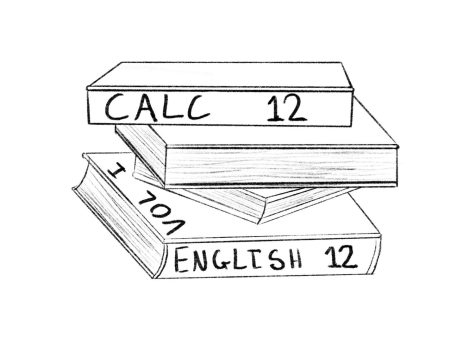 Lastly, one of the most appealing aspects of the AP curriculum is the college credit it provides. Students who successfully complete an AP course and score above a three out of five on the exam could potentially receive college credit for the class in question. Any student in the popular 400-level class Atomic Structure, Reactivity, & Applications of Chemistry would surely be prepared to "test out" of collegiate Introductory Chemistry, but instead, they may have to spend a semester covering the same material they learned at HM, throwing a wedge into their college course hours that could be used for higher-level exploration or pursuit of other passions. For the students who struggle to pay for eight semesters of college in full, testing out of a semester or even a year of school would offer substantial tuition savings.   
We admire the school's decision to open up and develop the curriculum we know and love today. At the same time, one size does not fit all, and although schools similar to Horace Mann's caliber have abolished APs, the HM approach does not need to follow suit. If HM truly wants to give students the opportunity to pursue its five core values, they should give us a choice — the choice to take APs.