Digging into the campus food delivery craze!
"Ordering food is definitely a really easy and convenient option for students," Ahaan Modi (10) said. "Just a couple clicks on my phone, and then I can start working and pick my food up later." Food ordering services such as Uber Eats and Doordash have completely changed the food scene for students, making all kinds of foods readily available to them all day long.
Whether it's coffee orders that reach school before students arrive or bags of Chipotle at 9:30 p.m. for late Record press nights, ordering food and drinks to campus is a prevalent part of the school's culture. According to an anonymous Record poll, 66% of the 177 respondents have ordered food at least once.
Food is delivered so frequently that Public Safety Specialist Glenn Smith recognizes many of the delivery people, he said. "It's mostly the same bunch of people and they often say hello to me," he said. "They know where to go and where to put the food." Bags are placed on a table next to the Olshan Lobby security desk.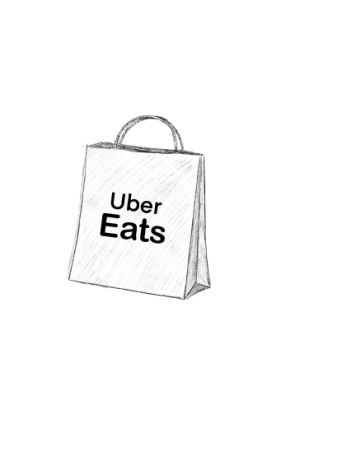 Food orders have significantly increased during this school year, Smith said. On average, Olshan Lobby now receives 30 food deliveries per day, he said. "Before COVID there weren't many deliveries," he said. "This is the first major year of food deliveries."
Dean of the Class of 2024 Stephanie Feigin has also noticed an increased number of students ordering food this year, she said. "Five years ago, the only food delivered was pizza for after-school events," she said. "Now there are these bags that are sitting here in Tillinghast all the time."
Avani Khorana (12) is one of the students who regularly order food. Khorana began ordering food regularly during Junior year because she would stay late at school once a week to work on The Record, she said. Currently, Khorana does not have a lunch block, so she orders food to make sure she has something to eat, she said. Khorana typically orders full meals, and her most common order is pad thai chicken from Moon Thai Kitchen, she said. She typically pays $15 per order and tips $2, on each item she orders. 
Other students order food because of dietary restrictions which are not well accommodated by the school, Ahaan Modi (10) said. As a vegetarian, Modi has difficulty finding nutritious, satisfying meals at the school cafeteria, and often eats a bowl of pasta for lunch, he said. However, twice a week, Modi orders a burrito from Chipotle for a protein-rich, vegetarian meal, he said.
While Modi's burrito costs $15, he ends up paying $22 due to delivery fees and tips, which makes ordering less appealing, he said. In contrast with most students who tip 14% per order, Modi has gone from tipping $4 to now only $1-$2, he said. Cutting tips was the only way Modi could cut down on the cost of his orders, he said.
In addition to food, many students order beverages to the school, which make up 53% of the poll respondents' orders. Before the Mong Family Café opened on February 27, Nicole Au (10) would order her favorite drinks, Starbucks acai tea or Pearl Dynastea bubble tea, because of the lack of caffeinated beverages at the school, she said. "We're all tired and we need to power through the last few periods of the day."
Au only started ordering food and beverages this year, but has recently ordered less frequently because of the opening of the Café, she said. However, she finds that she goes to the Café more out of convenience than because she prefers its options, she said. While she enjoys many of the foods and drinks the Café has to offer, she finds that it lacks the particular beverages she has come to look forward to, she said.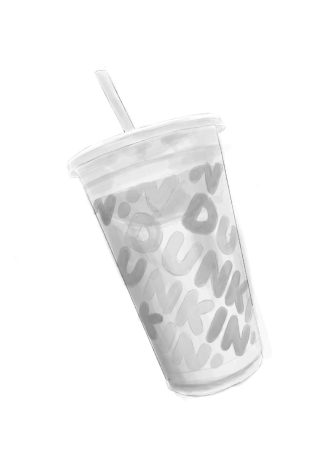 While some students feel the Café has limited options, Kayla Choi (11) feels the Café has been very helpful in fulfilling her caffeine cravings, she said. "Ordering was the only way to get coffee if you didn't have time to go down the hill," she said. "The only reason I would order is if I want coffee before the Café opens at 10:00 a.m."
Some students critique the school's obsession with food delivery. Students have created a culture that normalizes ordering food despite it being, for the most part, unnecessary, Madeline Ment (10) said. There are so many options, between the cafeteria, the Café, and even going down the hill, that the instinct to immediately order when craving something can reflect a lack of restraint, she said. 
Ordering food to campus so often and expecting delivery workers to make the trip even when there is so much food readily available at the school indicates a level of privilege, Ment said. "There are certain situations where maybe you just need something to cheer you up and brighten your day," she said. "But if you're thinking on a whim 'oh I would love a dessert right now,' I think everyone would like their favorite dessert delivered to school, but maybe it's better to see what there is on campus instead."   
Meenakshi Vora (9) also sees issues with resorting to delivery instead of taking advantage of the school's food options, she said. She believes frequently ordering food is wasteful because families already pay a large fee for food from the cafeteria each year, she said. "Excessive ordering is a waste because our parents already pay a set amount of money for the year, so you don't need to be ordering food all the time," she said. "Though I can understand ordering every now and then." 
Underclassmen are often excited to have the opportunity to order food to school and sometimes do so irresponsibly, Choi said. However, as students grow older, they learn when to take advantage of this privilege and when ordering is simply unnecessary, she said. "I have intent when I order," she said. "It's never just because there's an option there and I have a free period." 
There is no clear answer to whether or not to order food. Although Smith sees plenty of food get thrown out because students forget to pick it up, he also understands students' desire to order food or coffee, he said. "If I was younger and had access I would definitely order, but not every day. It just seems excessive."
POLL: HM's most popular food delivery services
51% of students order more than once a week
26% of students order from Chipotle
18% of students order from Dunkin'