Do Lions lift? A look inside the HM Fitness Club
As I walked into the Fitness Center this Thursday, founder and president of the Horace Mann Fitness Club Sam Perlman (12) made good on his promise for a "really crisp high five" (as per his club promotion emails).
Perlman founded the Fitness Club junior year to make the gym a more friendly place. "I take advantage of the school gym a lot, but I didn't see many others there," he said. 
Once he drummed up enough interest, Perlman registered the club and asked Fitness Center Director Kevin Valluzzi to serve as the club's faculty advisor.
HM Fitness includes students with all different levels of gym experience. "The club is meant to open doors to make the gym more accessible, less frightening, and less embarrassing, because many students fear going to the gym the first time because they don't know how to exercise," Perlman said.
"Some students approach me and tell me they want to come work out but aren't sure and don't want to be embarrassed. That doesn't happen in the club," Valluzzi said. "Everybody's welcome."
At the meeting this Thursday, ten gym-rats spotted each other and exercised together, from jump ropes and cables to barbell and dumbbells.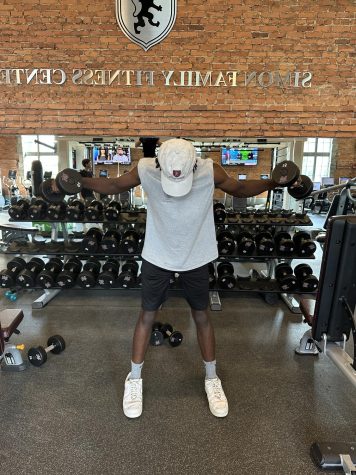 "The club encourages you to push yourself and become more fit," Braden Queen (12) said, in between barbell back squats. "It's great to get in shape with a community who is working towards the same goal."
Zack Pelosky (11), who has attended most of the meetings this year, joined the club because it is important to balance his academic work and fitness, he said. "It's a great way to start at an entry level for people who are looking into fitness, it's also a great space for people who are more advanced."
Students are free and encouraged to attend meetings at any time throughout the year, Perlman said. "We have an organized group that cares about each other and always has a good time."