For the record, prom with you would be front page news: Examining prom fever, from outfits to promposals
Hanging out with Audrey Moussazadeh (12) in Central Park last Sunday, Matthew Edelman (12) pointed to a sticker on a bench plaque: "Will you go to prom with me?" "She didn't even realize what it said until I pointed it out to her," Edelman said. Moussazadeh's sister and mom also recorded the promposal and brought her flowers.
For years, prom has been an iconic high school tradition, enshrined in coming-of-age media. Although many look forward to prom, for some it raises gendered expectations, from the dates students bring to the outfits they wear.
OUTFITS
Traditional outfits for prom vary based on gender. Although students can wear whatever they want, girls traditionally go for long dresses while boys don a tuxedo. Due to the multitude of dresses that exist, girls tend to have a wider range of options and choose their final outfit more deliberately than boys, who simply throw on a black tux.
To avoid the potential problem of duplicate dresses, a student in the senior class created a Google slideshow where people wearing dresses could post photos of them. 58 students have posted so far, either photos of their exact dress, potential options, or even ideas for the dress they envision. While some students view the slideshow as a positive forum for feedback from their peers, others raised complaints regarding the assumptions it makes about how people should dress.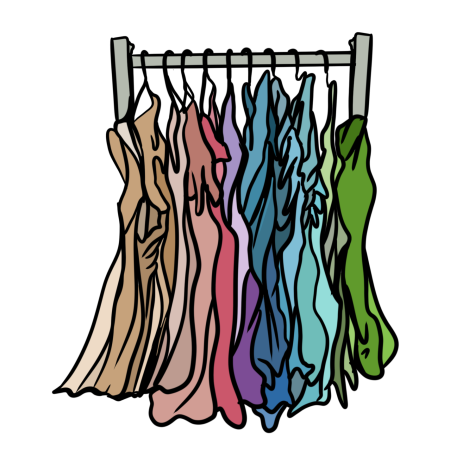 In mid-April, the slideshow was shared with all the female-presenting students in the senior class, with a message on its title page saying, 'This is a place for everyone to put their prom dress pictures so there are no duplicates.'
Soon after it was posted, students raised concerns to Dean of Students Michael Dalo that the slideshow's language and distribution was not inclusive enough. "The way the slideshow was originally sent out doesn't help us move away from defaulting to the binary, and it makes a lot of assumptions about how students identify and how they will choose to express themselves," Dalo said.
The binaries that the slideshow reinforced frustrated Louise Kim (12), who did not post on it because they did not want to take part in it. It felt like the school was backsliding by making assumptions about people's gender identity, they said. "Just recently, the school decided to eliminate using the letters M and F to categorize students in the school directory, which was amazing — but this recent situation is working against that progress."
A day later, Dean of the Class of 2023 Chidi Asoluka asked the creator to post the slideshow on the class' Google Classroom and adjust the title card to say, 'This is a slideshow for people who have chosen to wear dresses this year to avoid duplicates' and 'You do not have to upload a picture if you do not want to.'
While they do not know of any boys who plan to wear dresses, Chris Smith (12) said that changing the language on the slideshow was an appropriate decision. "Even if everyone ends up wearing something that conforms with gender norms, it is nice to use inclusive language so students know there is another option if they wish."
One student was unsure about whether or not to wear a dress, but eventually decided to do so. "My parents kept reminding me to be careful and saying 'is this how you want to remember prom,' so I eventually dropped the idea of wearing something other than a dress,'" Peyton* said, requesting anonymity so as to not implicate their parents in their decision.
People do not seem to care whether someone else has the same dress as them, Amira Dossani (12) said. But since they want to stand out, duplicates are not ideal.
The slideshow promoted positivity and a sense of community among seniors, Coco Trentalancia (12) said. "Everyone was getting really excited and writing comments on other people's slides that were really sweet." Students left comments saying how they liked others' dresses and helping those who had not yet decided on which one to pick.
Trentalancia, on the other hand, did not even consider options besides a gown, due to what she had observed in past years. "I have seen girls wearing long prom dresses, so that's what I saw as the convention for my outfit," she said. While Trentalencia doesn't think that female students are expected to wear dresses, most girls do to fit in with their peers.
Meanwhile, Ari Borut (12) made her own dress because she likes sewing and thought it would be a creative way to express herself. "I went to Mood Fabrics one day and spent three hours browsing aisles until I found this beautiful purple slip fabric," she said. "Even though I didn't feel like there was any expectation on what I had to wear, I did choose a simpler fabric because that is sort of the convention at our school."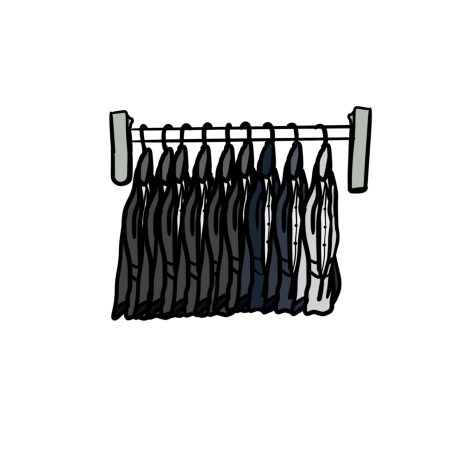 As a boy, choosing prom outfits is less of a hassle because almost everyone chooses to wear a tuxedo, Lawson Wright (12) said. While this could restrict creativity for some, it made the shopping process easier for him. "There is no drama around who is wearing what or people ordering the same outfits, it is very straightforward."

Because the school does not have any specific rules on what to wear to prom, this pattern for boys stems purely from convention, Wright said. "Nobody would prevent another boy from wearing a dress, or even care if they chose to wear something other than a suit — it's not something people really pay attention to."
PROMPOSALS
Gender expectations also influence who people go to prom with. While there remains an image of a "traditional" prom experience with a date of the opposite sex, many students are deviating from that norm.
In an email to the Class of 2023 about prom, Dalo wrote, "Please don't feel pressured at all to ask someone now or to even come with a date. Plenty of students just come as a group of friends!"
Promposals were disallowed on school grounds a few years ago since they can put people in uncomfortable situations, Dalo said. "Even if someone does not want to say yes to the promposal, they might feel pressured to do so just because they are standing in front of a group of their school friends," he said. Promposals also became symbols of financial privilege, and underscored a focus on heterosexual relationships with the assumption that people have to go to prom with people of the opposite sex, Dalo said. 
Lately, Dalo has seen more openness as students move away from the idea of needing a prom date of the opposite sex, or a date in general, he said. "People have been comfortable wearing what they feel comfortable in and going with who they feel comfortable with, which could be due to the fact that our school community talks about it more."  
Although Peyton is not going with a date because they will see all their friends at prom, many of their friends have felt obligated to find a date of the opposite sex to fit the heteronormative standard associated with prom. "My parents initially suggested I attend with this boy from my camp even though I haven't spoken to him in years, but their main point was that I should go with a date, preferably a boy."
While Smith does not feel any pressure to go with someone of the opposite sex, they do feel pressure to have a date. "If it wasn't such a big part of prom culture to have a date, I probably wouldn't have asked the person I am going with to come with me."
Kim is attending with their friend group instead of a date. "A lot of people feel the need to bring a date more so for the appearance of it in photos and for social media," they said. Because Kim can talk with the people they want to see at prom anyways, they do not feel any pressure to bring someone else.
While Edelman chose to prompose to make his date feel happy and excited as prom gets closer and closer, he does notice that some people do it solely for social media. "Everyone has their phones out during certain promposals and are recording the event more so to show their Instagram," he said. 
Unlike the casual promposal Dossani received, Max Meyer (12) showed up in the middle of Nati Hecker (12)'s Soul Cycle class with a poster that read "I know it's not Anthony at one but prom with you would be so much fun," catching her completely off guard, he said. 
Considering that she never expected or even asked Meyer to do a promposal, Hecker loved the gesture and felt that it made her prom experience even more special, she said. "It wasn't anything crazy or something extremely expensive, but it was instead super creative since he did it at a place that I love," Hecker said. 
Hecker asked Meyers if he wanted her to prompose to him, she said. "He said that he didn't want that attention so I genuinely think it was something he wanted to do for me."
To plan the promposal, Meyer worked with Hecker's closest friends to direct message Anthony, a Soul Cycle instructor Hecker takes a class with every weekend at one o'clock, to discuss how to execute the plan. "Anthony loved the idea we had and ended up talking to someone at the company's headquarters, who also loved it," he said. Meyer walked into Hecker's class while her bike was placed on the main podium and presented her with the poster and a bouquet of flowers. 
Alexa Turtletaub (12) is promposing to her boyfriend who attends a different school. "He actually promposed to me for his prom, and for mine, we mutually decided that I would do the same for him," she said. Turtletaub does not think promposals are steeped in tradition, but rather done because students want to make the experience special for their date, she said. 
Similarly, Trentalancia and Lawson Wright (12) already planned to go with each other, so Trentalancia did not expect his promposal. "We were walking on the beach at sunset and he put the words 'prom?' on the t-shirt of a stuffed bear." Not surprisingly, she said yes.