Students blow off steam at Wellness Wednesday
Playful pups Maizy, Melodie, Bailey, Tyler, and Noisette garnered lines that extended out Gross Theatre for the highly-anticipated Wellness Wednesday workshop sponsored by New York Therapy Animals. The workshop provided an escape from students' chaotic school schedule, lightening their moods and increasing their energy for the remainder of the day.
Wellness Initiative Club (WIC) co-leader Avani Khorana (12) was inspired to organize the annual event because she saw a problem in the academic-heavy culture at the school, she said. "The most negative thing I've ever known about Horace Mann culture would be the negative effect of the workload on students' mental well-being," she said. "It has never really sat right with me." Planning Wellness Wednesday helped Khorana proactively ensure the well-being of herself and her peers, she said.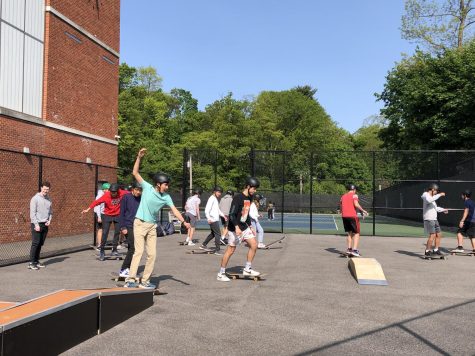 At teacher-led workshops like crocheting, skateboarding, and painting, students experimented with different self-care practices. "As Horace Mann students, we partake in this productivity culture that encourages us to remain entirely focused on/immersed in our studies," WIC co-leader Tess Goldberg (12) said. "We can lose sight of what is really important — like activities that make us genuinely happy outside of school."

To prepare for Wellness Wednesday, WIC co-leaders met with members of the Counseling and Guidance department multiple times a week in the months leading up to the event, Goldberg said. "We prioritized coordination of activities that have fostered student engagement in previous years, notably the therapy dogs, alongside our efforts to plan new and engaging workshops led by students and faculty."
This Wellness Wednesday is different from past years because it is geared toward being a day for the school community to practice mindfulness as opposed to informational workshops and fulfilling requirements for classes and clubs, Khorana said. "I hope people take what they are learning about wellness and apply it to the rest of their lives," she said. "Wellness is about putting your mental health first when you can."