"History though Art" gallery show showcases MD student zines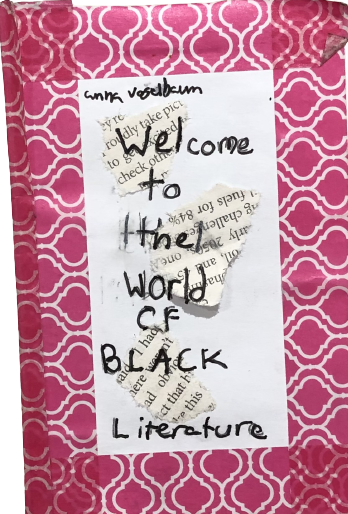 Walk into Fisher Gallery this week and you will be greeted by a colorful array of small magazines created by seventh and eighth graders, past and present. The "History in Art" exhibit, closing today, showcases zines that have become a playful part of the Middle Division (MD) history curriculum after school went virtual for COVID-19 in 2020.
Zines — short for magazines — were popularized in the early 19th century by sci-fi fans. Underground organizations and marginalized groups then used the format as an inexpensive yet effective way to spread their message.
MD history teacher Katharine Rudbeck started assigning students zines to get students off their screens during online classes. "I would say to them, 'okay, it's an asynchronous day — put on your favorite music, get a cup of hot cocoa, turn everything off, and do this visual thing.'"
The project was a success — Rudbeck, along with other history teachers, quickly incorporated zines into their seventh (The New York Experience: From Commercial City to World Metropolis) and eighth grade curricula (Legacies of the Ancient World: India, China, and the Middle East). They continued the project in-person. "I'm a big believer in learning in different ways," Rudbeck said. "We should validate students and find more ways for them to express themselves."
Lilia Scola (9) curated the "History in Art" show after seeing how many zines students had created over the years. "At one point, we had over 100 zines," she said. "Last year, I hung them up around Mrs. Rudbeck's classroom and I thought, 'it'd be a really cool idea if there was a way we could publicly display these.'"
Scola pitched the idea to Visual Arts Department Head Dr. Anna Hetherington and visual arts teachers Brian Lee and Emily Lombardo, who were all excited by the idea. "Such a small piece of artwork can have a grand impact," Scola said. "Each zine tells a story."
Tips from three zine-masters:
Annabelle Renner (8):
Before starting a zine, figure out what images and/or writing is going to be on each page.

Start everything in pencil. Once you're 100% sure that you like the sketch, then go over it in ink.

When putting the visuals on the zine, open the whole thing to ensure everything is positioned correctly. 
Kaitlyn Fan (8):
Focus on a specific structure or object. A drawing on every page of the zine usually has a different focus — it could be an idea or an item.

Use different mediums. For my zines this year, I used pencil, micron pens with different tips, and charcoal. Using different mediums helps show textured surfaces.

Limit your words and descriptions — having less words is better, and can draw the reader/viewer in more.
Eli Weltsch (7)
Be creative — a zine should be fun and interesting to read with lots of color, images or drawings, and creativity.

Make sure you're well researched — you don't have to write everything you know about your zine's topic, but you should make sure that you (and your readers) understand what you're writing about.

Take your time — a zine isn't meant to be rushed. Make sure you're taking the time to fully express an idea through your zine and enjoy yourself.