Security department members play in NYPD Drums and Pipes band
The somber sound of bagpipes drifted across the field as security guards perform during the school's 9/11 memorial. As well as being security guards at the school, Tommy Nolan, Pete Clancy, Kevin Maloney, and Bill O'Sullivan have been active members of the New York City Police Department's (NYPD) Emerald Society Pipes and Drums Band.
Only active or retired NYPD officers of Irish descent are permitted to be members of the band, and to get in, everyone is required to audition, Security Specialist Tommy Nolan said.
The four security guards are all retired from the NYPD and began playing while they were working in the force.  "Being in the band together is what brought most of us to the school," Security Guard Kevin Maloney said.
Assistant Manager of Security Pete Clancy was the first of the group to begin working at the school, and he brought some other members of the band to the school's security team, Senior Security Supervisor Bill O'Sullivan said.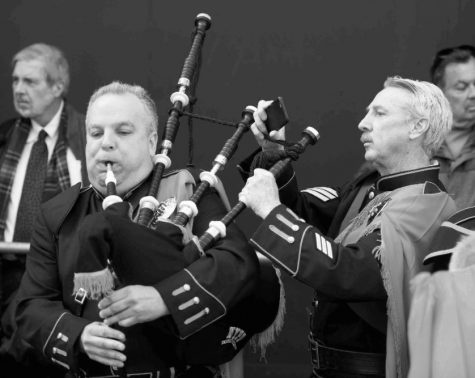 The security guards have prior experience; Clancy has been playing the drums for almost forty years and has been a member of the band for 20 years, he said. Nolan has been in the band since 1984 and has been playing the bagpipes for thirty-three years.
The band is the most recognized police band in the world, Nolan said. There are around 120 members with ages ranging from twenties to late seventies, Nolan said.
The band has traveled all over the nation and world to perform at events. They have gone to Australia, performed for the president and the Pope, and made an appearance on the Ed Sullivan show, O'Sullivan said. They have played in many major movies including Salt, State of Grace, The Departed and some TV shows as well, Nolan said.
They lead the funeral procession if any police officer is killed in the line of duty, Clancy said. In the past, they have been called to play at funerals in Baltimore and Atlanta, Nolan said.
In 1971, after the Color Guard was killed, the NYPD band set the standard for police pipe bands to perform at funerals of officers killed in the line of duty.
"Probably the biggest thing for any of us is playing at the funeral of a police officer killed in the line of duty. It's nice to play in the movies and it's nice to play in different ceremonies but that's probably the most heartfelt for all of us," Clancy said.